Currently Reading:
These pipes are playing
February 19, 2013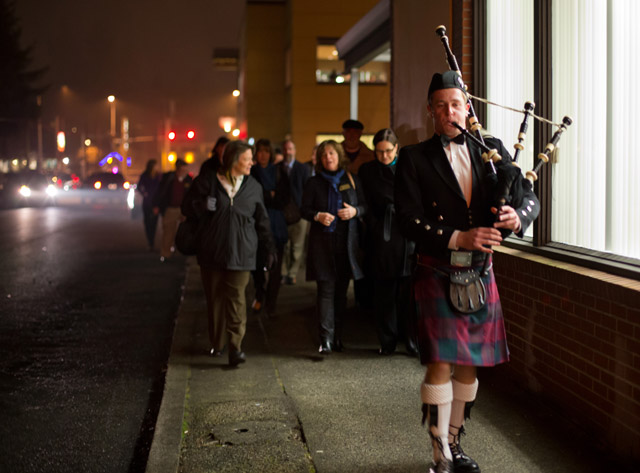 These pipes are playing
I exchanged a firm handshake with Samuel Horn '15 outside the North Pacific Coffee Company, a characteristically cloudy Pacific Northwest sky overshadowing what would be a surprisingly loud morning. For those who have never heard the boisterous vibrations of the bagpipe, it is not a particularly quiet affair, especially when heard in the confines of the compact choir rehearsal room where I eventually listened to Sam play.
Tall with light, dusty brown hair, and thin glasses resting on a strong face, Sam is dressed in an unassuming grey T-shirt, and blue jeans. Built like an athlete, he is not who I pictured I would be meeting, but when he plays his stature makes perfect sense. His chest expands and the veins on his arms jump to attention, sent immediately to the dermal front lines.
A juxtaposition is struck between precise, dancing fingers, and a stoic, barreled chest for support as his black and neon shoe taps a four-four count. His face appears resilient and dedicated, vowing never to let the breath run out, and let the music go quiet.
In 2008, Horn, was a member of a Northwest Junior Pipe Band from Shorecrest, Wash., that placed fifth in the World Bagpipe Championships. Teams from not only Scotland, but various other countries–Canada, Turkey, Iran, and New Zealand, to name a few–competed by playing a series of pieces as a collective. Horn's team competed as a grade three entry, on a scale of five, in which fives are beginners and ones are experts–most of them professionals. The event culminated with all 6,000 participants playing march tunes in front of government officials from Scotland, an impressive convergence to be certain.
Horn, who began playing the bagpipe at the age of 11, has been forced by the demands of collegiate life, to ease up on the time he can allot to playing. "Going to college has really limited me in my ability to practice," he says, in the same way someone might describe having not seen a good friend in a long time. As the kicker for PLU's football team, sports writer for the Mooring Mast, tubist in PLU's Wind Ensemble, and a full-time student majoring in communications, he stays busy. Concerning his future with the instrument he says, "I just want to keep on playing and play for gigs on the side. I don't want to become one of the best in the world." To do so, Horn explains, "The bagpipes have to be your entire life."
For him, this is a commitment he is not willing to make. Hoping to pursue a future somewhere where sports and writing converge, he feels he is being drawn elsewhere. But he remembers his past with the instrument fondly.
"When I first got to join a bagpipe band the feeling of all playing together felt awesome," he says, of the experience playing in unison with the other bagpipers in his band.
Switching from the chanter–which is the melody pipe section of the instrument that can be played like a recorder–to the full size instrument for a sixth grade talent show, Horn's relationship with the bagpipe has been a journey. The culmination was, of course, the world championships, but once he had become proficient, a host of gigs such as funerals and weddings opened up for him.
And now he has entered yet another phase of growth in which the bagpipe is sidelined, but never forgotten, his most recent outing being a tribute to the Scottish poet, Robbie Burns, at an event aptly titled a Robbie Burns night, hosted by PLU. Burns, is widely known as Scotland's "Favourite Son" and regarded as its national poet. Celebrating Robbie Burns is dressed in ceremony, including bagpipes and the Scottish dish – haggis. Traditionally the rousing bellows of the bagpipe, march in the ceremonial haggis meal, and Sam was able to fill this role at PLU. It appears that he will be satisfied as long as the pipes do not go silent. His goal, he says,
"I just want to keep on playing until I really can't. I know there was a guy who was associated with some band who was able to play until he was 75 or 80. There comes a point where your lungs aren't physically capable of producing that much air, but up until then I want to play."