Currently Reading:
Learning about the next step
March 5, 2013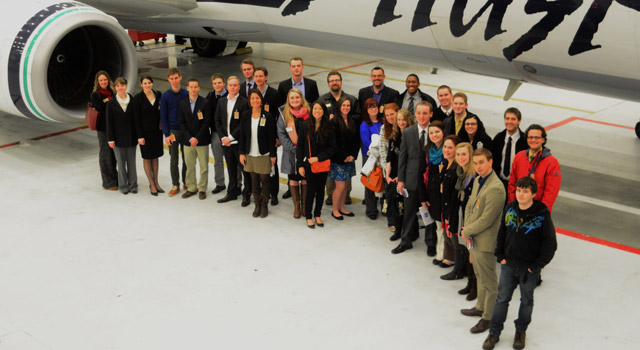 Learning about the next step
Career Connections hosted its first On-The-Road Experience for students Feb. 22. Students had the choice of touring Alaska Airlines or World Vision. Afterward, they attended an alumni networking event.
Three van loads of students toured Alaska Airlines where they were greeted by two alumni, including CEO, Brad Tilden '83. When Tilden entered the lobby, he greeted all of his employees by name. Tilden, who lived in Pflueger, Hinderlie and Tingelstad, said he received a fantastic education at Pacific Lutheran University and loved its approach on vocation and education.
Vocation is exactly the reason Phil McKinney' 13, psychology major, went to Alaska Airlines.
"I'm looking for a direction to take when I look for a job," McKinney said.
Like McKinney, nearly every other student there was a senior looking for their next step in life.
Tilden promised that PLU prepares its students for this step. Don't expect to be the CEO of a company coming out of college, but PLU students are prepped to take the next step, he said. "Then, you will put your education to work."
The purpose of touring Alaska Airlines and World Vision was "to expose students to different career opportunities and paths,"said Bobbi Hughes, executive director of Career Connections.
"This was very successful in terms of interest," Hughes said. "I would anticipate more of these in the future."
More students were interested in going than Career Connections could accommodate.
At Alaska Airlines, there are many job opportunities in many different fields, including human resources, computer science, marketing, and communication.
Gary Peterson, maintenance supervisor, led the students on a tour of the Alaska Airlines hangar. Students explored the ins and outs of a plane. They sat in the cockpit, looked in the engines and checked out the area where animals are kept during flight.
Peterson then led the students to various other rooms and workshops, telling some humorous tales of Alaska Airlines.
"As far as I know, we are the only airline to report a fish in the engine," Peterson said. A bald eagle dropped a fish in the engine while escaping death.
When the tour was over, Keith Dussell, diversity and inclusion and PLU alumnus, told of internship opportunities at Alaska Airlines.
The internships varied in fields. Many students could find a good fitting internship at Alaska Airlines. The benefits that go along with these internships were one of Dussell's selling points. He told of a trip to Europe and back that cost just over $200. The other selling point was the people that work there. Tilden asked several employees why they like working there, and most of them said, "The people."
Alaska Airlines is offering 38 internships this summer and is accepting applications online for the first few weeks of March, depending on each position.
Being a Lute can have its advantages; Dussell gave every student his business card.
"Those people at University of Puget Sound didn't even get my business card," Dussell joked. "We hardly let them in the front door."