Currently Reading:
Facets of self
March 9, 2013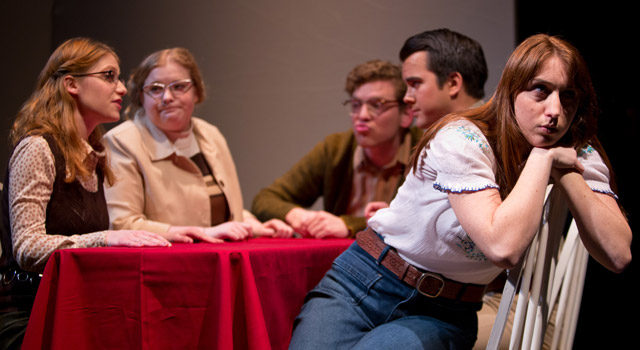 Facets of self
Since its 1997 debut off-Broadway, Paula Vogel's "How I Learned to Drive" has proven an emotionally rickety experience for actors and audiences alike.
Straddling a line somewhere between uncomfortable and redemptive, the play focuses on the sexually abusive relationship between Lil' Bit – who in the play ages from 11 to 18 – and her Uncle Peck. The script casts a translucent vale over the archetype of the abuser, and grants a pained humanity to those who do the damaging. It is a daunting, sensitive piece, and PLU's five-person ensemble approached it with marked poise and reflection.
Ali Schultz '14 played Lil' Bit, and Jack Sorenson '13 played her abuser, lover, best friend, and pseudo-father, Uncle Peck. Following performance Friday, March 9, the cast and director –Assistant Professor Lori Lee Wallace – hosted a Q&A to discuss the show's themes, and respond to a variety of audience reactions. A majority of the questions centered around the characters of Uncle Peck and Lil' Bit, and the approach that Wallace, Sorenson, and Schultz took in making this story unfold without trivializing the experience of child abuse, while still understanding the demands of a live performance.
In response to a question about living in the "era of Law & Order SVU," where graphic content is readily available. Sorenson replied, "When you're watching a story like this unfold before you – you can't escape it. You are experiencing it as the characters do." There are no commercial breaks and no mute buttons. There is no layer of LCD, CCFL backlights, liquid crystal, and polarizing filters separating the person from the misery or the triumph. "It's an entire shared experience. When it's this give and take (with the audience) it brings a heartbeat to the show," Schultz added.
When asked how he approached his character, Sorenson answered sympathetically saying, "I tried to pay really close attention to the times when he is an emotional victim and when he is weak," adding, "the most important parts are when he doesn't feel safe."
The point here is not to rehash a narrative of traumatic childhood, which as prevalent as it is today, has been refurbished, repackaged, and resold so many times that it has lost the power it once wielded. Vogel's play intends, rather, to refresh our ideas of childhood, adolescent, and sexual maturity, and bring them a new visceral incandescence–through the symbol of a car, and the context of abuse.
In response to a precise question about "playing the pedophile," Sorenson replied saying, "If I had to describe Uncle Peck, my description of his character would not be pedophile.
"Yes there was at times a lot of apprehension. But I would remember and think to myself he is a scared man who has a twisted definition of what a loving relationship is. He thrives on feeling needed."
A related inquiry pushed Sorenson further asking, "How do you be that character for two hours and how do you get back to being yourself emotionally?" Sorenson was locked and loaded, replying, "You can only emote feelings you've felt, and that's not about the plot, it's about the longing, how lost he feels. When you break it down to their emotions, you're dealing with facets of us all." Here Schultz jumped in adding, "You explore facets of your own self, and your baggage and struggles. That's all we can do as humans is tell each other our stories."