Currently Reading:
PLU chef prepares to blow his competition's taste buds away
March 18, 2013
PLU chef prepares to blow his competition's taste buds away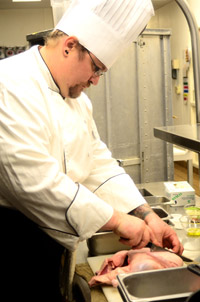 For the fifth year in a row, Pacific Lutheran University is sending one of its own talented chefs to compete in the National Association of College & University Food Services (NACUFS) Pacific Regional Culinary Competition.
In the past four years, PLU has taken home three bronze medals and one silver medal. This year, Lute chef Chuk Blessum has his eyes set on the gold.
For Blessum, this competition is about competing with and challenging himself in the hopes of growing as a chef.  With only an hour to compete and ten minutes to display the food on the plate for judging, each chef has to be fully prepared.
The judges of this competition are certified Master Chefs. "These are the people who create master chefs," Blessum said.
Each year there is one required ingredient. This year, that ingredient is duck. Each chef has to prepare their duck in two classical cuts and, from there, what they do is up to them.
Thinking resourcefully, chefs are to infuse their dish with local food available to them. This will change with the season and requires creativity and thought. These kinds of challenges are exactly what Blessum is looking for. "There's so much you gain from it," Blessum said.
The judges will want to see improvisation and resourcefulness throughout the competition and Blessum is excited to gain their input and knowledge.
"Anytime I get to do that is really rewarding," he said.
Blessum will be competing against chefs from large universities from around the region who have established culinary programs. "We're kind of an underdog in these kinds of competitions," he said.
However, even though PLU does not have a culinary program, Blessum and his team have found they can be, and are, successful preparing for competition with what they have available to them at PLU.
His practice requires Blessum to be prepared literally from head to toe, from wearing his chef's hat while doing practice runs to familiarizing himself with his ingredients and equipment.
Blessum hopes to use success in competitions and conventions such as NACUFS to grow PLU's culinary program, bringing in new chefs and expanding what the creative minds in the PLU kitchen can do for their students.
For 2013, the NACUFS Pacific Regional Culinary Competition will be hosted by the University of Nevada Reno. Blessum will be competing on March 21 and, if he wins gold, will advance to the national competition held this July.