Currently Reading:
Pursuing your wild hope in Azerbaijan
March 20, 2013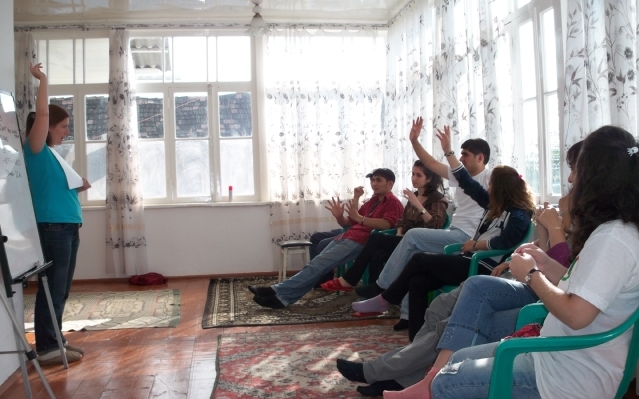 In pursuit of wild hope in Azerbaijan
By Katie Scaff '13
Discovering your wild hope doesn't end when you leave PLU,  just ask Raechelle Baghirov '05.
After graduating, Baghirov spent three years volunteering with the Peace Corps in Azerbaijan, where she learned much more than a foreign language.
"The phrase 'a life of service' was thrown around a lot. Professors would talk about it," said Baghirov of her time at PLU. "It made you look at what you were learning and how it could be taken to a higher level. I may not have thought of it at the time as preparation for the Peace Corps but it was. I may not have thought of it as this is my wild hope component but it was."
Baghirov applied for the Peace Corps during summer 2006. The idea of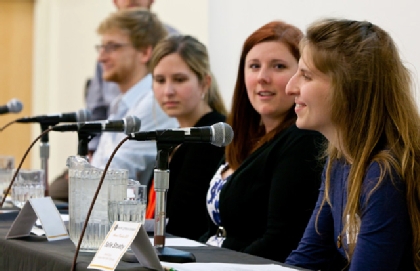 volunteering had crossed her mind before, but it wasn't until watching the documentary "Invisible Children" that she truly made up her mind. It really hit me how hard life is abroad and how one or two people can really make a difference," Baghirov said. Watching the film made her realize something:"I need to do something more than stay in my community. I need to see if I can do something bigger."Within about a year, Baghirov was accepted into the Peace Corps and assigned to work in Azerbaijan.
"You don't get to pick where you're going, but you get to put your regional preferences. The country requests you, not the other way around," said Baghirov. "I was very open to going anywhere I was needed."
She was assigned to work at the Ganja Education Information Center on a pilot youth development and study abroad program for two years.
"My first year was incredibly difficult," said Baghirov. "It was a pilot program, nobody knew what youth development was—that was a really hard thing for people to grasp. I had to build their trust from the ground up."
While struggling to adjust to the food and cultural differences, Baghirov implemented a variety of programs for the locals, including movie nights and a women's club. As time passed though, Baghirov's job became easier. After the first year, she got into the rhythm of the culture, and, after the second year, she had really begun to develop her projects, so she decided to stay another year to see her projects through.
"A lot of opportunities presented themselves after the second year," said Baghirov. "By the time you're able to learn the language, a lot of volunteers are leaving. I was really happy that I was able to transfer the skills and abilities to the host country's nationals. Eventually they were able to take over on their own."
Among these projects was her "brain child," a youth civic leadership academy in Ganja, based on the U.S. Civil Air Patrol, which she was involved with growing up. As part of the academy, she taught different classes, including one on human rights.
"I showed 'Invisible Children' as part of the class, so I kind of came full circle," said Baghirov.
Baghirov's projects weren't the only thing that kept her in Azerbaijan though–she had also met her future husband Farid Baghirov.
"We were friends right away," Baghirov recalled. "He was just a nice, easygoing guy. He was always willing to help me with whatever I needed. Both of us really loved the organization we were volunteering with. That was really a big spark for us to be able to grow off."
Baghirov married Farid just before the start of her third year in Azerbaijan. They moved to the U.S. after Baghirov finished her service in October 2010. Though she found her husband in Azerbaijan, Baghirov had a hard time being apart from friends and family. This adversity and her experiences in the three years she spent abroad had a significant effect on her.
"I changed a lot in those three years," said Baghirov. "I feel more confident in myself in that I trust my own abilities to make decisions. I feel like I'm more self-sufficient."
Her family noticed these subtle changes in her character when she returned to the U.S.
"I think it really helped to mold her character," said Baghirov's mother, Rene Watkins. "I think it really made her realize how fortunate we are here in the U.S. It made her more appreciative of the United States."
"The journey of the Peace Corp. is more than a travel opportunity," said Baghirov. "It's an opportunity to grow yourself in so many ways. I took a leap of faith and I'm glad that I did it."
Baghirov now works as an administrator of the official Returned Peace Corps Volunteers Friends of Azerbaijan group.