Currently Reading:
A pathway of self discovery
March 25, 2013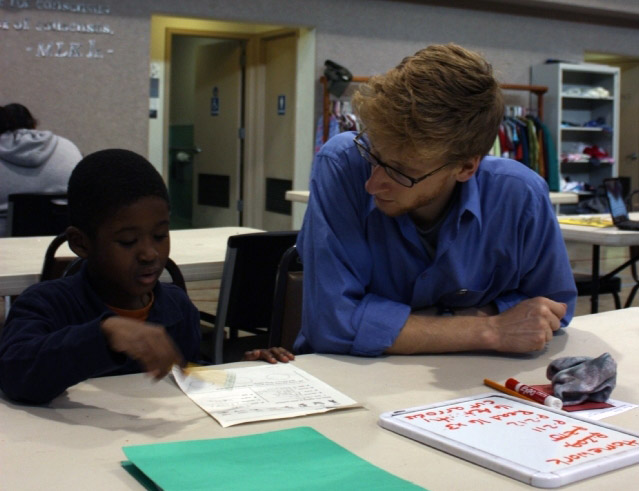 A path of discovery
By Katie Scaff '13
For Austin Goble '09, volunteering after graduation was anything but a gap year.
Goble wasn't ready to jump right into the workforce, so after graduating in December 2009 Goble spent a year volunteering with Lutheran Volunteer Corps (LVC), and then a year with AmeriCorps.
"For me a year of service was intentional," said Goble, "an intentional path of self-discovery."
Goble met a recruiter from LVC at a career development fair before graduation and was surprised how strongly their core values aligned with his. Inspired by their values – building community, working for justice, and living simply and sustainably, Goble applied for LVC in February 2010. He was assigned to work with LVC's community partner, Eastern Nebraska Community Partnership, in Omaha, as their resource specialist. From August 2010 until August 2011, Goble lived and worked in Omaha.
By day, he helped provide financial assistance for people who recently experienced a crisis, and by night, he spent time with his housemates, fellow LVC volunteers, exploring their values and perspectives.
"There was a lot of room for personal growth and self-examination of what my values are," Goble said. "We all have this like mindedness of wanting to serve and the excitement of living, with a low income."
The relationships had as much if not more of an influence on Goble than the service component.
After his year in Omaha, Goble came back to Tacoma and signed up for a year of volunteering with AmeriCorps's local affiliate, Peace Community Center (PCC). Goble started with PCC in September 2011, and was there through mid-July 2012. Through his role as the elementary programs coordinator, Goble coordinated the center's tutoring program and read with students at McCarver Elementary School. He was unsure of his plans after PCC, but he wanted to stay in the area.
"I hope to stay in the Tacoma area," Goble said. "I found myself in Tacoma. I became an adult in Tacoma. I have a strong tie to the community and an interest in staying here. I hope to be part of an organization that's involved in the community. I would like to continue to be a part of what changes happen here."
Those who volunteer with him, like Kayleigh Bradley, say they recognize Goble's dedication to his volunteer work.
"He wants to come in and empower people," said Bradley, who lived and volunteered with Goble in Omaha. "He recognizes a lot of the privileges he has and wants to make sure other people can get that same leg up in life. He wanted everyone to give everything they could to the community."
Goble was also an inspiration to his fellow volunteers. Part of LVC's mission is to promote a life of simplicity, which was something Goble tried hard to embody.
"We would take on different challenges in simplicity and he would be the one who would carry it out and model it for other people," said Bradley. "We had a water challenge—Austin took bucket showers for a whole week."