Currently Reading:
Cancer survivor inspires teammates with spirit, perseverance and a mid-90s fastball
April 1, 2013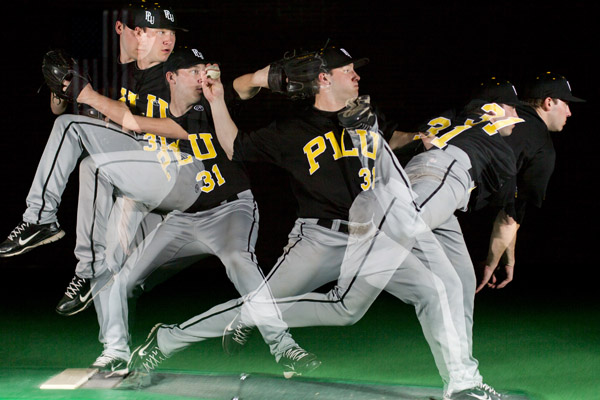 Photo by John Froschauer
Cancer survivor inspires teammates with spirit, perseverance and a mid-90s fastball
By Nick Dawson
It was only one pitch, but it was a pitch filled with emotion for PLU pitcher Max Beatty '14 and the entire PLU baseball family – coaches, players, parents, fans.
When Max Beatty threw the first pitch of the 2013 Pacific Lutheran baseball season opener to Concordia University batter Sheldon Austria on Feb. 4, it concluded one harrowing chapter in Beatty's life and turned the page to new chapters to be written, including one filled with dreams of a professional baseball career.
It was a year ago in December, during the winter break between fall semester and J-Term, that Beatty's life took a dramatic turn. A visit to the doctor revealed that Beatty had testicular cancer.
Within a week's time and unaware of Beatty's diagnosis, Baseball America magazine, one of the nation's top publications dealing with amateur baseball, named the PLU right-hander as its top 2012 professional draft prospect currently playing NCAA Division III baseball.
Following a surgical procedure to remove both of his testicles, Beatty was hopeful of returning to the Lutes for the 2012 season, but post-surgery blood work found cancer tracers.
With months of chemotherapy treatment ahead, Beatty moved back to his hometown of Vancouver, Wash., and faced both the cancer and the chemotherapy as he would an opposing batter – with the determination to get a strike out.
"Throughout the whole process, I stayed completely positive. I knew I was going to beat this, it was only a matter of when," Beatty said.
Doctors put Beatty on a chemo regimen of five rounds lasting eight hours a day for five consecutive days, followed by two weeks off – 15 weeks.
He spent those long hours watching movies and playing video games on his iPad. And he planned for his return to the baseball diamond.
Beatty lost his hair and was frequently tired during his treatment, but rarely did he deal with the overwhelming nausea suffered by many patients undergoing chemotherapy. He felt so good, in fact, that he continued to play catch with his older brother Sam, himself a former PLU baseball player and a 2011 PLU graduate, and he also played with Sam on a recreational basketball team.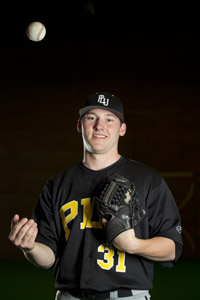 "Throughout the whole process, I stayed completely positive. I knew I was going to beat this, it was only a matter of when."
–Max Beatty
When Beatty made appearances at early season PLU games in Portland, and later at home games on the Parkland campus, it buoyed the spirits of the players and PLU fans."Throughout the whole process, Max would talk about how much he missed baseball," said fellow pitcher Nathan Shoup '13, Beatty's friend and roommate. "I visited him a few times and each time he made me play catch with him in the driveway. As only Max would, he was working on his cutter. The guy was two months into chemotherapy and his ball was still alive. I believe he could have pitched last season with chemotherapy. His talent and resiliency are things I have become in awe of in my four years knowing Max."
Without Beatty, the 2012 Lutes finished 24-16 overall and in third place in the Northwest Conference with a 16-8 record. "His illness left a crater in our locker room," Shoup said. "We were probably a Max Beatty away from winning the NWC last season."
With chemo treatments finally behind him, Beatty made his return to the pitcher's mound during the summer, playing his second consecutive season with the Corvallis Knights' summer wood-bat baseball team for college eligible student-athletes.
Lacking stamina and trying to regain a feel for all of his pitches, Beatty took awhile to get back to where he had been the previous summer when he compiled a 6-1 record in helping the Knights to the West Coast League championship. In eight appearances, including seven starts, Beatty compiled a 2-1 record, a 4.01 earned run average. His 40.3 total innings pitched ranked third on the team. While not as impressive as the previous summer, those numbers were continued downright unbelievable considering what he had gone through during the previous seven months.
Even more encouraging than all of that for Beatty, however, was hearing from doctors early in the 2012 summer season that he was cancer-free; blood work showed no traces of cancer in his body. "To hear that news," he said at the time, "is awesome."
That was last summer. A couple of months later in October, Beatty was back with his Lute teammates for fall practice. Then, on Feb. 4 at the PLU baseball field, Beatty was on the mound. He beat Concordia on that day, pitching two innings of shutout ball.
Five days later in Arizona, he shut down Concordia (Texas), ranked No. 16 in Division III baseball, on five hits in eight innings. With two wins that week and an average of nearly 1.5 strikeouts per inning pitched in those two starts, Beatty earned Northwest Conference Pitcher of the Week recognition.
"It has been absolutely incredible having Max back out there," Shoup said.
"It kind of just feels right seeing him in a baseball uniform. His return gives us the realistic possibility of going on a playoff run, not only because of his right arm, but because of his personality in the locker room and his leadership role. Baseball is a sport that you are supposed to play relaxed and Max has mastered the fun part, but his drive to compete and win is something you don't see very often. I believe the team is starting to take on that personality as well.
"He was my first real friend here at PLU and I cannot explain how proud I am of him. He went from preparing for the 2012 Major League Baseball draft to chemotherapy. And just one year later he is in the same spot he was before cancer. It's unbelievable. His baseball career will likely continue after his time in Parkland, but I can't imagine a better way to finish mine."
With a four-pitch arsenal and a fastball in the low 90-mile-per-hour range (he touched 94 on the radar gun in Arizona), Beatty appears to be back to normal. Baseball America certainly thinks so, listing the 6 foot-2-inch, 220-pounder as its No. 2 prospect in Division III baseball.
"Ultimately, it has been Max's drive to beat this disease, that has allowed him to get back to doing the things he loves," PLU baseball coach Geoff Loomis said. "Pitching is one of those things, and he's good at it. He never doubted that he would beat the cancer, and I never heard him say, 'Why me? Why did I get cancer?'"
A recent battery of tests, including a blood draw and a CT scan, showed a clean bill of health, meaning Beatty won't have to go back for a checkup for another year.
With professional scouts attending games with their radar guns and requesting information about the hard-throwing junior, the goal of a professional baseball career seems in the offing.
That goal, however, is something for a later chapter. For Beatty, this particular chapter – and season – is about the team fighting for, and winning, the Northwest Conference baseball championship, and with it a berth in the NCAA Division III postseason playoffs.
"The team goal is to win conference and advance to regionals and ultimately playing for a national championship," Beatty said. "Personally, I want to perform to the best of my ability and hopefully be able to enter and get selected in this June's MLB draft." And that would turn the page to the next chapter.