Currently Reading:
The Value of an International Education
April 1, 2013
The Value of an International Education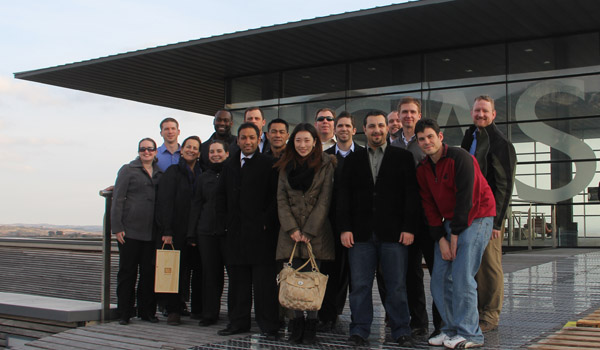 Professor Matt Monnot took a group of MBA students to Spain in 2012.
Both undergraduate and graduate business programs are built on the opportunity to study away
Denise Petryk '12 knew that an MBA would help her in the running of her veterinary practice, but she wanted a bit more. She found that in the PLU MBA program, with its strong international flavor in its curriculum.
"To travel internationally is always a good thing, but I felt that having the opportunity to go to Germany with a German speaker was much better than someone who wasn't fluent with the language," she said of her trip last year. "And global relations, especially now, are just so important to understanding the rest of the world."
The curriculum for the PLU MBA program includes a 10-day international experience, which began in 2007 with a trip to France. Some of the other countries included in the itineraries since then have been China, Vietnam, Ireland, Spain, Germany and Hungary. The 2013 trips are China and Peru, with 2014 trips planned for Dubai and Oslo. In all, 130 students have participated in the international experience, according to Theresa Ramos, Director of Graduate Programs in the School of Business.
The undergraduate business program isn't left out of the international journey either. Through J-Term programs, undergraduate students receive the opportunity to see how businesses compete and create in an effort to retain and expand market share. Assistant Professor of Management Brian Maeng led 13 undergraduate business majors on a comprehensive experience in South Korea. The group visited Samsung, Hyundai Motors, a K-Pop studio, and four other companies, toured the DMZ, attended lectures and artistic events, saw several temples and historical spots, and met with Korean business students.
Assistant Professor of Marketing Sven Tuzovic, who took Petryk's group to Germany, said he enjoys the experience, because of the camaraderie that develops between the students, which usually travel in groups of about 12 to 15. "It's also gratifying for the MBA students to see how different businesses operate in other countries," Tuzovic said. And Tuzovic, who is an expert in services marketing and brand management, feels students usually find it revealing to learn how products are marketed in other countries.
"It's great to experience marketing from a global perspective," he said.
Professor of Management Chung-Shing Lee is planning his trip to China and Taiwan this year, and plans to take students to Beijing's Zhongguancun Science Park and a semiconductor plant in Taiwan. "Students will better understand why China is a giant in the world economic market, as well as how the culture in Taiwan and China influence global business practices," he said.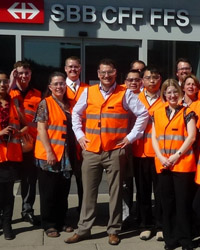 Assistant Professor of Marketing Mark Mulder, just returned from a 10-day MBA international experience program in Peru. Mulder says that he looked for a variety of business stories in Peru that tie back to PLU's mission statement of sustainability and community.
He also wanted his students to understand how culture and business are linked in a country.
"Peru has one of the fastest-growing economies in the world," he said. On his trip, students spoke with an investment banker and toured a beverage company, as well as listened to a lecture on Peru's own efforts at social responsibility.
"I think it's one thing to hear about Microsoft or Google going global," he said. "But it's quite a different thing to see this in action in another country."
That's certainly true, according to Assistant Professor of Management Matt Monnot, who took a group of MBA students to Spain in 2012 to visit Mondragon Corporation, an industry which is the only business model of its kind in the world. It's a worker's cooperative that produces everything from refrigerators to products and systems for construction. Assistant Professor of Accounting Janet Mobus took a group of students last year to Australia with a focus on sustainability in a country that struggles with water resources.
The group visited a sustainable wine vineyard and also resided in an eco-village.
"The meshing of business, politics and public policy on sustainable practices, with the student's desire to be part of the solution was one of the highlights of the trip," Mobus said. "The students came back to campus with an increased dedication and a great understanding of their place in responding to difficult questions."
—
This article was first published in the Spring 2013 issue of Business Scene magazine. To see the magazine in its entirety, click here.