Currently Reading:
A conversation with Steve Maxwell
April 10, 2013
Key Master
A conversation with Steve Maxwell, President, KeyBank South Puget Sound District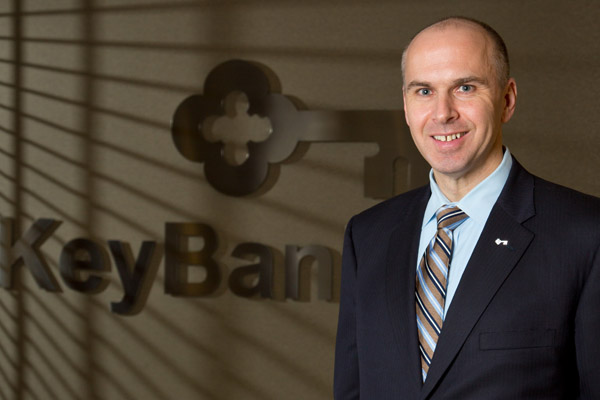 Photo by John Froschauer
Growing up in Portland, Oregon, Steve Maxwell '90 always knew he would major in business. However he wasn't so sure what he'd do with a business degree. Maxwell, who is now president of KeyBank South Puget Sound District, looks back on his time at PLU, and considers the value of internships and the other unique learning experiences that were made available to him through PLU's School of Business. It was those experiences, he says, that helped him get to where he is today.
Q: What motivated you to attend PLU, and how did it prepare you for your career? Did you ever imagine being a bank president?
Steve Maxwell: I wanted to find a school that was fairly close to my home in Portland and offered a first-rate education. And I wanted to play college basketball! PLU had been recruiting me to play for them and after meeting the coach and visiting the campus, I was sold.
The decision to major in business was easy. My grandparents owned a small business and my father's career was in financial management, so business always felt like a natural fit for me. A specific career path, however, didn't become clear until later in my college career.
Looking back, I see that PLU prepared me for my career in a number of ways. First, it provided me with a solid understanding of business concepts and how to use them to make decisions and solve problems. Beyond the classroom, PLU afforded me unique learning experiences such as the Student Investment Fund and travel to Chicago to see commodities traded at Mercantile Exchange. While at PLU, I came to understand the importance of relationships and giving back, and playing basketball for PLU taught me how to compete.
Q: When you spoke to business students at PLU a couple of years ago, you underscored the importance of internships in shaping your career direction. Tell us about your internship experiences during your time at PLU. What impact did they have on your career direction and success?
SM: While I didn't have a specific field in mind during my first years on campus, I knew that first-hand experience in the business world would help me determine what field to pursue (or not!) At the campus Career Development Office, I sought out information about a number of internship opportunities.
In the spring of my junior year, I applied for an internship with a regional bank. A round of interviews led to a position as a credit analyst in the corporate banking department in Seattle. That incredibly rich summer internship changed my life, relating my classroom studies to the real world. I was given challenging work and real responsibility; I had to deal with deadlines and collaborate as a team member. Relationships developed there proved invaluable after graduation.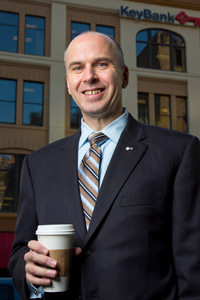 "Pursue internships or other opportunities where you can experience how classroom work applies to the real world. And do it sooner rather than later, as the more you can relate your coursework to the business world, the more meaningful
it will be."
I finished that internship excited about banking as a field based on financial acumen that, when done right, was really about relationships.
During my senior year, I also had a chance to participate in an internship with the Seattle Supersonics NBA basketball team. Talk about a dream internship for a business major and basketball player! From my post in the marketing department, I saw a completely different side of the business world and learned a great deal about professional communication, event operations and meeting the demands of parties with opposing interests.
There were side benefits, including free admission to Sonics games that season. And as cool as that was, the internship confirmed that banking was the career for me.
Q: You were a varsity basketball player at PLU for four years. Obviously that commitment required a lot of time and dedication. How did your experiences on the court help you develop team and leadership skills?
SM: The lessons I learned as a basketball player at PLU were invaluable. Balancing my studies with four years of practices, team meetings, travel and games was not easy. But the tension between these two priorities taught me how to manage time, deal with stress, set priorities, and balance a heavy load.
As a basketball player, I learned how to compete. I experienced the benefits and the sacrifices that come with being a good teammate, and I learned to handle pressure. There are so many ways that my experiences as a basketball player translate to my work: such as how to operate in an environment where every possession (or every interaction) matters, where mistakes have consequences, and preparation and execution reap rewards.
While on the basketball team at PLU, I was selected as team captain my senior year. This was a good opportunity to experience leadership, as it meant setting an example for the team with my words and my actions, being accountable, and at times delivering a hard but appropriate message to a teammate. I use these leadership skills every day.
Q: What do you like most about running KeyBank's operations in the South Sound?
SM: Now in my fourth year as president of KeyBank in the South Puget Sound, I am blessed to have the opportunity to do so many things that I enjoy. I get to make decisions and be accountable for the results. I have a say in the support services that help us excel as bankers, such as marketing, real estate, human resources, credit and sales management. My leadership team inspires me daily with their collaborative spirit and professionalism. And I am proud to be part of an organization that considers community leadership a priority. It is my privilege to manage our volunteer work in the South Sound and the annual donation of $700,000 to area non-profits.
What I enjoy most is working with KeyBank's 400-plus employees in the South Puget Sound. I am inspired by their work ethic and their commitment to providing our clients with meaningful financial solutions. In turn, my commitment to them is robust and sincere. I strive to provide career-development opportunities, work that matters, a strong sense of community and rewards for their efforts.
Q: What keeps a bank president awake at night in these turbulent times?
SM: Nothing! My wife tells me that I fall asleep before my head even hits the pillow. That is not to say that I don't have a lot on my mind. But I have learned to give my anxieties over to the Lord. These are challenging times for this business. The banking industry has seen major disruptions in our revenue streams arising from the impact of regulatory change along with persistently low interest rates. Today, most banks are well capitalized and have strong liquidity. That makes competition intense for available lending opportunities. Given that challenge, it will be important for our industry to remain disciplined in structuring and pricing credit. With the pace of innovation, the competitive environment, and with an economy as dynamic as ours, I think we will always find ourselves in challenging times.
Q: What advice do you have for today's business majors at PLU?
SM: Pursue internships or other opportunities where you can experience how classroom work applies to the real world. And do it sooner rather than later, as the more you can relate your coursework to the business world, the more meaningful it will be. Even if the internship is unpaid, I believe this is a worthwhile investment. Build relationships and learn to communicate; interpersonal skills are probably more important than technical skills. Be curious, ask questions, seek answers; in doing so you will better understand yourself and others.
Q: What advice do you have for PLU business alumni – by way of staying current with technology, or continuing education, or reaching out to help today's students get a good start with their professional lives?
SM: I'd encourage PLU business alumni to stay connected to the school. You can do this in a number of ways, including acting as a mentor or offering an internship.
—
This article was first published in the Spring 2013 issue of Business Scene magazine. To see the magazine in its entirety, click here.