Currently Reading:
Relay For Life at PLU raises nearly $20,000
April 26, 2013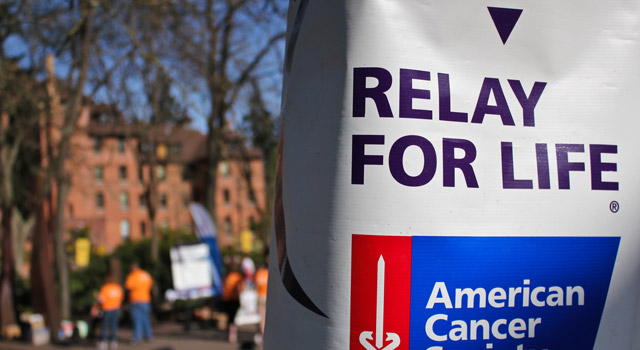 Relay For Life at PLU raises nearly $20,000
Roughly 200 people attended the PLU Relay For Life April 26 and raised nearly $20,000. Relay For Life is a volunteer-driven cancer fundraising event of the American Cancer Society. Each relay team is required to have one person walking on the track at all times during the event.
Mackenzie Deane '15, who helped plan the event, raised nearly $1,700.
"Quite a few people have donated and that shows they find this cause worthy of their money," Deane said.
Deane mailed cards to family and friends, asking for donations. This brought in the bulk of her donations.
"I reached a thousand and thought I could go for more," Deane said. At that point, she raised her goal from $1,000 to $1,500.
At the start of the relay, Karen Andrascik told her story of survival.
"The diagnosis feels like the world turned upside down," Andrascik said. "Faith has allowed me to wake up each day and thank God for another."
Andrascik has been cancer free since 2003.
"Everyone here is putting their effort and time for survivors and those recently diagnosed," Andrascik said.
PLU has been putting forth the effort for the Relay For Life for the last seven years and has raised more than $200,000. A big part of the event is providing entertainment. Deane found several bands to play during the event.
"We're really excited," Deane said. "It's been fun bringing people together and seeing how many people will come together to make the night as unforgettable."