Currently Reading:
Common Reading 2013
June 6, 2013
What are you reading this summer?
Join the 'Full Campus Read'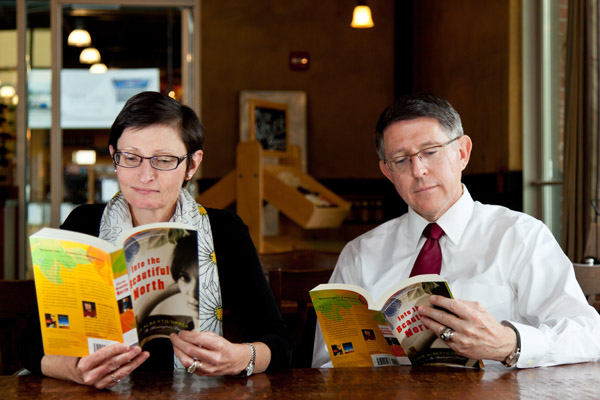 The PLU community will be reading 'Into the Beautiful North'
this summer as part of the Common Reading Program
By Steve Hansen
For the second consecutive year, every incoming student is being asked to read  "Into the Beautiful North," by Luis Alberto Urrea.
But it won't just be first-year students taking part. PLU faculty members, staff and returning students are also encouraged to pick up the book, as part of a "Full Campus Read." The goal is to have as many people as possible read the novel by New Student Orientation, ensuring that nearly everyone has at least one shared experience with the incoming class of 2017.
Seth Dufault '16 read the book last year as part of the program. The second-year student from Yakima, Wash., said the arrival of the novel was an enjoyable, and interesting, way for him to become acclimated to the intellectual rigor associated with classes at PLU.
"It was a little daunting at first, reading the book and knowing you had to find your academic voice and be prepared to think critically at the university level, but it turned out to be a great warm-up for school," Dufault said.
That is exactly the point, said Amber Baillon, associate director of Student Involvement and Leadership, and co-director of the Common Reading Program. She sees the program as a great – and fun – way for students to encounter college expectations, even before school starts.
"The Common Reading Program offers incoming students a sneak-peek of what to expect – and what is expected of them – when it comes to their college education," Baillon said.
"Community, critical thinking and literacy are the core goals of the First-Year Experience Program, and the Common Reading Program provides a shared experience that allows students to tap into all three," said Amy Stewart-Mailhiot, assistant professor, and instructional and reference librarian, and Common Reading Program co-director. "We see it as a great first step to get students into their new academic and social world."
During orientation, Assistant Professor of History Gina Hames and Assistant Professor of English Jenny James, as well as other faculty and staff and students, will be taking part in a panel discussion of the book, as well as leading small-group discussions with other PLU students. Seth Dufault will also be taking part in the panel.
Some professors are also integrating the book into their curriculum. Lisa Marcus, associate professor of English, will again be teaching the book in her Writing 101 seminar on "Banned Books." She wants students to recognize that Urrea's book has been banned in Arizona as part of a push to suppress ethnic studies, particularly works that address Mexican-American history and experience.
Marcus stresses that beyond the story and relatability of the characters, it is important to think about the book in terms of current discourse and legislation about immigration and Americanization, discourse that can be ugly, ideological and censorious. While such topics may be weighty for first-year students, she believes that bringing these topics to the classroom in a student's first semester in college is crucial to fostering critical thinking, an important goal of the First-Year Experience Program.
According to Baillon, fostering that critical thinking is made a little easier when everyone – faculty and staff included – has a common starting point where they can begin to talk about their lives, their own identity, and the many different lenses through which we perceive life.
That was Dufault's experience. "Everyone had a different take on the book, so it was very interesting to see how other people think and how they see the same thing differently," he said.
—
To read about Luis Alberto Urrea's visit to campus last year, click here.

To read a profile of Assistant Professor of English Adela Ramos, and her perspective on 'Into the Beautiful North,' click here.
To view a conversation between Bill Moyers and Urrea that aired on PBS, click here.