Currently Reading:
PLU's School of Business ranked as one of the best
October 11, 2013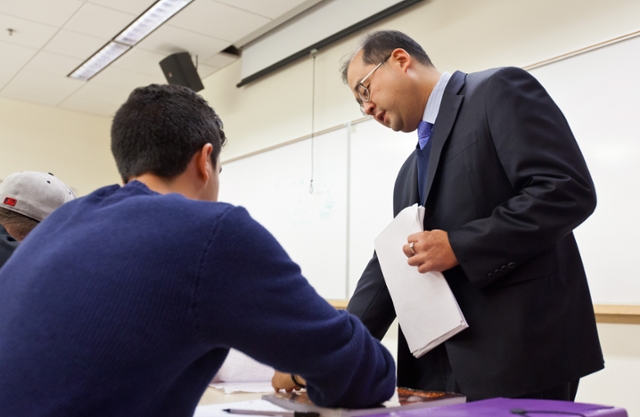 Assistant Professor Brian Maeng works with a student in class. Maeng teaches Operations Management and Management Information Systems at Pacific Lutheran University. (Photo by John Froschauer)

PLU's School of Business ranked as one of the best in the U.S.
Pacific Lutheran University's School of Business is one of the nation's most outstanding business schools, according to The Princeton Review. The company features the school in the new 2014 edition of its book, The Best 295 Business Schools.  The Review also ranked PLU's business school as one of the Best in the West.
"We recommend Pacific Lutheran University as one of the best institutions a student could attend to earn a business school degree," said Robert Frank, Princeton Review senior vice president of publications. "We chose the schools we profile in this book based on our high regard for their academic programs and our reviews of institutional data we collect from the schools."
The Princeton Review's survey asks business school students about their schools' academics, student body and campus life as well as about themselves and their career plans.
"Pacific Lutheran University – School of Business provides extraordinary undergraduate and graduate programs which have been continuously accredited by AACSB International since 1971," said PLU Business Dean Nancy Albers-Miller. "We are honored that The Princeton Review has recognized us as delivering one of the top-ranked programs in the United States and as one of the 'Best in the West.'"
The Best 295 Business Schools: 2014 Edition has two-page profiles of the schools with write-ups on their academics, student life and admissions. In the profile on Pacific Lutheran University, students called the program "globally focused" and with "small class sizes taught by professionals."
In 2010, The Princeton Review ranked PLU's MBA program as one of the top in the nation under its student opinion honors program. PLU was listed in the categories of global management and general management.