Currently Reading:
He Speaks for the Trees
October 15, 2013
He Speaks for the Trees
Pacific Lutheran University's Sustainability Department has a new Sustainability Lead with a suiting name for the profession: Lorax.
Nick Lorax, a 2011 graduate, joined the PLU staff in May and has found a home here—for the second time.
"I love it in a whole different manner now," said Lorax, who graduated with an Environmental Studies major and Biology minor.
Lorax, known as Nicholas Steele as a student, said he discovered his passion for environmental science and sustainability when he took Claire Todd's introductory Geoscience class.
"That's when my eyes opened up to everything going on in the world," Lorax said. "That was it. It stuck."
Lorax's passion did not just help decide his career path; it also evolved into his last name. Each year, Lorax and his partner renew their commitment to one another.
So, last summer, when she had their baby daughter—but not the same last name—they decided to create a new name for the family.
"A name is a part of your identity," Lorax said. "Your name should be something you identify with."
So, since he and his partner both associate with the Puyallup River, Mount Rainier, the Pacific Northwest and South Hill—and both are involved in sustainability— Lorax it was.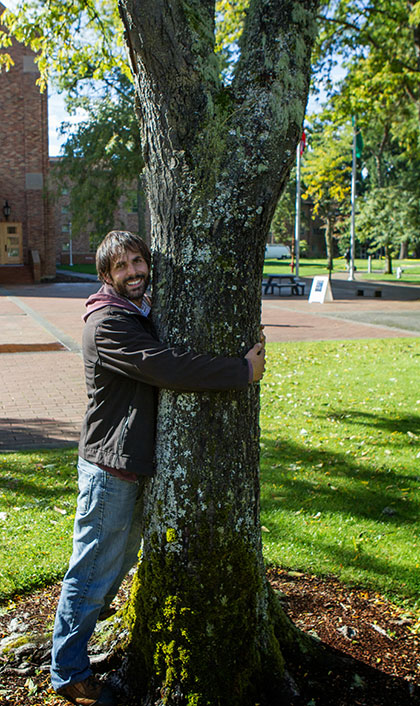 Meet PLU's New Sustainability Lead: Nick Lorax. (Photo by John Froschauer)
"The Lorax is the spirit creature who is the speaker for the trees," Lorax said. "It fit." (It's also, of course, the title character in the Dr. Seuss book The Lorax who works to protect the environment.)
Which also fits PLU's Lorax: In his new job, he works mainly with recycling and with student workers to help achieve the university's sustainability goals: By 2020, PLU aims to become a carbon-neutral, waste-free campus with a diversion ratio greater than 90 percent, meaning most of the school's waste would not go to landfills. Lorax said reaching these two goals would bring PLU international recognition.
Lorax also is involved in PLU's unPLUg campaign, which kicked off Oct. 4 and encourages students to reduce energy use.
"This job is perfect as far as all the different things I want to do," Lorax said.
Lorax has set some sustainability goals of his own while working and living in Parkland.
"Long-term goals are to work on community development and community outreach," Lorax said. "I want to see social sustainability and break down edges between PLU and the Parkland community."