Currently Reading:
MediaLab filmmakers wade into global water crisis
October 21, 2013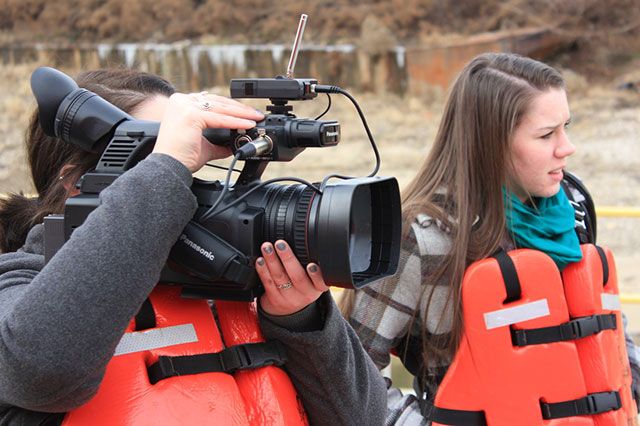 MediaLab filmmakers wade into global water crisis
By Amanda Brasgalla '15
Four PLU students who spent more than a year researching water problems around the world premiered a new documentary film Oct. 26 titled Tapped Out: Unearthing the Global Water Crisis.
Tapped Out focuses on water-related issues in the U.S., Canada and elsewhere. Specifically, the research team traveled across North America – from the Puget Sound region to the Rocky Mountains, Texas, the Gulf of Mexico, the East Coast and the Great Lakes – to study areas adversely affected by drought, population growth and questionable management practices.
See Tapped Out
"Tapped Out" premieres at 2 p.m. Saturday, Oct. 26 at the Seattle Central Public Library, 1000 Fourth Ave. Find out more about Tapped Out.
Kortney Scroger '14, a PLU senior communication major who served as the film's chief videographer and editor, said while the news media almost exclusively report about water scarcity in developing parts of the world, Tapped Out uncovers serious water challenges right here in North America.
"It's an attempt to communicate the current status of water and how the developed nations aren't as prepared as we think that they are," Scroger said. "We don't have as much water as we think we do."
Scroger, along with senior communication major Katherine Baumann '14; senior business major Haley Huntington '14;  and junior Valery Jorgensen '15, a communication major, studied water-related topics for more than a year.
The students are all members of MediaLab, the multimedia applied research program within SOAC that produces documentaries and other media content for external audiences and clients. The organization has been nationally recognized for many of its productions, four of which have received Emmy Award nominations over the last six years, including one Emmy win in 2009.
The Tapped Out team spent much of early 2013 traveling more than 10,000 miles across the U.S. and Canada to produce the film. To learn about the current state of the world's oceans, rivers, lakes, glaciers and aquifers, the team conducted dozens of interviews with geologists, hydrologists, officials from the United Nations, the U.S. Environmental Protection Agency, the U.S. Bureau of Reclamation, business leaders, representatives of environmental organizations,  citizens and many others.
Others interviewed for the film included global water expert and author Maude Barlow. A Canadian who is in constant demand on the worldwide lecture circuit as a guest speaker and water-issues consultant, Barlow is co-founder of the Blue Planet Project and serves as National Chairwoman of the Council of Canadians.
Population growth, pollution, climate change and incorrect public assumptions and attitudes all represent threats to water resources around the world, according to Barlow.
"If there's one thing to know about water," said Barlow, "it is that the lesson you learned in grade six, that you can't run out of it, that it's there forever, is wrong."
Ultimately, the documentary's objectives are to provide thought-provoking information and increase overall public awareness, said Huntington.
"We're just so blessed with all of this rain that we get" in the Pacific Northwest, Huntington said. "There are people in Texas and other parts of the world that would die for the amount of rain we have."
More information about the film can be found at: http://tappedoutdoc.weebly.com/.