Currently Reading:
Dr. William Foege '57 returns to PLU for Nov. 21 lecture
October 28, 2013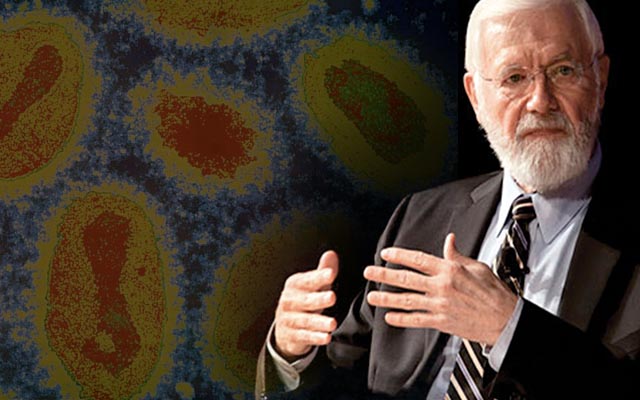 Medal of Freedom honoree and PLU alumnus returns for Nov. 21 lecture
Alumnus Dr. William H. Foege, recipient of the Presidential Medal of Freedom for leading the fight to successfully eradicate smallpox, returns to PLU on Nov. 21 for a free public lecture and book-signing. The event will take place in the Phillips Center at 7:30 p.m.
Dr. Foege, an epidemiologist, worked on the successful campaign to eradicate smallpox in the 1970s. Presenting Dr. Foege with the nation's highest civilian honor at the White House Medal of Freedom ceremony last year, President Barack Obama called him a leader in "one of medicine's greatest success stories."
Foege received the award along with such notables as singer Bob Dylan; astronaut John Glenn; former Secretary of State Madeleine Albright; and another Washington state resident, Gordon Hirabayashi, a sociologist who fought against the forced relocation of Japanese-American citizens during WWII.
After his PLU talk on Nov. 21, Foege will sign copies of his book, House on Fire, which explains how smallpox, a disease that killed, blinded and scarred millions of people, was completely eradicated in a spectacular triumph of medicine and public health. Part autobiography, part mystery, the book describes Dr. Foege's experiences in public health and details the remarkable program that involved people from countries around the world in pursuit of a single objective: eliminating smallpox forever.
Foege served as chief of the Smallpox Eradication Program of the Centers for Disease Control and Prevention and was appointed director of the CDC in 1977. He graduated from PLU in 1957 and later received his medical degree from the University of Washington and his master's degree in public health from Harvard University. He also holds honorary degrees from numerous institutions and was named a fellow of the London School of Tropical Medicine and Hygiene in 1997. He has written more than 125 professional publications.
An Atlanta-based physician and epidemiologist, Foege and colleagues founded the Task Force for Child Survival in 1984. While at the CDC, he forced drug companies to warn that aspirin might cause the sometimes-deadly Reye Syndrome, reacted quickly to alert women to the dangers of toxic shock syndrome and saw the first cases of a frightening new disease in the early 1980s: AIDS. Over his career, he has been, quite simply, recognized as one of the most important figures in public health.
Foege became executive director of The Carter Center in 1986 and continues to serve the organization as a senior fellow. He has served on the PLU Board of Regents and received an honorary doctorate from PLU in 2000, when he was the university's Commencement speaker.
He helped shape the global-health work of the Bill and Melinda Gates Foundation, and remains a champion of a wide array of issues, including child survival and development, injury prevention and preventative medicine. Foege's leadership has contributed significantly to increased awareness and action on global health issues, and his enthusiasm, energy and effectiveness in these endeavors have inspired a generation of leaders in public health, according to a White House biography.
Speaking in 2006 at the dedication of the William H. Foege Building at the University of Washington, former President Jimmy Carter called Foege one of the two men in his life, other than his father, "who have shaped who I am." Also speaking at the dedication, Bill Gates credited Foege with providing early guidance for development of the global-health team at the Bill and Melinda Gates Foundation.
In his 2000 Commencement address, Foege urged graduates to become explorers. He urged them to be involved, and not just be spectators in life. "Give quality work throughout your lives," he said, "even though there's no way of knowing how your efforts will affect the future."