Currently Reading:
Extra! Extra! Lute Wins Prestigious Award for Journalism Career
November 13, 2013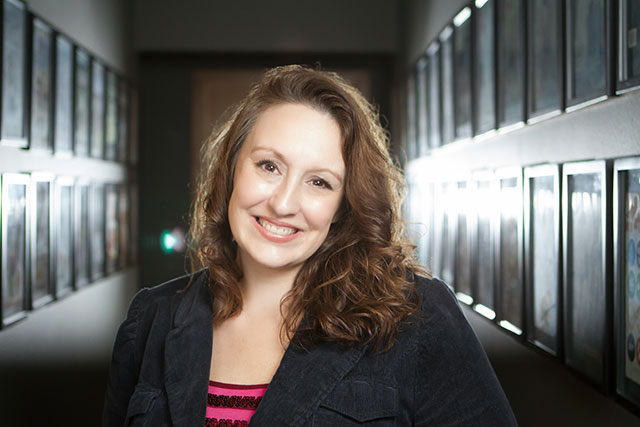 Extra! Extra! Lute Wins Prestigious Award for Journalism Career
By Valery Jorgensen '15
Lisa Patterson '98, editor of 425 and South Sound magazines, recently was honored with the Seattle Business Examiner's 40 Under Forty award, which recognizes outstanding South Sound business and community leaders under the age of 40.
Patterson's journalism career has been marked by one success after another—and perhaps destined by one very early experience: The first article she wrote, on cafeteria lunches, ran in her elementary-school newspaper.
"I thought it was so much fun seeing my name in the paper," Patterson said
She picked up reporting again in high school, working for her school's paper and freelancing for The News Tribune's Young Adult Pages. She also delivered newspapers.
"There was a point in time when I was delivering the paper and had a byline," Patterson said.
Still, it was at PLU where Patterson developed her skills to a professional level. She majored in journalism and earned a printmaking and publishing minor.
"I am glad I landed at PLU," Patterson said. "I feel incredibly lucky to have graduated from PLU."
Professor Cliff Rowe was one of Patterson's inspirations; they had met earlier, and he encouraged her to attend the university.
"When I met Cliff, I knew PLU was where I should be," Patterson said.
Patterson also connected with well-known Communication professors Joanne Lisosky and Robert Marshall Wells, who had worked at The News Tribune before coming to PLU.
Patterson was a single mom while attending PLU and worked while enrolled. She credits her professors for helping her get where she is today.
"The community understands the value of a PLU education," Patterson said.
Patterson still keeps in contact with professors, visits classes and shares her experiences with current students.
"Journalism is such a small, small world," Patterson said.
The summer after she graduated from PLU, Patterson went back to The News Tribune as a paid intern, but funding for her job lasted only six months.
"It was a blessing in disguise that they didn't keep me," Patterson said.
From Tacoma, Patterson joined the Aberdeen Daily World and reported on crime and courts.
"It was one of the best experiences of my life," Patterson said.
Patterson switched to magazine writing after finding a South Sound magazine on her desk at the newspaper. Although she always considered herself a newspaper reporter, in the end all that mattered was that she was writing—and, for once, not about "dark things."
"I've always liked writing and reading," Patterson said. "It just seems like my path always goes to journalism."
After becoming editor, she immediately worked to launch Premier Media Group's second magazine, 425, and rebranded South Sound. Both bi-monthly lifestyle magazines cover a variety of topics, including local food, home, fashion and travel.
She has worked for Premier Media Group for seven years, building two successful magazines—and now, earning a prestigious award for it all.
"It was a nice surprise," Patterson said, adding that she loved the recognition but "couldn't do anything without a great team."