Currently Reading:
PLU Hosts Traditional Sankta Lucia Fest on Dec. 6
November 1, 2013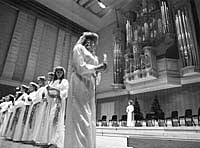 The Sankta Lucia festival has been an annual tradition at Pacific Lutheran University since 1951. Photo: PLU files.
SCC Holds Annual Sankta Lucia Fest
The Scandinavian Cultural Center at Pacific Lutheran University presents its traditional Sankta Lucia Fest at 7:30 p.m. Dec. 6.
For more than 60 years, a PLU student has been chosen to represent the spirit of Lucia, a female saint venerated in Sweden for bringing light and hope during the darkest month of the year. This year's celebration is led by 15 outstanding PLU students, one of whom will be crowned PLU's Lucia and receive a $500 scholarship.
In Sweden, Lucia Day is celebrated on Dec. 13 in schools and in the workplace. In Swedish homes, the eldest daughter rises early in the morning, dresses in a white gown with a red sash and wears a crown of candles in her hair. She wakes her family at dawn and serves coffee, gingerbread cookies and Lussekatter.
The Lucia custom was introduced to the PLU campus in December 1951 by the Rev. E. Arthur Larson, professor of Swedish. The first Lucia was Lola Murk Gracey (class of '54). Dressed in traditional Lucia garb, she rose early and went from room to room in Harstad Hall, offering fellow students cookies and hot coffee. Lola donated the crown she wore in 1951 to the SCC's permanent artifact collection. From its humble beginnings, the Sankta Lucia Fest has become a time-honored tradition at PLU.
The 2013 celebration takes place in Lagerquist Hall on the PLU campus and includes musical performances by the Lucia applicants, the Swedish Vasa Lodge singers and a children's choir. A free public reception follows at the Scandinavian Cultural Center. The event is sponsored by IKEA (Lucia applicants also will sing at IKEA on Dec. 7 and at two local retirement homes). Tickets are $8 general, $5 for members of the Scandinavian Cultural Center and free for the PLU community. They are available from the Campus Concierge in the Anderson University Center, at 253-535-7411 or at the door.