Currently Reading:
Dr. William Foege '57
December 11, 2013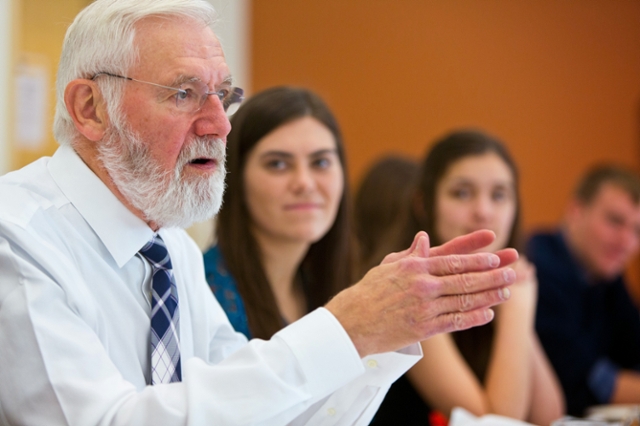 Dr. William Foege tells students to find their passion, and pursue it
By Barbara Clements
Content Development Director
Mention poverty, and there is only one response from Dr. William Foege. Anger.
"We, as a society, seem to accept poverty as if there is nothing we can do about it," said Foege '57, who visited campus in late November. "That is simply not true. There is nothing about poverty that is pre-ordained. It is the rules we set up."
And society – with few hits to lifestyle – can change those rules, stressed Foege, who in the 1970s led the fight to successfully eradicate smallpox. For his efforts, Foege was awarded the Medal of Freedom in 2012 by President Obama, who called him a leader in "one of medicine's greatest success stories."
Foege said he truly supports the $15-per-hour minimum wage in SeaTac, and feels that a $20-an-hour minimum wage should be considered.
Poverty is not only the key indicator of health, or lack thereof, in the U.S. but also one of the greatest killers, over and above the diseases one hears about in the news, he said.
"We have a better society when we minimize the gaps between the rich and the poor," he said.
During his talk at PLU, and in a private lunch with science majors on Nov. 21, Foege urged students to find their passion, and then pursue it. He urged students to be "passionate generalists" and first "know as much as you can about the world, but then find your passion within it."
He argued against doing work simply to get rich: "Some of the saddest people I know are also the wealthiest." He also argued against  overconfidence, or taking the attitude that your solution or view is the only one."Certainty is the Achilles heel of politics, religion and science," he said.
Foege served as chief of the Smallpox Eradication Program of the Centers for Disease Control and Prevention and was appointed director of the CDC in 1977. He graduated from PLU in 1957 and later received his medical degree from the University of Washington and his master's degree in public health from Harvard University. He also holds honorary degrees from numerous institutions and was named a fellow of the London School of Tropical Medicine and Hygiene in 1997. He has written more than 125 professional publications.
Of all the universities he attended, Foege said the best professors, indeed the best teachers, were at PLU."I really didn't expect that," said Foege, who said that four of his immediate family members, along with nieces and nephews, have attended PLU. "But after going through the UW and then Harvard, I realized it was true. The best professors I had were at PLU.
"I tell students to relish their experience here," he said. An Atlanta-based physician and epidemiologist, Foege and colleagues founded the Task Force for Child Survival in 1984. While at the CDC, he forced drug companies to warn that aspirin might cause the sometimes-deadly Reye Syndrome, reacted quickly to alert women to the dangers of toxic shock syndrome and saw the first cases of a frightening new disease in the early 1980s: AIDS. Over his career, he has been, quite simply, recognized as one of the most important figures in public health.
Tom Paulson '80, who works with Foege for Paulson's health-oriented blog – Humanosphere – calls Foege a "global health superhero."
It was Foege, Paulson notes, who came up with the containment methods – drawn from Foege's experience fighting fires in Eastern Washington as a youth – that eventually isolated and then eradicated smallpox. Aside from a method to vaccinate the population, Foege talked about the necessity to get the buy-in for key influencers within the culture. With one culture, it might be the village elder or shaman; in another it would be the mothers.
"If you tangle with culture, culture will always win," he said.
Foege became executive director of The Carter Center in 1986 and continues to serve the organization as a senior fellow. He has served on the PLU Board of Regents and received an honorary doctorate from PLU in 2000, when he was the university's Commencement speaker.
He helped shape the global-health work of the Bill and Melinda Gates Foundation, and remains a champion of a wide array of issues, including child survival and development, injury prevention and preventative medicine.
In his 2000 Commencement address, Foege urged graduates to become explorers. He urged them to be involved, and not just be spectators in life. "Give quality work throughout your lives," he said, "even though there's no way of knowing how your efforts will affect the future."