Currently Reading:
PLU Nursing Students Top in Exam Pass Rates
February 23, 2014
PLU Nursing Students Top in Exam Pass Rates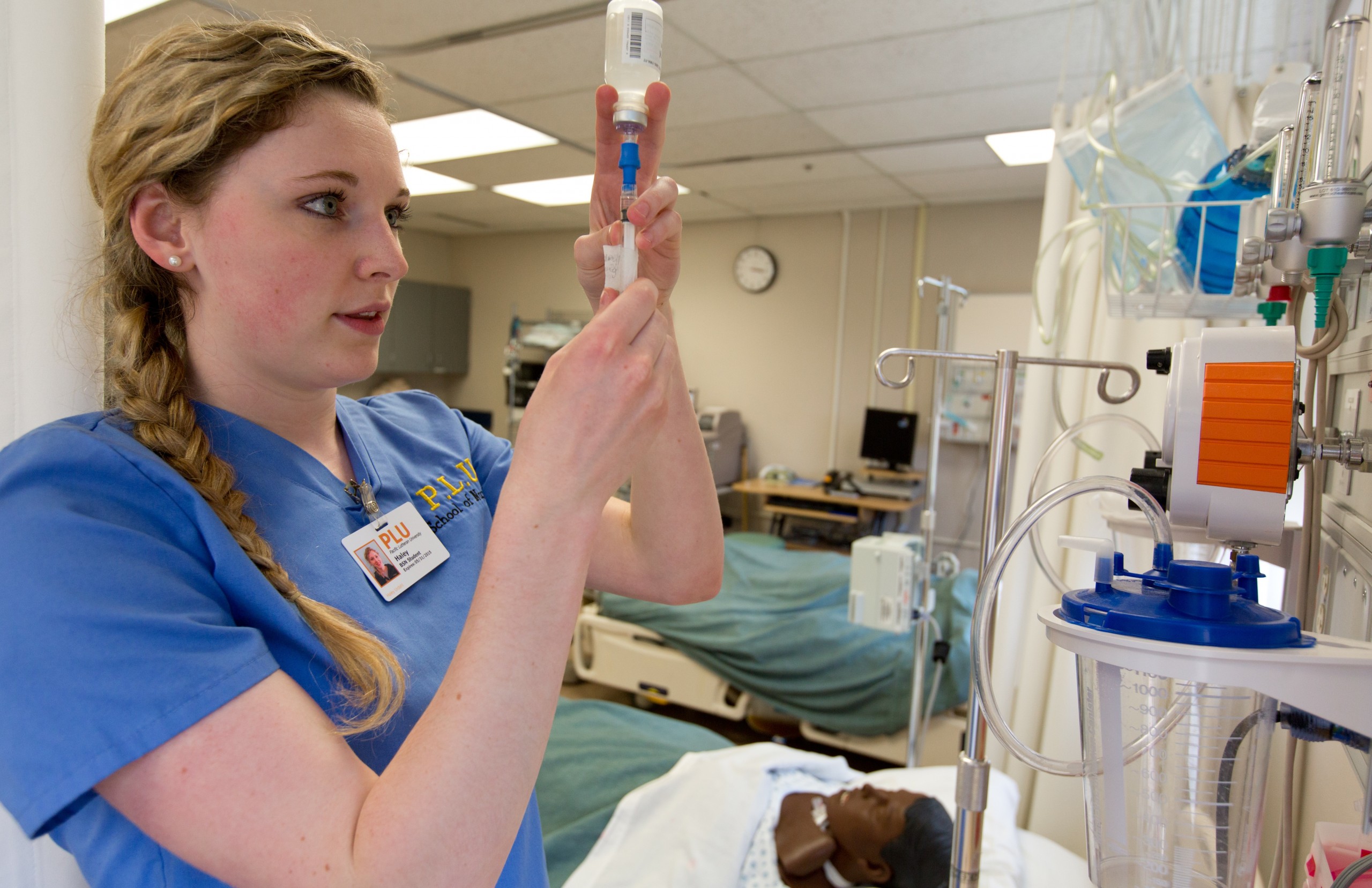 The results are in for the 2013 NCLEX-RN exams, and for the second year in a row, Pacific Lutheran University Nursing students have achieved the highest pass rate among all baccalaureate and higher-degree nursing programs in the state.
The interactive, computer-based NCLEX-RN test, or the National Council Licensure Examination for Registered Nurses, is a requirement for licensure as a registered nurse, said PLU Professor Terry Miller, dean of the School of Nursing.
In 2013, 78 PLU Bachelor of Science Nursing students took the examination for the first time, and 75 of those passed on the first try, for a 96.15 percent pass rate. Eighteen entry-level Masters students took the exam, with 17 passing on the first attempt, for a 94.44 percent pass rate. Combined, PLU's 96 first-time test-takers achieved a 95.83 percent pass rate.
How PLU NCLEX-RN Pass Rates Stack Up Against Other Washington Nursing Programs
1.  PLU: 96.15%
2.  UW-Seattle: 90.98%
3.  Gonzaga: 89.8 %
4.  Walla Walla: 89.06%
5.  Northwest University: 88.24%
6.  Seattle Pacific University: 87.5%
7.  WSU: 80.23%
8.  Seattle University: 78.95%
"What's most important is the first-time takers," Miller said. "You want them to pass the first time."
And PLU students usually do.
"There are two groups of PLU Nursing students who take the NCLEX-RN: the BSN graduate and the Entry-Level MSN student who takes the examination at the end of his or her pre-RN licensure coursework," Miller said. "The Entry-Level MSN program's first class started in the summer of 2003, and since then the pass rate for the Entry-Level MSN is close to 99 percent," Miller said.
Miller said nursing students in Washington typically perform well on the exam, especially compared with the nation: For all RN programs in the United States and its territories, 29,456 nursing students took the NCLEX-RN in 2013, and 14,992 passed (50.9 percent); for all RN programs in Washington, 2,579 took the exam, and 2,225 passed (86.27 percent).
PLU students, clearly, perform even better.
"Our programming is strong, and it's a wonderful culture," Miller said. "We're clinically focused and very strong. We have what I consider an internal consistency, highly dedicated faculty, and we have a wonderful student body. It all comes together and gives us really good results."