Currently Reading:
PLU's High School Programming Contest Clicks Into Overdrive
March 2, 2014
PLU's High School Programming Contest Clicks Into Overdrive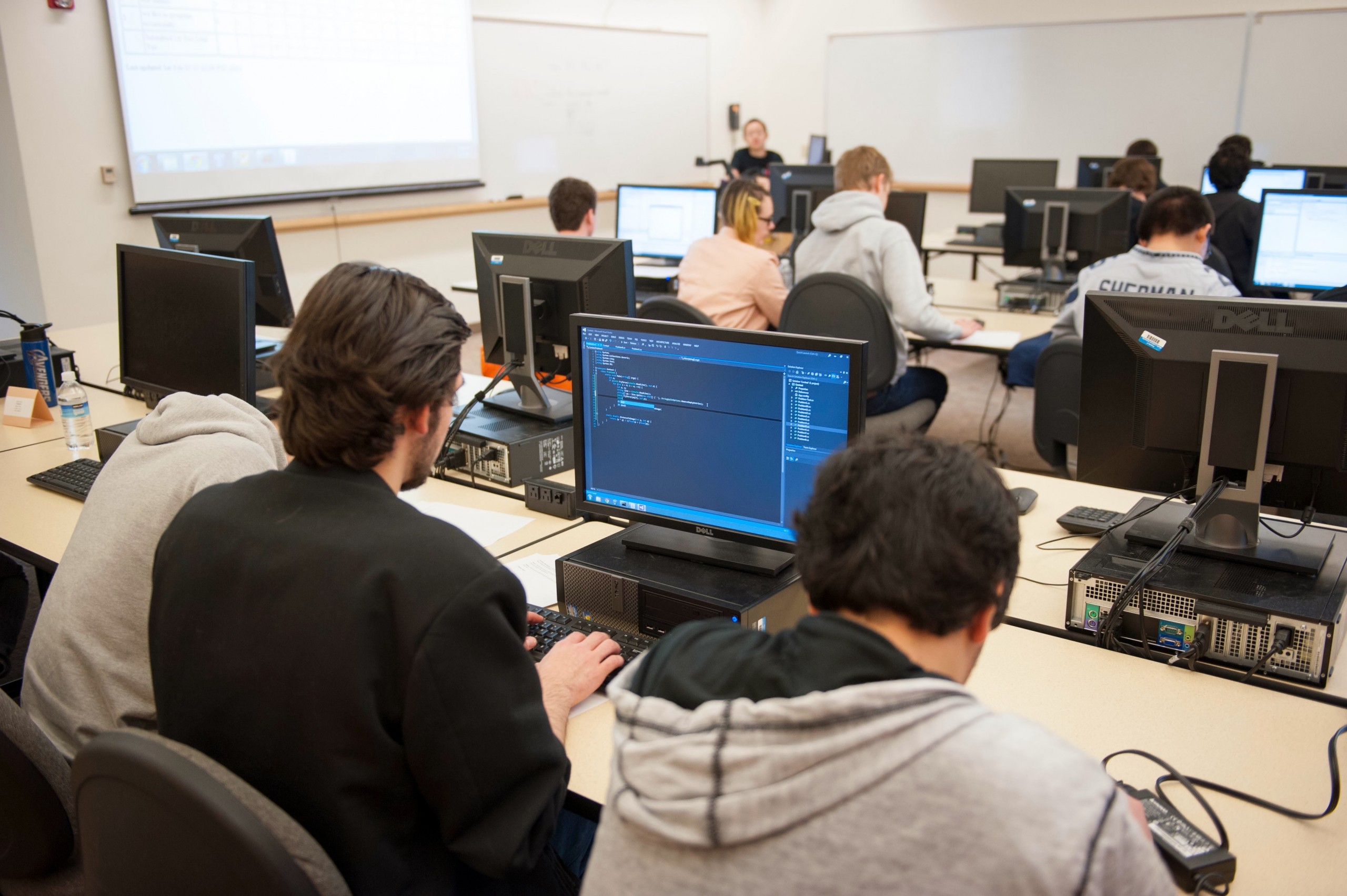 Students compete at PLU's fourth annual High School Programming Contest on Feb. 1. (Photo: John Struzenberg '15)
By Sandy Deneau Dunham
PLU Marketing & Communications
PLU's inaugural High School Programming Contest, in 2011, drew 32 student competitors from five schools—not bad at all. But … to get to 32, event organizer Kenneth Blaha, Professor of Computer Science and Computer Engineering, sent emails to everyone in the Puget Sound Computer Science Teachers Association and visited high schools to talk personally to the teachers.
"Typically, with a week to go, not many people had signed up," Blaha said. "So I'd send out another plea."
In 2012, following that same course of action, 40 students competed. In 2013, that rose to 58.
And this year? This year—let's call it version 4.0—was completely different.
2014 PLU High School Programming Contest Results
Advanced Division
First place: Roosevelt High School
Second place: Lakeside High School
Third place: Olympia High School
Novice Division
First place: Tahoma High School
Second place: Bonney Lake High School
Third place: Garfield High School
"This year, I sent out the group email three or four weeks before the contest," Blaha said. "With a week and a half left to go, I actually had to close the registration. We can't handle much more than 80 students—and we had 82 students, on 31 teams."
By any standard, PLU's 2014 High School Programming Contest was a resounding success, even if it did demand a logistic audible.
"We used to just meet in the little conference room in Morken 103 when we had 50 students," Blaha said. (This year) we had to go over to Leraas Lecture Hall. That was great. We had too many people!"
The fourth annual contest, held Feb. 1, hosted 31 teams representing 14 schools. Students—on Advanced or Novice teams—worked for three hours to write programs to solve as many computer-programming problems as they could.
The first-, second- and third-place winners in each division received engraved medals, and the top team in the Advanced division won a perpetual trophy engraved with team members' names and the name of their high school.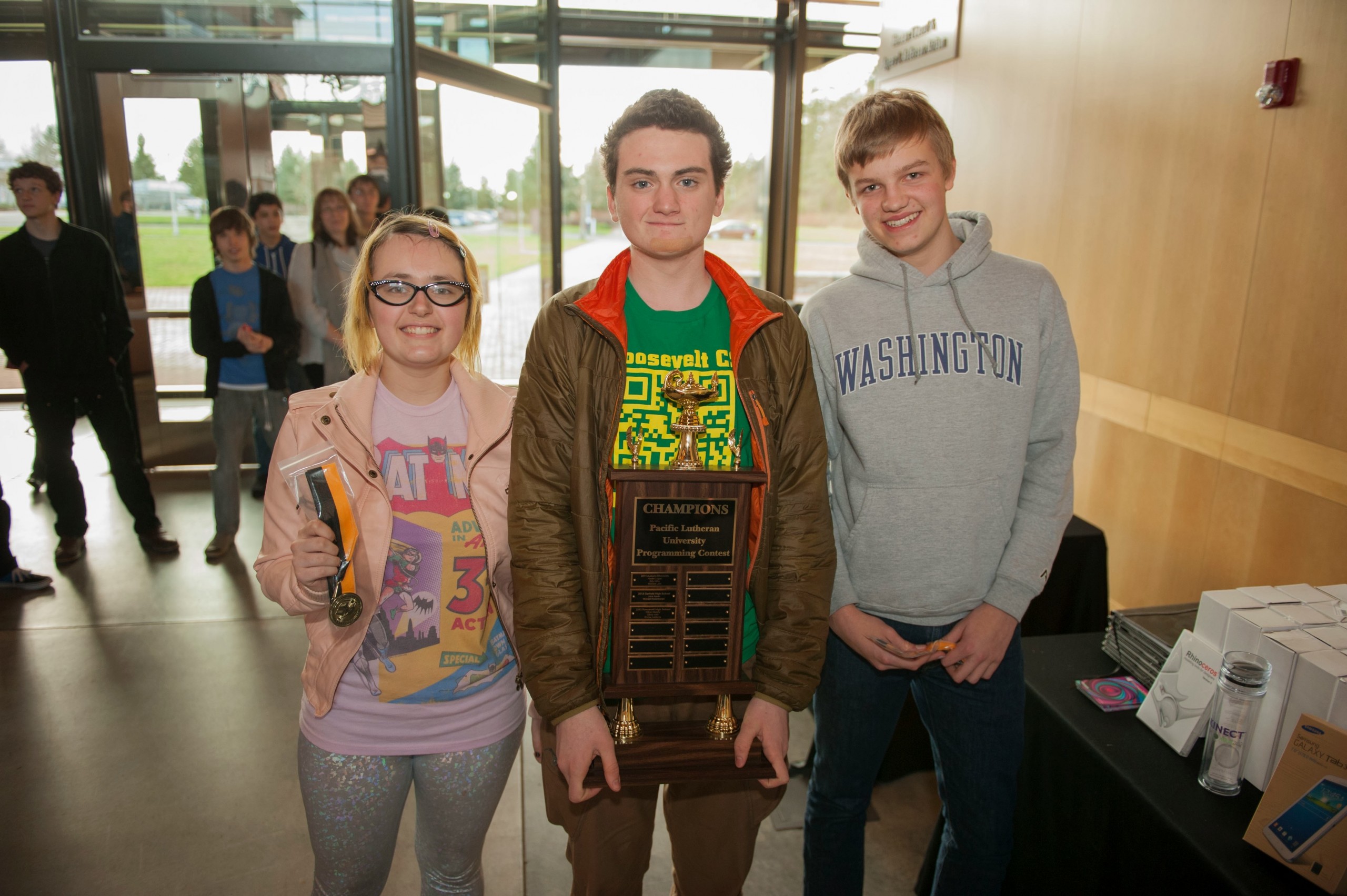 This year, for the first time ever, Blaha said, a returning champion reclaimed the trophy: The team from Roosevelt High School won first place in the Advanced division for the second year in a row, this time solving 10 problems. In the Novice division, first place went to Tahoma High School, for solving 10 problems.
The winning team now displays the trophy at its high school until September, when Blaha will bring it back to PLU to await the next winner.
Tangible recognition is an integral part of the contest, and its origins.
Blaha first conceived of the contest during his sabbatical. "My feeling was this," he said: "I know that in high school, if you're on the football team or the basketball team, there's all this recognition, and you get trophies—it should be the same thing if you want to compete in something academic."
And, while the contest challenges and rewards high-school students, plenty of Lutes help make it a success.
Blaha said PLU CSCE students—typically those who compete in similar, collegiate-level contests—volunteer to help out. David Wolff, chair of PLU's CSCE department, attends every year and helps with the judging. And people throughout the CSCE department help out with the programs.
So after building interest, attendance and prestige every year, where does the contest go from here?
Blaha is already thinking about that.
"The contest is open to every school in the state, but haven't had anybody come from the east side yet," Blaha said. "We could have somebody on the east side host one, too, and run them in parallel—that's the way the collegiate contest is done."