Currently Reading:
Filmmaker looks into his past and the rescue of Jews in a small French village during WWII
March 12, 2014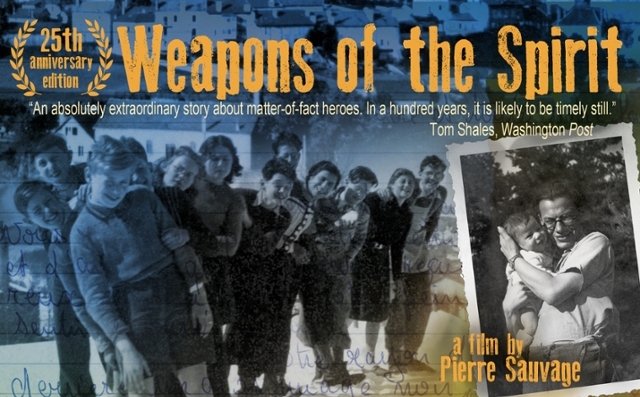 Hiding in Plain Sight: Filmmaker researches his roots and into the rescue of Jews at Le Chambon-sur-Lignon
By Barbara Clements
Content Development Director
Pierre Sauvage, just 18, remembered being shocked by the news: He was Jewish? And his parents survived WWII and the Nazi regime largely by finding a safe haven, with up to 5,000 others, in a little-known part of south-central France?
The news, belatedly told by the Sauvages to their son, led him on a journey of discovery, and of his heritage. Sauvage will talk about his heritage and show his film, Weapons of the Spirit, at 7 p.m. March 12 in the Nordquist Lecture Hall in Xavier Hall. The film and discussion are open and free to the public. A Q&A period will follow the film, and Sauvage, as well as Nelly Trocmé Hewett, a teenager in the village during WWII, will participate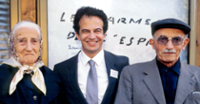 in panel discussions throughout the Powell-Heller Holocaust Education Conference this week.
"There were Holocaust survivors who talked, and those who didn't," said Sauvage, who will talk about his film and the Huguenot community that saved his family and thousands of others. Sauvage's parents were definitely of the second category, but once he knew his story, Sauvage, who switched from a journalism career to filmmaking in France, pursued his passion of finding the unknown stories of the Holocaust.
"I knew I was born in Le Chambon, France, and I didn't know the meaning behind that," said Sauvage from his base in Los Angeles."It was still a footnote in history when I started looking into the story," Sauvage said. "There has been a sea change since then, and these stories are the flavor of the month. It wasn't that way in 1989."
Sauvage credits several factors for the Le Chambon region successfully hiding 5,000 Jewish refugees during WWII, including his parents. Germans were spread thinly in France at the time, he said, and some of the German officers who were nearby simply looked the other way.
"This region was peaceful and wasn't shooting at soldiers," he said. "They did work with the armed resistance, however."
The region was in the mountains, isolated, and the entire Huguenot community joined together to project the refugees, some of whom arrived as early as 1938.
When he first came to the villages (there are total of 12, including Le Chambon-sur-Lignon), the villagers were reticent to speak with him.  Many of the villagers wondered why anyone was bothering to tell their story. But one couple opened up, and then another. "Word of mouth is a wonderful thing," he laughed.
"They were matter-of-fact heroes," he said. "They don't really like to be called heroes. These were not people who agonized over what to do. They did it."
Sauvage hopes that viewers of his film will take away the sense that this is not a story in another place and time. But that "this is a film about us.
"It's about human nature, and we need to be able to connect with all aspects of our human nature, good, evil, the capacity for apathy and the capacity to act."
Pierre Sauvage plans to release two other movies this year about rescuers in the Holocaust. One documentary will be on Varian Fry, an American artist who turned Marseilles, France, into Casablanca for fleeing Jewish artisans and intellectuals. His second project is a film on Peter Bergson, a militant Jew from Palestine who led the U.S. effort to make the general American populace.