Currently Reading:
Former Gov. Gregoire is PLU's Earth Day Speaker
March 18, 2014
Watch PLU's Earth Day Lecture Live!
Click here for the Livestream of former Gov. Christine Gregoire's talk, 7:30 p.m. April 22.
Former Gov. Christine Gregoire to Speak at PLU for Earth Day
Think of Puget Sound as a bathtub, former Gov. Christine Gregoire advises. Then ask: Is this a tub you'd want to dip your toe in, or let your kids play in?
When she talks to the Pacific Lutheran University community on April 22, Gregoire will be asking these questions, and pushing everyone to do his or her part – and, she stresses, you do have a part – in helping preserve and restore Washington's natural resources, particularly Puget Sound.
Serving as the state's 22nd governor between 2005 and 2013, Gregoire led the state in the cleanup of Puget Sound, primarily through the creation of the Puget Sound Partnership. During her career of public service, she also led the state Department of Ecology as its director and was state Attorney General from 1993 to 2005.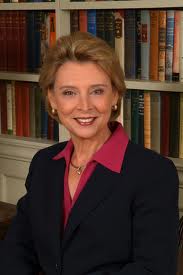 Gregoire said her talk will focus on the evolution of our environmental approach to Puget Sound and what comes next in the work to sustain a healthy Sound, which can look deceptively beautiful from its shores.
When she first started working for the state as the head of the Department of Ecology from 1988-92, then as state Attorney General, and then as governor, Gregoire said the attitude was basically this: Pump the pollution into the ocean or, in our case, Puget Sound, because "dilution is the solution to pollution."
But that view of cleanup is not only shortsighted in general; it simply doesn't work with Puget Sound, she noted, which acts rather like a big bathtub.
PLU's Earth Day Lecture
When: 7:30 p.m. April 22.
Where: Karen Hille Phillips Center for the Performing Arts, on the PLU campus.
Admission: Free, but registration is required at left.
Watch live: Gregoire's talk will be livestreamed on LuteCast; check back for more details.
That's one of the reasons she created the Puget Sound Partnership in 2007, which focused on cleaning up Puget Sound using science to get the Sound "fishable, diggable and swimmable" by 2020.
The first push to clean up the Sound focused on big industry, but now, Gregoire stressed, cleanup efforts must focus on smaller cumulative causes, such as what habits each of us has that contribute to degradation of the Sound, or other bodies of water such as Hood Canal.
"I think if you dove below the surface and saw the discharge areas around Seattle into the Sound, you would be shocked at what you see," she said. "We have to look in the mirror and make some fundamental changes to our habits."
That said, Gregoire said it is actually harder to get several million people to change their habits than to bring pressure to bear on a few very visible industries. Puget Sound residents need to realize that, "You are part of the problem; you need to be part of the solution."
Aside from her leadership in pushing for the cleanup of Puget Sound, Gregoire said she's also proud of her work in pushing for an equitable division of the water in Eastern Washington. When she first arrived on the scene as DOE director, none of the sides were talking to each other. And the fish and crops were suffering.
Once she became governor, she pushed all sides to the table and dangled $300 million in a bank account that would be available to parties if progress were made. Finally, old silos came down and the Columbia River Water Management Act was passed.
Gregoire also reinvigorated the state's Department of Ecology and led the state to adopt Clean Air standards in 2009. During her tenure, Gregoire passed laws that made the state a national leader in climate-protection policy, leaving Washington an environmental treasure for future generations.
Since she left office, Gregoire has been anything but retired from the public spotlight. She is on the board of the Fred Hutchinson Cancer Research Center and is chair of the Export Import Bank Advisory Committee in Washington, D.C. The bank assists with the exporting of U.S. goods to international markets.