Currently Reading:
Nicaragua Spring Break Trip
March 20, 2014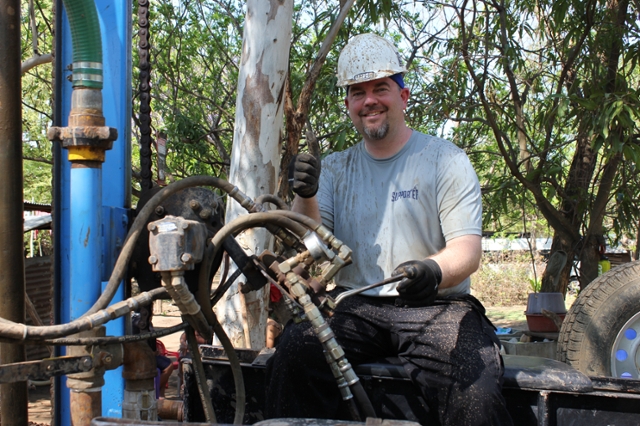 Nicaragua: Lutes Get Their Hands Dirty for Clean Water
By Barbara Clements
PLU Marketing and Communications
Instead of lazing around on beaches during Spring Break, or going on a road trip to Disney Land, 10 Pacific Lutheran University students headed south to Nicaragua on March 22 to dig a well and assist in giving a village the gift of clean water.
Under the guidance of Assistant Professor Mark Mulder, the students traveled to the northwest corner of the country to help build a well under the auspices of
Living Water International
, a Christian NGO that organizes well projects around the world. Living Water operates in 26 countries, and works
community by community to help resolve the world-wide clean-water crisis. The entire project was hatched in the fall of 2012 during a marketing class, where students worked with Living Water International develop a marketing plan that would appeal to the college-age demographic. Over the last 18 months, the partnership developed, and this spring the trip became a reality.
The village is located about an hour outside of Leon, Nicaragua. Once they arrived at the village, students helped drill the well, give hygiene lessons to children and made connections with the residents. The lead-up to the trip involved various community partners, including Parkland Light and Water, Brookdale Elementary, Trinity Lutheran Church and Rainier View Christian Church.
PLU students were able to visit every class at Brookdale to talk about the trip and the clean-water crisis and to review the hygiene lessons students taught in Nicaragua. The Brookdale students held a fundraising drive and raised more than $300 in coins for the project.
"I think this is a real neat intersection with our coursework," said Mulder before the trip. "We have all these different  disciplines going, and it will be interesting to see how this affects their lives later on."
Mulder said he appreciates how Living Water handles the relationships with the village residents.
"There is relationship-building going on before we get there," he said. "It's not like we swoop in and say, 'Here's your well.'"
Near the end of the trip, the group also visited a cooperative farm that raises honeybees, selling the honey for profit. PLU has participated in the micro-financing venture for the business.
Mulder became passionate about clean drinking water, and efforts to provide this resource to communities, after taking two earlier  well-digging trips, to Honduras in 2011 and to Nicaragua in 2013.
"The global water crisis offers us an opportunity to become active," he said. "From a business standpoint, businesses and nonprofits can have an active role in impacting the world in a positive way."