Currently Reading:
PLU Vs. The Plow
March 24, 2014
PLU Vs. The Plow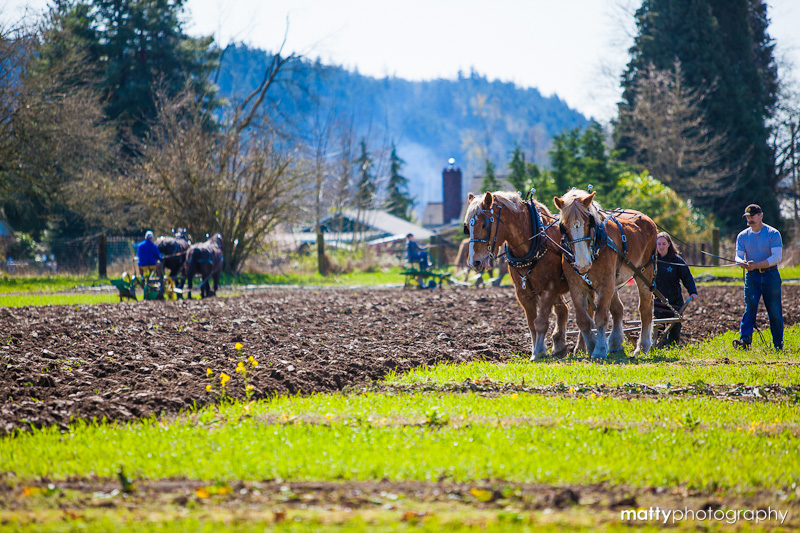 PLU's men's basketball team will help horses prepare the fields at the Emergency Food Network's Mother Earth Farm in Puyallup on April 12. (Photo courtesy of EFN)
Basketball Team Takes on Clydesdales
to Prepare Mother Earth Farm for Planting
By Sandy Deneau Dunham
PLU Marketing & Communications
Pacific Lutheran University's men's basketball team will pit manpower against horsepower April 12 as part of the inaugural PLU Vs. The Plow event at the Emergency Food Network's Mother Earth Farm in Puyallup.
All 17 members of the team's roster will participate—as will three coaches—in a plow-pulling challenge to determine whether basketball players or Clydesdales are faster and more effective at readying the fields for planting.
(While this is the first PLU Vs. The Plow event, it's not the first time everyone was on board for one: Last year's event was cancelled due to rainy weather and muddy fields.)
Fittingly, a Lute first planted the seed for the event with the Emergency Food Network (EFN)—and, doubly fittingly, that Lute is a former PLU basketball star and Athletic Hall of Famer: Don Brown '92.
Brown, now vice president and senior relationship manager for KeyBank's business banking department, said he came up with the idea during a Tacoma Chamber of Commerce Leadership class—taught by another Lute, Catherine Pratt, associate dean of the PLU  School of Business.
"During the class we were separated into teams and challenged to come up with an event that can make an impact on our community," Brown wrote in an email. "Luckily, I was the most vocal on our leadership team, and as I thought about my community, I remembered how much PLU and the great game of basketball gave me. I thought that this would be a great way to help the young men on the PLU team understand that a sense of community and helping the less fortunate can potentially give them an even greater experience at PLU."
Brown had worked with EFN before and is consistently impressed with its mission: Its Mother Earth Farm, launched in 2001, grows more than 40 varieties of vegetables, along with fruit trees.
PLU Vs. The Plow
When: 10 a.m.-3 p.m. Saturday, April 12.
Where: Mother Earth Farm, 15208 102nd St. E., Puyallup.
Cost: Free. Attendees are encouraged to check Emergency Food Network's website for weather-related delays or changes, since the horses are unable to plow in muddy conditions.
For more information: 253-584-1040.
Bees are kept onsite to pollinate, and their honey is collected for distribution. Vegetables grown at Mother Earth Farm are harvested and delivered fresh to emergency food programs around Pierce County, often on the same day they are harvested."When I was at PLU and all through my life I have never had to worry about where my next meal was going to come from, and for that I count my blessings," Brown said. "This is simply a way to promote a wonderful organization and maybe expose young men that were much like me at that age to something that is bigger than oneself. "Brown brainstormed with the folks at EFN, and the PLU Vs. The Plow idea took root.
"Mother Earth Farm is both a means for providing fresh, organically grown produce to clients of food banks in our network, as well as a way to educate the community about local sustainable farming," said Jeff Klein, EFN director of development. "This event helps people to connect more with the 'old ways' of plowing without the carbon emissions of a motorized plow."
PLU basketball coach Steve Dickerson also is a fan of EFN. "It's a tremendous organization," he said. "The concept is for every $1 donated, they can produce $12 worth of food. Not only is this good community outreach, but it's also a good educational experience for our kids—they'll see exactly the hard work involved."
Speaking of hard work: While the plowing challenge is the perfect family-friendly spectator sport, it's also a strenuous one.
So how is the team training for this matchup?
"The coaching staff may have to exercise, but the kids are already in the weight room and stuff," Dickerson said. "They're not eating oats or anything like that."