Currently Reading:
MediaLab Film Wins Major National Award
March 23, 2014
PLU's MediaLab Documentary Wins
2014 National Broadcasting Society Award


Film premieres on campus April 10
By PLU Marketing & Communications
and Valery Jorgensen '15
Pacific Lutheran University's MediaLab has won a 2014 Grand Prize Award from the National Broadcasting Society-Alpha Epsilon Rho for its documentary film Tapped Out: Unearthing the Global Water Crisis.
Tapped Out, which premiered publicly in Seattle in October 2013 and will debut on the PLU campus at 7 p.m. April 10, won in the Video Documentary category at the 51st Annual National Broadcasting Society Electronic Media Competition Awards Ceremony in Los Angeles on March 15, 2014.
PLU Premiere of 'Tapped Out'
What: The PLU premiere of Tapped Out, followed by a panel discussion.
When: 7 p.m. April 10.
Where: Studio Theater, in PLU's Karen Hille Phillips Center for the Performing Arts.
Admission: Free and open to the public.
For more information: http://tappedoutdoc.weebly.com/
MediaLab is an award–winning, student-run media organization within PLU's School of Arts + Communication. Overseen and advised by faculty and staff, MediaLab exemplifies PLU's commitment to student-faculty research while offering students hands-on learning opportunities.
Tapped Out was created by a team that includes Haley Huntington '14, a Business major; Communication majors Katherine Baumann '14 and Kortney Scroger '14; and junior Valery Jorgensen '15.
Huntington, who served as a senior producer on the film, said the award is extremely gratifying.
"Winning a National Broadcasting Society Award is great news for us," said Huntington.  "My fellow filmmakers and I worked hard to make the documentary thought-provoking and influential. So it's a great feeling to be acknowledged with such a prestigious national award."
"It is great having all of our hard work be recognized," said Scroger, chief videographer and editor of the film.
Tapped Out focuses on water-related issues across North America and investigates how pressures on water, including drought, floods, population growth, and pollution, are resulting in new and innovative thinking. From Canada to Texas, and from Washington, D.C., to the Gulf of Mexico, the team discovered stories of drought, water mismanagement and water scarcity in unexpected places.
During research and production of the film, the students conducted dozens of interviews, meeting with citizens; farmers; activists; officials from the United Nations, the U.S. Environmental Protection Agency and the U.S. Bureau of Reclamation; and representatives of many other public and private organizations.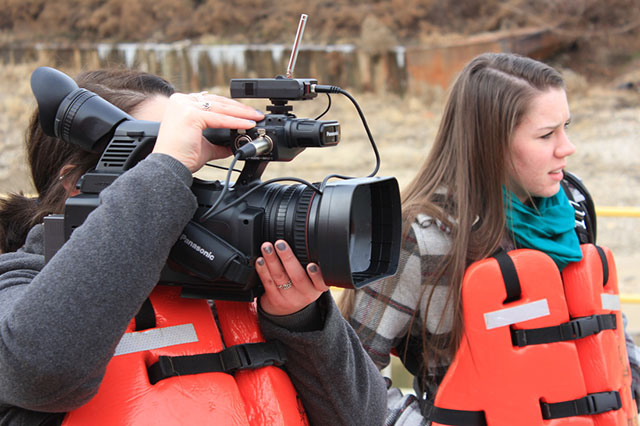 This National Broadcasting Society award adds to several other recognitions received by Tapped Out, including a 2014 Rising Star Award from the Canada International Film Festival and two Accolade Awards of Merit from the Accolade Merits of Excellence.
The team accepted the Rising Star Award in Vancouver, B.C. ,over spring break.
"It is so much fun spending time with each other and celebrating all that we have accomplished," said Baumann, a senior producer of the film.
Along with the film awards, graphic designer Taylor Cox  also won a Bronze Award in the 27th International Mercury Competition for her design and brand work. The Mercury Awards honor excellence in fields of public relations. Cox was awarded a 2014 Mercury Excellence Award in the Non-Profit/Public Affairs Campaign Designs category.
Since its establishment in 2006, MediaLab has received more than two dozen national and international honors, including four Emmy nominations and one Emmy win in 2009.
The National Broadcasting Society-Alpha Epsilon Rho is a student and professional society of more than 85 chapters on college, university and community college campuses.