Currently Reading:
Choreography and Costumes
April 3, 2014
Choreography and Costumes
Avelon Ragoonanan '15 creates all aspects of a diverse dance for Dance 2014
Story and Photo By Shunying Wang '15
"There is a witch doctor who raises spirits to dance."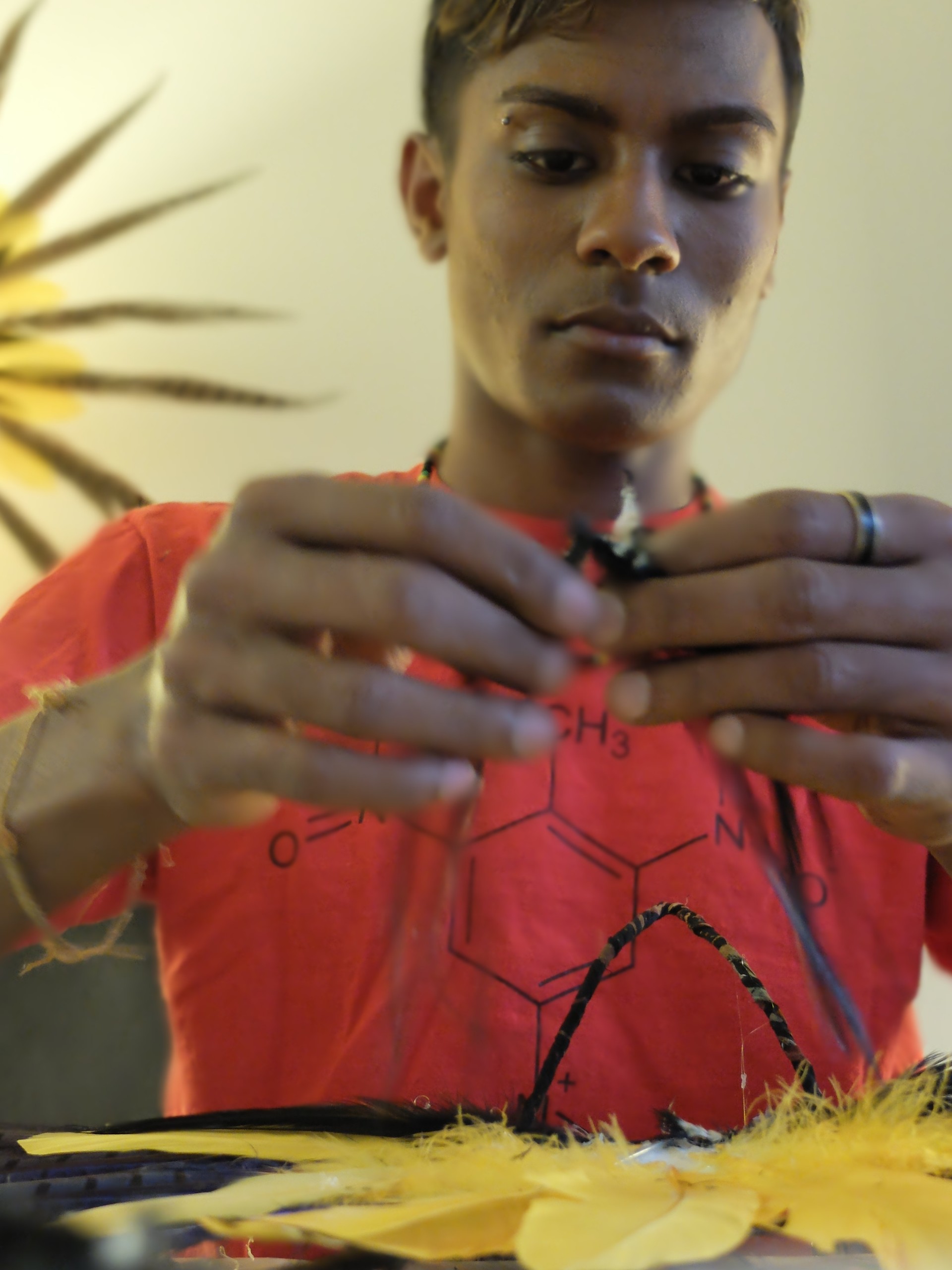 Avelon Ragoonanan '15, one of this year's dance choreographers for Dance 2014, described the story concept behind the costumes for his choreography. "The witch does a ritual, gets them to come alive and then transforms them into dancers so that she can be entertained and be happy."
Ragoonanan fiddled with black bird feathers on a headband, then glued more pieces of feathers onto a modified headband lined with wires. He said it takes approximately 18 hours to make seven headpieces, and about three days to hand-stitch one costume.
After staying home the entire week of Spring Break, Ragoonanan has reached his goal of completing all the costumes he needs for his dance, which will be showcased in the April 11-12 Dance Concert 2014, the annual spring dance production at PLU.
"Designing and performance is my life, basically, in a nutshell," Ragoonanan said. "This is what I had dreamt to do."
In his native country, Trinidad and Tobago, he is considered a professional designer for a theater company, and he has seven years of design experience. He develops his skills by being around other designers, and through online sources.
"I consider myself as a YouTube Junkie," he smiled. "If there is something that I find interesting and I want to learn to make it and I can't find the resource for it, I just look it up on YouTube."
Since Ragoonanan has been studying at PLU, he has self-designed and hand-made costumes for each year of his dance ensemble production. Not only has his work added diversity to the show; it also has enriched the audience's cultural experience.
Dance 2014
When:
7:30 p.m. April 11 and 12
Where:
Karen Hille Phillips Center for the Performing Arts
Tickets:
$8 general admission/$5 senior citizens and alumni/$3 PLU Community, students and 18 & under. Available at the Concierge desk in the Anderson University Center, at the door and at 253-535-7411.
More information
here
.
"The movement from which he draws his inspiration to create his piece has a unique aesthetic," said Paula Peters, director of Dance 2014. "The work draws in the audience and takes them on a journey."This year, Ragoonanan will present an Afro-Caribbean dance that combines steps from African dance and Trinidadian folk dance. (In earlier years, he's presented Trinidadian dance fused with Indian elements and Trinidadian dance influenced by French culture.)"All of the pieces I have done are a reflection of where I am from," he said. As an ambassador selected by PLU in 2011, he is able to present his culture and promote diversity, at Study Away fairs and other cultural events.
"Because where I am from, we have a lot of diversity," Ragoonanan said. "I want to be sure to give everyone a fair playground, everybody a good opportunity to see that."