Currently Reading:
New Series of Hebrew Idol Premieres
April 6, 2014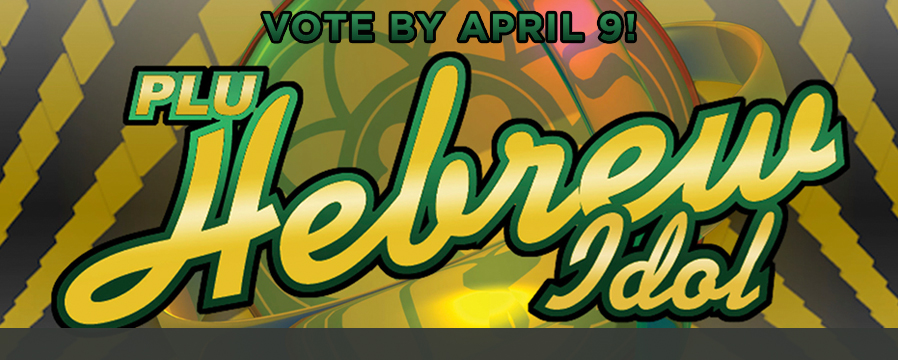 New Series of Hebrew Idol Premieres—Your Vote Counts!
By Shunying Wang '15
The new PLU Hebrew Idol season is here, with another group of talented Lutes. And, just as with its inspiration, American Idol, it's up to voters to determine the winner.
Hebrew Idol is a microfilm competition series organized by Religion Professor Antonios Finitsis. Students in his introductory course on the Hebrew Bible—Religion and Literature of the Hebrew Bible—are required to apply their interpretations of the biblical stories in the creation of a short film. The video productions are scripted, cast and produced by students.
Play a Role in Hebrew Idol
Watch the competing movies and vote at www.plu.edu/hebrewidol. Voting ends at 4 p.m. April 9.
The top three videos will compete live in front of a panel of celebrity judges for the prize and the Hebrew Idol title, at 6 p.m. April 17 in the Studio Theater.
"PLU has talent, and you can see it on PLU Hebrew Idol," said Finitsis. "It's a film festival, and your vote will determine which movies will go to the final event. Your vote counts!"
This year there are four movies in the competition: two comedies, He's Not All That and Envious Girls; a Mafia movie, Rise to Power; and a drama, Evasion.
In Evasion, the value of family, love, and the truth is purposefully crafted and highlighted. The film encourages the audience to accept things that have already happened and to have the courage to handle whatever consequences come after.
Through He's Not All That, a football player's struggle with peer pressure is vividly presented. He was expected to meet the stereotype that football players date only cheerleaders, but the final decision he makes sends a powerful message.
Rise to Power reminds the audience that the desire of money and power can be a very dangerous monster; it can drag people down, bring frustration and turn into a rage that ends up deadly. In other words: Life is too short for dramas; cherish it while we are alive.
In Envious Girls, love and jealousy blindfold an innocent college girl, and lead her to take on a revenge path that gradually changes her into someone she doesn't want to be. The film seems to suggest that we are mindful of what we ask for.
The four video clips are available to view on the Hebrew Idol website; online voting ends  Wednesday, April 9, at 4 p.m. The competition also attracts attention from PLU alumni and faculty members: Dr. Brenda Ihssen, Dr. Adela Ramos, Dr. Tyler Travillian and PLU alum Tim Chalberg are the celebrity judges this year.