Currently Reading:
A Student's Perspective
April 8, 2014
A Student's Perspective: One-on-One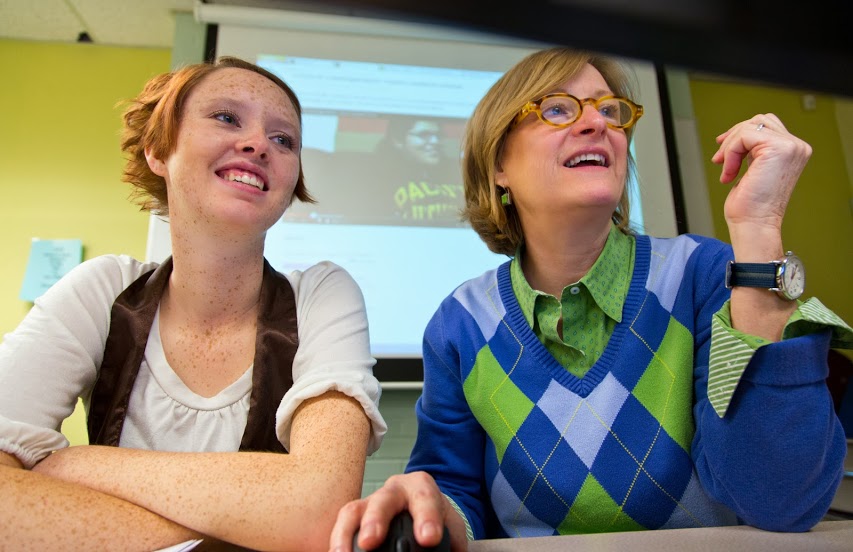 A teacher, an ally, an advisor and an inspiration—all in one professor!
By Alison Haywood '14
I met Communication Professor Joanne Lisosky my sophomore year at PLU, when she was faculty advisor for the student newspaper, The Mooring Mast. She immediately inspired me with her passion and professionalism. She constantly spouted off story ideas and encouraged us to go after hard-hitting stories, and she advocated for student journalists when we requested permission to attend a faculty meeting. When that permission was ultimately denied and we couldn't get the information we were looking for, she didn't just say, "Oh, well"—she told us to write about that.
My friends and I like to joke that every time we walk into Joanne's office, we walk out with a new life plan. Joanne is full of ideas and has an incredible network of professional connections. She's always encouraging students to get involved in PLU organizations, outside internships and even suggesting career paths. She almost singlehandedly organized an internship at Tacoma's daily newspaper, The News Tribune, for students to contribute freelance content and get experience covering hard news. (I did it in Fall 2013 and have had four articles in the paper so far.)
In addition to her professional connections, Joanne's experience with the Fulbright program makes her an invaluable resource as an advisor. She wrote her first Fulbright application, which led her to Makerere University in Kampala, Uganda, while working as an academic consultant at the United Nations in Nairobi, and her second Fulbright was in Baku, Azerbaijan, during her second PLU sabbatical. She taught journalism both times.
"It's made me realize that I am really a risk-taker … I'd be willing to go anywhere at any time at the drop of a hat," Joanne said. "And I thought that that would sort of age out of me—it really hasn't. If it's something that you really value, you never really lose it."
Now Joanne is on the Fulbright faculty review committee. She and three other professors read nearly 100 applications each year from faculty around the country looking for funding to do research in central Asia. Reading those applications helps Joanne help students working on Fulbright applications—she gets to see firsthand what works and what doesn't.
I recently applied for a scholarship for graduate school in Germany through the German Academic Exchange Service—basically the German equivalent of a Fulbright. I worked for weeks on my study proposal and sent it to a handful of professors for feedback. Joanne gave me a harsh critique: It just wasn't good enough.
But instead of telling me I should give up, she had an hour-long conversation with me, and I completely rewrote my study proposal. It was frustrating, difficult and incredibly stressful, but I got it sent on time. I won't get a decision for a few more months, but I feel much more confident in my application now, and I wouldn't have been able to complete it without her honest criticism and support.
About the author: Alison will graduate in spring 2014 with a double major in Communication (with an emphasis in Journalism) and German, and a minor in Music. She has been involved in student media all four years at PLU and is currently the News Editor of the student newspaper, The Mooring Mast, and the German tutor at the Academic Assistance Center. She studied away for a semester in Berlin, Germany, in Fall 2012 and interned with a large daily newspaper there in summer 2013. Her hometown is Enumclaw, Wash.