Currently Reading:
Celebrating Student-Athletes
April 10, 2014
Celebrating PLU's Student-Athletes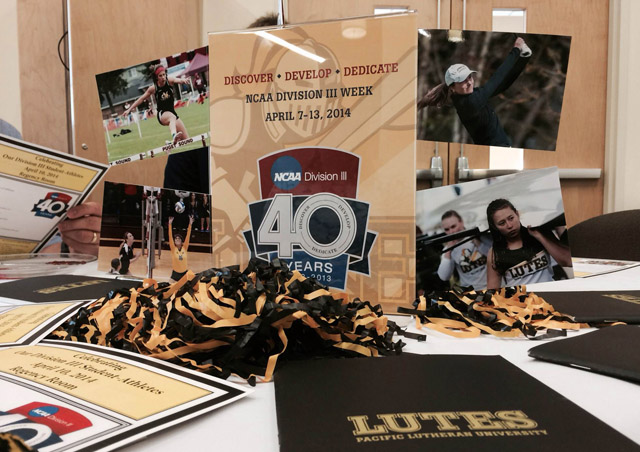 A breakfast on April 10 celebrated student-athletes at PLU. (Photo: PLU Athletics)
April 10 breakfast highlights academic-athletic balance—and the love of the game
By Tyler Scott
PLU Athletics
As part of the National Collegiate Athletic Association's Division III Week, Pacific Lutheran University hosted more than 60 PLU student-athletes, coaches, faculty members and administrators for a Celebrating Our Division III Student-Athletes breakfast April 10 in the Anderson University Center.
Following a brief welcome from PLU Athletic Director Laurie Turner, Patricia Krise shared her thoughts on NCAA Div. III and PLU. Krise, wife of PLU President Thomas W. Krise, played Div. III volleyball and basketball as an undergraduate student at Hanover College in Indiana. One of the key components of Krise's message was the idea of playing a sport "for the love of the game," a fixture at the Div. III level, where athletics-based scholarships are not allowed.
Three PLU student-athletes also spoke. Junior football player Greg Hibbard—a 2013 Capital One CoSIDA First-Team Academic All-American—highlighted the balance of academics and athletics at the Div. III level and at PLU specifically. Hibbard pointed to the support systems in place at PLU to help student-athletes succeed both on the field and in the classroom, a point emphasized by the fact that 17 of PLU's 19 varsity teams have a cumulative grade-point average above 3.0.
Senior men's soccer player Joe Rayburn—a 2013 Second-Team Academic All-American—offered a glimpse into a day in the life of a PLU student-athlete. He echoed Hibbard's praise of PLU's support systems for students, and student-athletes in particular, as he compared his experience to those of athletes at the Div. I level. His main point was the value and preparation for classes and life beyond college he has received through successes and failures on the field.
Junior volleyball player Amy Wooten, the 2013-14 Student-Athlete Advisory Committee President, spoke about the leadership lessons and opportunities gained through PLU athletics. She pointed to partnerships with Special Olympics and Habitat for Humanity as programs that allow student-athletes to give back to their community and learn from those experiences. Wooten mentioned that PLU student-athletes have volunteered more than 2,000 hours in the community during the 2013-14 academic year.
One student-athlete from each of PLU's varsity sports attended the event, with each athlete inviting a pair of staff or faculty members to join. The event concluded with a brief video featuring interviews with PLU student-athletes about their experience as Div. III athletes. The video was produced by senior swimmer Kina Ackerman, who also put together the event as part of her Capstone project.