Currently Reading:
PLU's BAP Team Puts the 'Best' in Best Practices
April 14, 2014
PLU's BAP Team Puts the 'Best' in Best Practices
PLU's winning BAP team, from left: Nicholaus Townsend-Falck, Jessica Reid, Jessica Resop and Courtney Forbis.
Takes 1st Place in Regional Competition
By Sandy Deneau Dunham
PLU Marketing & Communications
How's this for best practices? PLU's chapter of Beta Alpha Psi has competed in exactly one Regional Best Practices Competition—and, its first time out, won first place.
PLU's Delta Rho chapter—Nicholaus Townsend-Falck '16, Courtney Forbis '14, Jessica Resop '14 and Jessica Reid '15—beat eight other teams at the Beta Alpha Psi 2014 Regional Best Practices Competition in Portland April 11-12, including teams from the University of Washington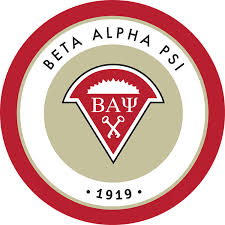 and Oregon State University. Now PLU's team will represent the Northwest region in the national competition in Atlanta Aug. 6-9.
Resop credits perseverance—an excellent best practice—for the win. "We were a small school, but that didn't scare us because we had the will and determination to push through and compete amongst the better, more-experienced chapters and still pulled through on top," she said. "Size and experience do not matter as long as you have a group that's willing to put in the work and dedication and the willpower to succeed!"
Founded in 1919, Beta Alpha Psi (BAP) is an international honorary and service organization for financial information students and professionals. There are more than 300 college and university chapters, whose primary objective is to encourage and recognize scholastic and professional excellence in the business information field. PLU's Delta Rho BAP chapter, advised by Assistant Professor of Business Gaurav Gupta, helps Accounting, Finance and Management Information Systems majors blend learning with their personal strengths to succeed in the professional environment. The four winning team members all are Business Administration majors. PLU's chapter also has 15 other candidates and members.
Only fitting for a financial competition, PLU's team earned $500 for its first-place finish. Gupta said the chapter will use that money to educate Accounting and Finance students about the BAP chapter, and its role in shaping their careers, in hopes of enhancing membership.
BAP's annual Best Practices Competition challenges teams to present a proven method of efficacy that organizations can implement. Each year, the boards of directors of Beta Alpha Psi and Deloitte LLP select topics that encourage students to create and execute programs in their schools that promote the values of BAP.
The theme this year is Leading at the Crossroads: Moving Your Chapter Forward in the Right Direction, which requires leadership, strategic planning and collaboration. Delta Rho competed in the strategic-planning category.
"The team presented on the chapter's vision to increase Finance chapter members in the next two years by having a scholarship and mentorship program that will benefit both Accounting and Finance students in the chapter," team member Forbis said. "People at PLU have always thought that BAP is only for Accounting students, but it is also for Finance and Information students."
Forbis said the PLU team sent an abstract for the competition at the end of January, and it was accepted in early February for an oral presentation.
In Portland, Forbis said, "The team had only eight minutes, with two minutes of Q/A, to explain the project, the project's outcome and why other chapters can benefit from this."
For the national competition in Atlanta, Gupta said the team will use feedback from the regional judges to enhance and present the same idea but with updated activities.
Which could only make those best practices even better.