Currently Reading:
Pacific Lutheran University Introduces New Director of Military Outreach
April 20, 2014
Pacific Lutheran University Introduces New Director of Military Outreach
PLU Marketing & Communications
Pacific Lutheran University welcomes its first-ever Director of Military Outreach, Army veteran and Tacoma resident Michael Farnum.
PLU has a long history of collaboration with and service to the local and regional military community, and Farnum, 46, brings his own vast experience—with the military community and with PLU—to his new position in the Office of Admission.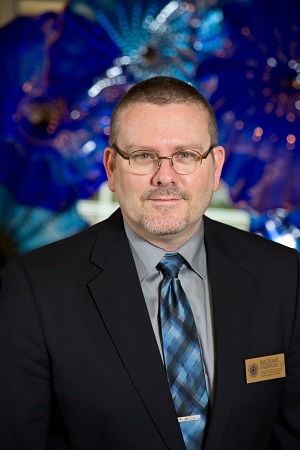 Farnum, who holds a bachelors degree in Environmental Studies from PLU, served in the U.S. Army from 1984 to 2007 (and at Joint Base Lewis McChord from 2000-07), retiring with a rank of Sergeant First Class. In 2010, he founded the VetCorps position at PLU to serve enlisted military personnel—along with veterans, dependents and spouses of military-affiliated personnel.
"The Office of Admission at Pacific Lutheran University is very happy to welcome Michael Farnum to serve as our founding Director of Military Outreach," said Karl Stumo, Vice President for Admission and Enrollment Services. "Farnum's 23-year military career and passion for helping veterans and military personnel in the south Puget Sound will help further distinguish PLU as a military-friendly institution. And his experience places him in a perfect position to articulate the academic excellence of the university as well as PLU's commitment to veterans and military-affiliated personnel and their families."
PLU is ranked second in the West for best colleges for veterans by
U.S. News and World Report
. The university's military collaboration is further evidenced by the significant number of military-affiliated students enrolled at PLU as well as the nationally recognized Army ROTC detachment on campus. PLU also offers an unlimited number of full-tuition Yellow Ribbon Scholarships for benefits-eligible veterans, spouses or dependents; enhanced professional staffing for military recruitment and student support on campus; and enhanced access to the PLU campus for the military community. As PLU's Director of Military Outreach, Farnum will be responsible for increasing PLU's engagement with current and prospective military and veteran communities; increasing enrollment of military-affiliated students while ensuring that PLU provides broad and high-quality service to these students; and coordinating PLU's current veterans services. Among those: dedicated academic advising, financial-aid specialists experienced with veteran-benefits programs, dedicated orientation and on-boarding for new military students and two VetCorps liaisons.
Farnum said his first task in building on PLU's status as "an outstanding veteran-supportive campus" is "meeting everybody—faculty, staff, administration—everyone I'll be interacting with and supporting," on-campus and in the local military community.
"I'm an alumnus and I love PLU, and I'm very excited about it," Farnum said.
Among Farnum's accomplishments, he has:• brought together PLU and the Washington State Department of Veterans Affairs under the Partners for Veterans Supportive Campuses Compact of 2012.
• received multiple medals and commendations for his military service, including the Presidential Volunteer Service Medal.
• worked as a biologist for the United States Department of Fish and Wildlife, where he developed environmental programming with community organizations, including the Nisqually Youth Fisheries Academy; the Quilcene Tribe; and a variety of federal, state and private agencies committed to protecting endangered species.
• been an active volunteer with the Washington State Veterans Conservation Corps on environmental-restoration projects through the Puget Sound region, including an award-winning project restoring sections of the Duwamish River.
Farnum and his wife, Gena, have three children.