Currently Reading:
PLU President and Mrs. Krise Announce Endowed Internship Fund
April 15, 2014
PLU President and Mrs. Krise Announce Endowed Internship Fund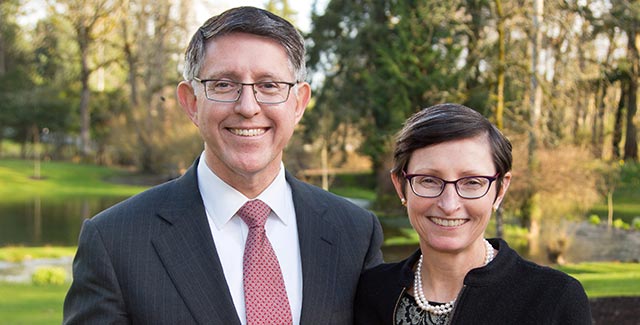 PLU President Thomas W. Krise, left, and Patricia L. Krise announce an endowed internship.
The benefits of a summer internship—even an unpaid one—are unlimited and undeniable:
Students can apply what they've learned in the classroom to real-world situations, network with people in the industry and gain valuable work experience and insight (and sometimes even a job offer).Just imagine if an unpaid summer internship did all that—
and
it paid off financially, too. Starting this year, one Pacific Lutheran University student who accepts an unpaid summer internship will be awarded $2,000, thanks to the debut of the Patricia L. and Thomas W. Krise Endowed Internship Fund.
Application information
Each application must include a completed online application form, a 500- to 600-word internship proposal, a resume and a list of two or three references (one of whom must be a faculty member at PLU).
Applications (including all required documents) must be submitted by 5 p.m. April 30. No late applications will be accepted.
For more information and to apply, click here.
The highly competitive Krise Internship, which will be awarded to one student applicant per summer, provides financial support for the recipient, opening up unpaid internship opportunities that might otherwise be out of reach.
"Patty and I are honored to endow this fund, which will make an otherwise unpaid internship financially feasible for one PLU student each summer," President Krise said. "We recognize the tremendous value of real world, hands-on experience, and we are proud of all the ways PLU helps students prepare for a life path that makes a difference in their careers, as well as in their personal and civic lives."
The award is open to all PLU students, regardless of major, although preference is given to rising juniors and seniors, and a GPA of at least 2.5 is required to apply. The deadline for applications is 5 p.m. April 30; the 2014 recipient will be notified on May 15.
Every recipient will be required to submit a final report within two weeks of the completion of the internship. The Krise Intern will receive his or her award in three disbursements: $650 on the internship start date, $650 midway through and $700 upon submission of the final report.
Each year, Career Connections will solicit applications from qualified students, and a selection committee comprised of the executive director of Career Connections, the Director of Academic Internships and one faculty member will review applications and make the award.
"The learning that occurs and the experience that is gained through an internship can shape a student's future," said Catherine Swearingen, executive director of Career Connections. "A good internship can provide a rich learning environment where students can apply what they have learned in the classroom, gain real-world work experience, create connections with professionals and assist in career decisions. The Krises are literally changing students' lives, and that is truly a gift."