Currently Reading:
Take Back the Night at PLU
April 20, 2014
Take Back the Night at PLU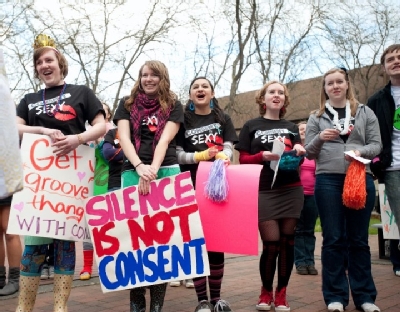 Students attend a Take Back the Night rally at PLU. (Photo: PLU Women's Center)
By Valery Jorgensen '15
Pacific Lutheran University's Women Center hosts the annual Take Back the Night march and rally, part of an international campaign to raise awareness about sexual assault, April 24 in Red Square.
The event invites people to speak up and speak out about ending violence.
Take Back the Night
When: 5:30 p.m. Thursday, April 24.
Where: Red Square on the PLU campus.
More information: Email sapet@plu.edu.
Take Back the Night has been an internationally recognized event since 1976, and for the past 10 years PLU has held its own event during April, Sexual Assault Awareness Month, to show support and to emphasize that PLU does not condone any form of violence.
"We want to bring so much attention to the event this year because we have made great strides to gain partners," said Kelsey Greer '14, who works at the Women's Center.
This year, in addition to existing partnerships with the Division of Social Sciences and Residential Life, the Women's Center has formed new partnerships with ROTC and the Athletics Department.
"These new partnerships are making way for campuswide conversations to begin around the issue of sexual violence and why it is not only important to bring awareness to the issue, but ultimately work together to end it," Greer said.
The event will feature speakers including Lt. Col. Kevin Keller, from ROTC; Laurie Turner, Director of Athletics; women's basketball Coach Jennifer Childress; Psychology Professor Dana Anderson; and Hong and Hinderlie halls Resident Director Kat Slaby.
"This is an important issue that everyone should be concerned about," Greer said.