Currently Reading:
PLU Alumni Embark on a Central American Adventure of Environmental Education
April 22, 2014
PLU Alumni Embark on a Central American
Adventure of Environmental Education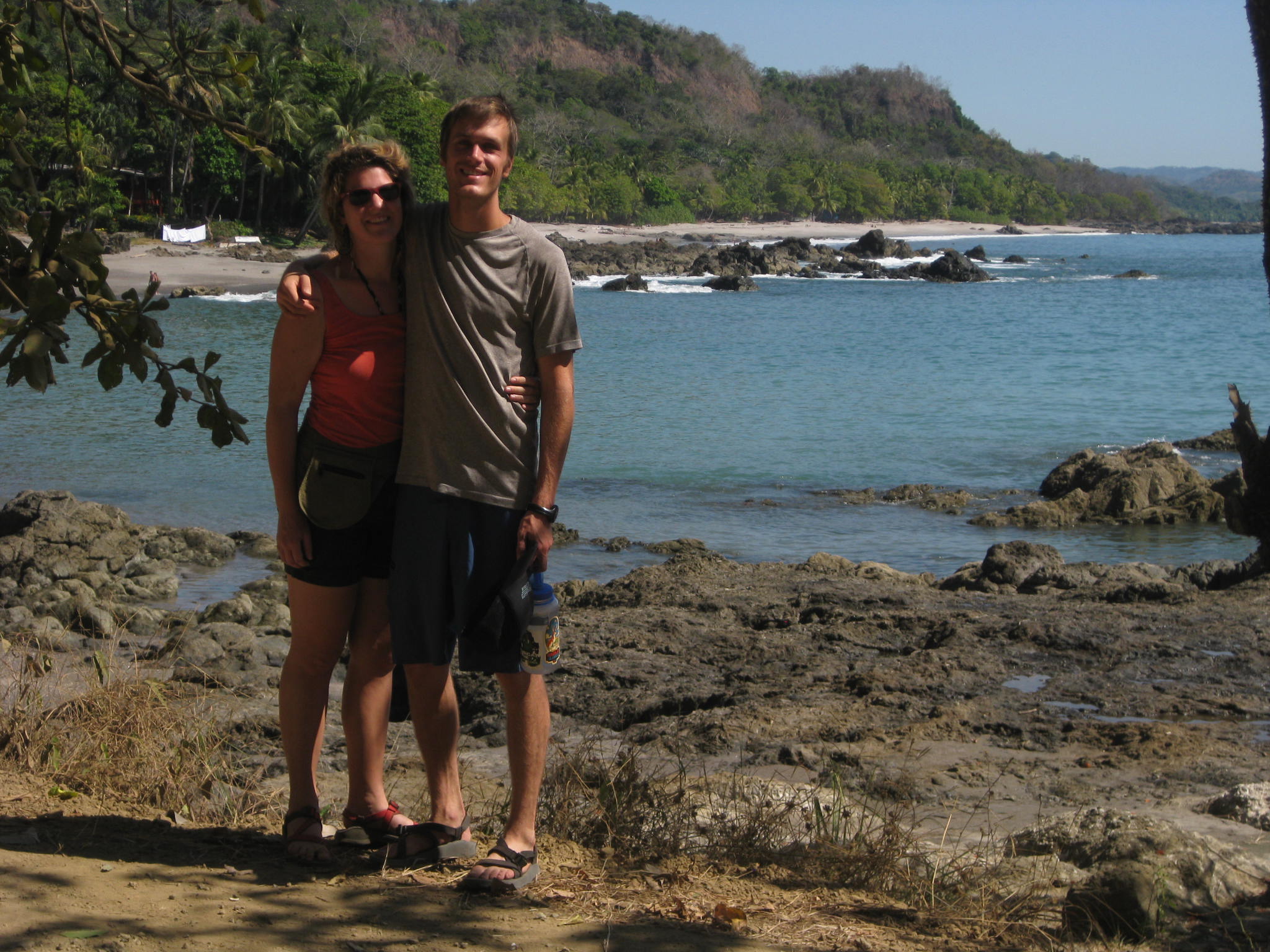 Nathan Page '13 and Brett Rousseau '12 enjoy a brief vacation in Montezuma, on the southern end of the Nicoya Peninsula. (Photos courtesy of Page and Rousseau.)
In the heart of Central America, two Pacific Lutheran University alumni are continuing their global educations in an environmentally focused way.
Nathan Page '13 and Brett Rousseau '12 have embarked on a tropical excursion examining nature reserves, eco-tourism, agricultural systems, sustainability measures—and a potential new home.
During their travels, Page and Rousseau, along with Rousseau's mother and father (collectively the "fantastic four"), spent three months in Costa Rica and since have moved to Nicaragua.
"We came to Central America with one-way tickets and an open mind," Rousseau said. "We're on this adventure together because, like Nathan and me, my parents are seeking a meaningful way to live the rest of their life with the hope of bettering the world."
As the four get to know their new surroundings, they're also learning how eco-tourism is used as a tool for development in Latin American countries; how environmentally friendly technologies can be used in small countries and households; and, as Page put it, how to "free oneself from the agro-chemical corporate noose."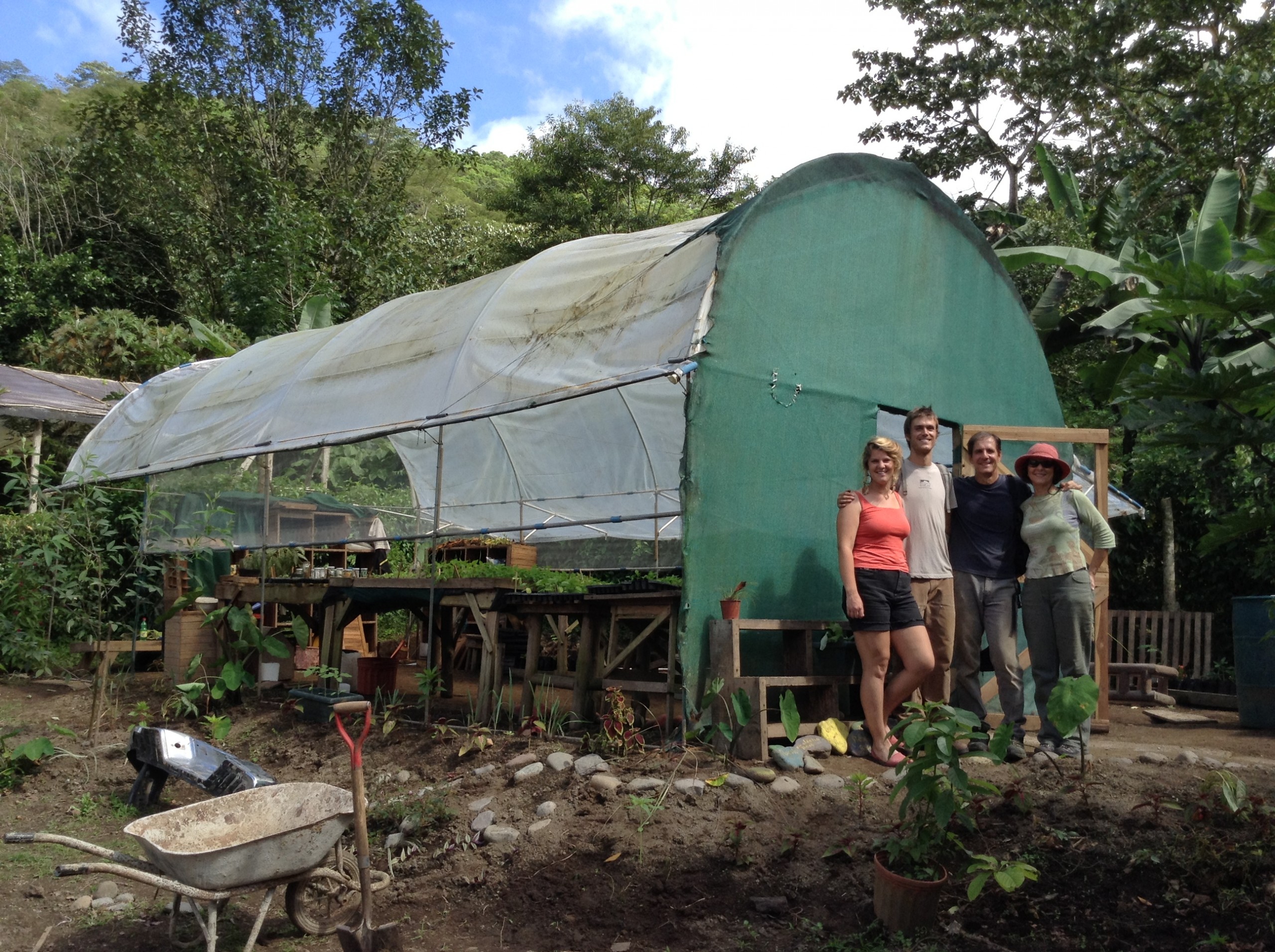 The "fantastic four" pose together in front of a new worksite at Finca Frucion in Costa Rica.
At the end of their travels, the group's intention is to purchase a piece of land in Nicaragua and create a living learning center to educate and inspire others about sustainable living and appropriate, environmentally friendly technologies. During their time in Costa Rica, the team work-traded at three farms across the country, spending one month at each.
"Each place came with a dramatically different climate, but all shared a vision of educating and inspiring people to creative and sustainable solutions," said Rousseau.
Rousseau is used to working hard. At PLU, she earned her degree in Environmental Studies and minored in Art. She also volunteered in the Community Garden all four years, played one season of lacrosse, stomped one semester on Step Team, participated in GREAN club, worked one year as KCCR promotions director and Sustainability Office outreach coordinator, studied abroad for a semester in Senegal and a summer in Ireland with a Wang Center grant, collaged a mural in The Cave and received the Sustainability Fellowship to design and propose a sustainability course as part of PLU's general requirements.
"My liberal arts education equipped me to be a well-rounded, conscious citizen and taught me the skills to do something about it," said Rousseau.
After graduating in 2012, Rousseau was determined to continue her personal education by investigating issues surrounding unsustainable agricultural systems. To do this, she set out to gain hands-on farming experience in the United States and abroad.
"I worked on a variety of farms in the south of France—beekeeping, cheese-making, peach-picking, chicken-rearing and more—and then for nine months in a CSA (Community Supported Agriculture)-designed vegetable garden in Arkansas, growing produce and teaching about sustainable agriculture under the umbrella of Heifer International," Rousseau said. "Now I'm farming in a completely new and foreign climate, the tropics."
An avid outdoorsman, Page also cultivated his love for nature in academic and extracurricular pursuits. At PLU, he earned a double major in Geosciences and Environmental Studies and spent the summer and fall of his senior year conducting Geosciences undergraduate research on Mount Rainier.
He also was active in PLU's Outdoor Recreation Program as a guide and served as the personnel director his senior year, helping to share his love of the outdoors with his fellow Lutes.
However, some of Page's favorite experiences occurred while studying away.
Page spent two January terms abroad, the first in New Zealand for a hiking and trekking P.E. course, and the second in the Patagonian Mountains of Southern Chile through the National Outdoor Leadership School for a Mountaineering course focusing on outdoor leadership, technical climbing skills and environmental education.
"We spent six weeks in the backcountry of Patagonia learning to be self-sufficient and flourish under the banner of non-human-dominated mountainous environments," said Page. "It was a highlight of my time at PLU and made me realize how lucky I was to attend a university where trips like this one are possible and encouraged."
These trips abroad were just what Page needed to ignite his wanderlust.
"My experiences while studying away at PLU helped to wet my feet in the global ocean," Page said, "Before I sit down and grow deep roots of my own, I wanted to see what was already blossoming around the world, to see what areas or parts of my life need the most attention. To paraphrase Jeff Johnson, I went to Costa Rica to find answers to the questions I didn't even think to ask in the first place."