Currently Reading:
Gregoire: We have met the enemy, and he is us
April 23, 2014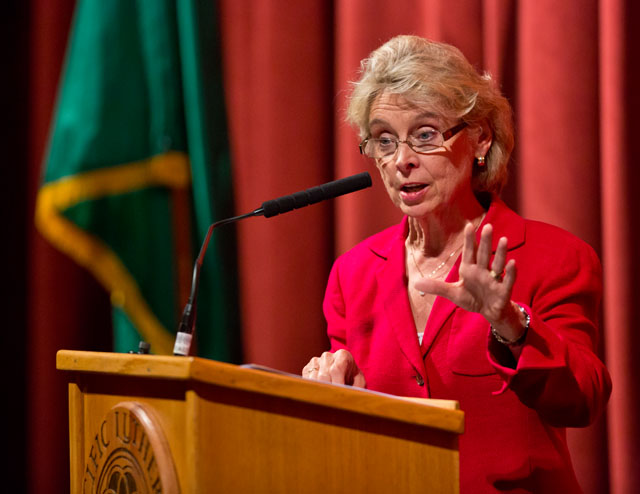 Get involved, take personal responsibility and, by the way, vote, former governor says during Earth Day lecture
Barbara Clements, Director of Content Development
Turn off the tap. Scoop your dog's poop. Plant a rain garden. Don't use pesticides. Be satisfied with a blemished apple. And oh, all Pacific Lutheran University students in the audience: Run for office.
Delivering arguments with a rapid-fire precision that harkened back to her appearances in front of the U.S. Supreme Court, former Gov. Christine Gregoire told the audience gathered for PLU's Earth Day lecture that saving the Earth today depends on small, significant choices of individuals more than a battle with big industry.
"We need to take responsibility for our lifestyle," Gregoire told the crowd, which filled the Karen Hille Phillips Center for the Performing Arts on April 22.
"Vote. Vote. Vote," she added. "And then run for office. That's what we need. That's what PLU is all about. We need people like you."
Gregoire was the keynote speaker at PLU's Earth Day celebration and was introduced by U.S. Rep. Denny Heck (D-Wash.), who called PLU one of the jewels of the 10th District.
During her lecture, Gregoire recounted a famous quote from the cartoon Pogo: "We have met the enemy, and he is us."
On the 44th anniversary of Earth Day, Gregoire noted that the days are long gone when we looked at a belching smokestack from a pulp producer, or at a burning river, and blamed Big Business. The biggest threat to the health of Puget Sound now, she said, is surface runoff—from drains, dairies, roadways and lawns—and from the 4.5 million people who live around the Sound.
Tangible effects of the runoff include the closures of shellfish beds and dead fish blanketing the surface of Hood Canal."These shellfish are the canary in the coal mine for us," she said. "You look at the surface of Puget Sound and it looks peaceful, but you need to look a few inches below the surface."
The idea of just dumping runoff into Puget Sound and hoping it dilutes in ocean currents is simply outdated and wrong, Gregoire said. Puget Sound acts more as a bathtub, and anything that is dumped there is likely to stay around, or sink to the bottom and silently affect the food chain in devastating ways.
Reflecting back on her high-school days in Auburn, Wash., Gregoire noted that President Kennedy's push for college students to give back to their country struck home with her. She took this advice to heart and eventually worked as head of the state's Department of Ecology, ran for and won the seat of Attorney General and became the state's 22nd governor in 2005.
Noting in particular the shellfish beds in Skagit County, and Hood Canal, Gregoire said these areas have seen small successes through a variety of groups—tribes, citizen activists and the state—all working together, with each letting go of their particular turf, and the temptation to put all the blame on another group.
"We have to stop blaming the other guy," she said.
While she was governor, Gregoire created the Puget Sound Partnership to try to cut through some of the red tape and interagency squabbles that were hindering its protection. Her goal, and the partnership's, is still to make the Sound, all of the Sound, "swimmable, fishable and diggable" by 2020.
"The challenge for us all in 2014 is to change our day-to-day practices," she said. "We don't' have the money to fix everything. But every little personal change, you can multiply by 4.5 million. We don't have a choice but to change our habits."