Currently Reading:
PLU Hebrew Idol Celebrates Class, Creativity and Costumes
April 22, 2014
PLU Hebrew Idol Celebrates Classwork, Creativity—and Costumes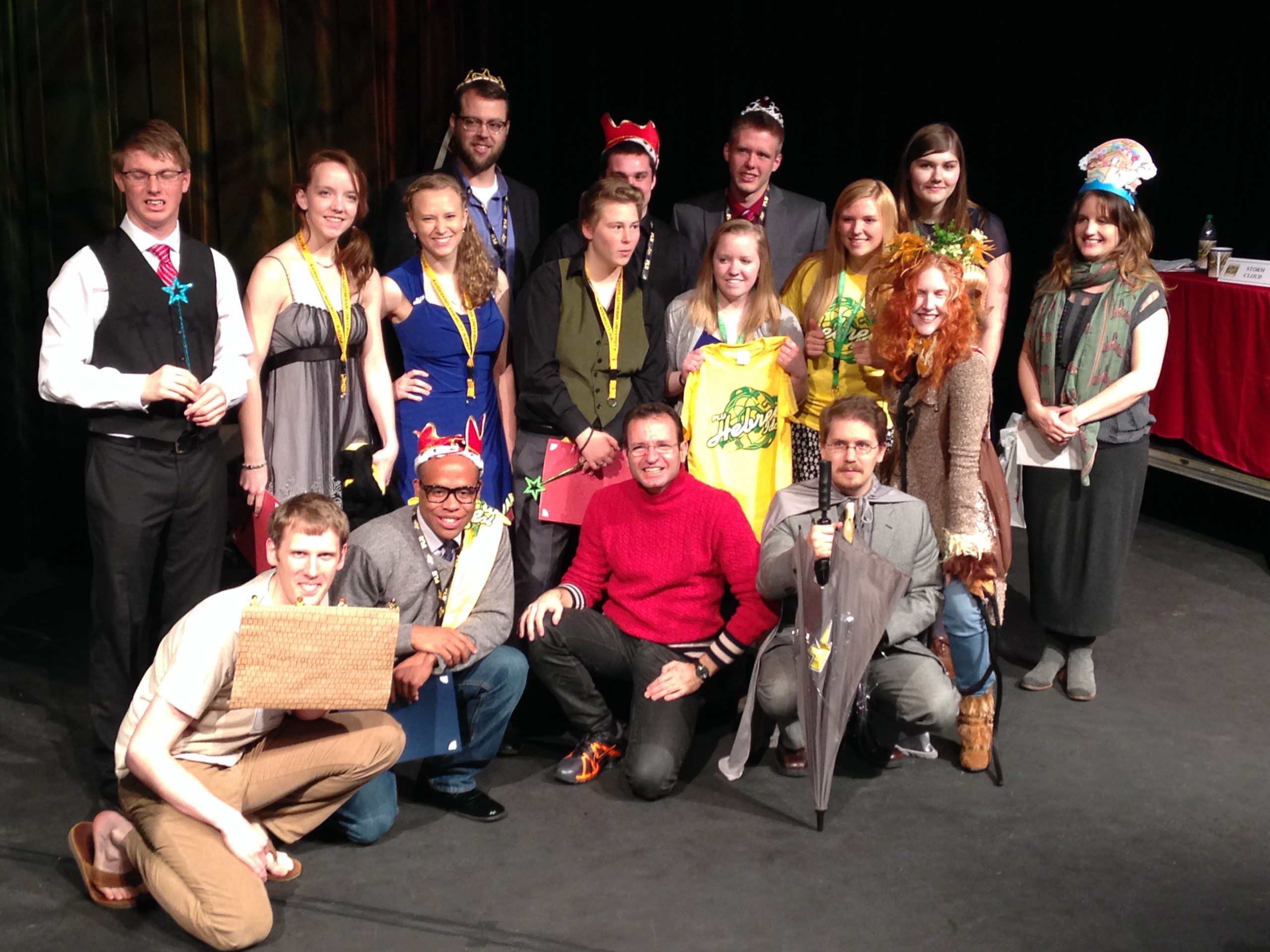 Participants in the 2014 Hebrew Idol finale gather in Studio Theatre on April 17. Pictured, from left to right: Back Row: Samuel Collier, Mike Plamer, Will Lockert, Megan Cheatham. Middle Row: Tom Flanagan, Quinn Johnston, Lexi Engman, Caitlin Dawes, Julia Nelson, Maddie Bernard, Brenda Llewellyn Ihssen, Adela Ramos. Front Row: Tim Chalberg, Shaquille Townsend, Antonios Finitsis, Tyler Travillian.
By Hannah Jeske '16
Students crammed into PLU's Studio Theatre on April 17 for the 2014 edition of PLU's Hebrew Idol Live finale. Even the stairs and aisles were filled as the audience clapped, cheered and laughed its way through the event, hosted by Tommy Flanagan '14 and organized by Religion Professor Antonios Finitsis.
PLU Hebrew Idol reflects the knowledge students have gained in Finitsis' introductory Religion and Literature of the Hebrew Bible course. Each year, students are required to apply their interpretations of biblical stories in the creation of a short film; the video productions are scripted, cast and produced by students.
This year's event kicked off with red-carpet interviews of the dressed-to-the-nines creators of the three finalist videos. Flanagan asked the students about the filmmaking process and what would happen if they won (sample answers: a date with Jennifer Lawrence, buy a big house, go to Disneyland, take a nap).
The celebrity guest judges— "Scapegoat" (Prof. Brenda Llewellyn Ihssen), "Storm Cloud"  (Prof. Tyler Travillian), "Noah's Ark" (Prof. Adela Ramos) and "Wall of Jericho" (alumnus Tim Chalberg)—went all out with creative and comical costumes. They posed probing questions and offered witty remarks about the videos throughout the evening.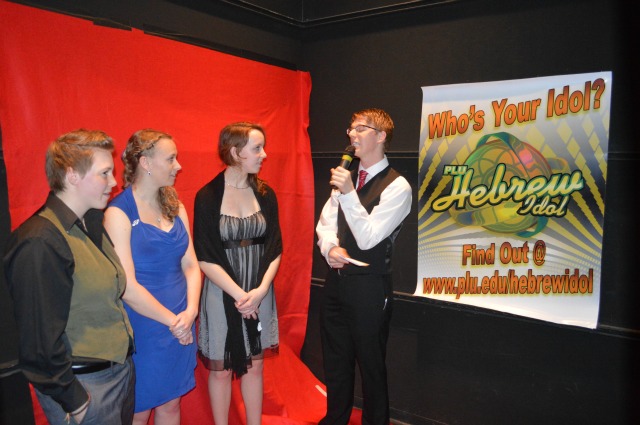 2014 Hebrew Idol host Tommy Flanagan '14, right, interviews the creators of the film "Envious Girls" on the red carpet.
The first student video, Evasion, was about hate crimes. The student creators based its visualization on a '70s mystery movie. The second finalist, Envious Girls, was a spoof of the popular movie Mean Girls, and the final video, Rise to Power, took a gangster-style approach to explain a story in the Book of Judges.
Julia Nelson, co-creator of Evasion, said she and her co-creators "came into it [Hebrew Idol] not knowing what to expect, but we had a lot of fun."
After a surprising appearance from "Moses," Finitsis revealed the results: The 2014 PLU Hebrew Idol winner is Rise to Power, followed by Evasion in second place and Envious Girls in third. Samuel Collier, Rise to Power creator and actor, said he enjoyed his violent role because it allowed him "to be outside of myself."
Flanagan said, "I think it's impressive that students can pull this project off on top of all the other classes they do. I think celebrating Hebrew Idol honors the work the students do."
This story contains information from Shunying Wang '15.