Currently Reading:
Parkland Community Mural Project
May 1, 2014
Art in—and for—the Community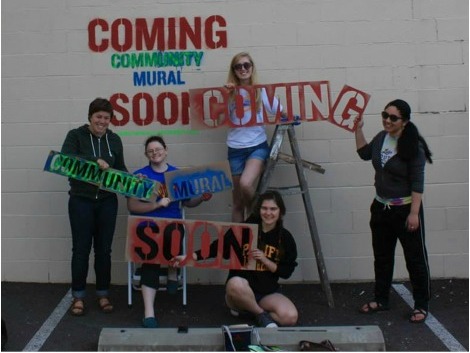 Parkland Community Mural Project
is a Shared Reflection of History and Identity
By Shunying Wang '15
Recognizing that Parkland has its own unique history and cultural identity, Pacific Lutheran University students have created the collaborative Parkland Community Mural Project in hopes of archiving those stories on a prominent neighborhood wall.
This project is designed to be community-based; according to organizers, its purpose is to unite local artists, students, community organizations, businesses and community members to creatively and collectively tell Parkland's story. And, while acknowledging and showcasing the community's values, it also will be helpful for PLU and Parkland to build a better understanding of one another.
Work on the mural already has begun—a group of volunteers gathered to prime the art wall at the Parkland Post Office, on the corner of Garfield and C streets, on April 26. But the inspiration for the project struck quite a while ago—and quite a ways away.
On a Wang Center Research Grant trip to Oaxaca, Mexico, Saiyare Refaei '14 interviewed street artists and came to see murals as public art that brings about consciousness of social injustices. After envisioning the potential for expressing cultural identity through storytelling on walls, Saiyare saw potential for a mural in Parkland.
"It creates a better understanding and maybe bridges some gaps between PLU and Parkland," Refaei said.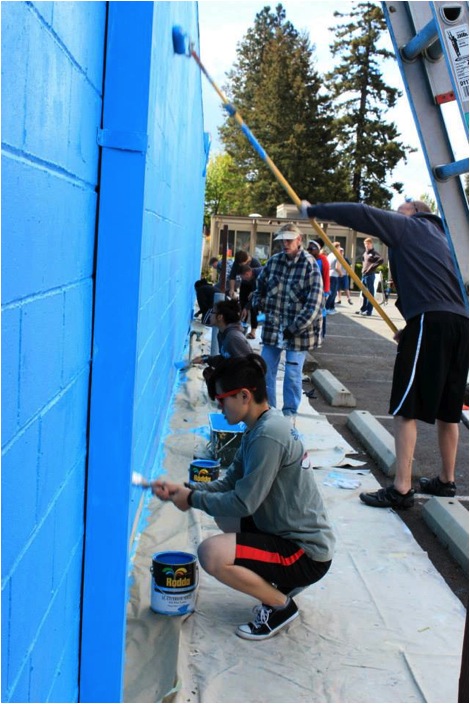 So, she said, "Coming back to campus from Oaxaca, I noticed that Pflueger has a big wall that could use some life. Initially I was thinking it will be great to paint a mural there."
As the dialogue went further, her idea grew: Instead of painting a wall on the PLU campus—out of sight of most community members—it was suggested that the mural should be painted in a more visible location. Last October, Refaei proposed this idea to the Parkland community.
The project was a hit, and not just with the Parkland community: On April 18, the Pierce County Arts Commission awarded the project a $1,500 Small Arts grant. The project also has received funding from ASPLU and independent donors.

Top: Volunteers prime the wall on April 26. Above: a sketch of the proposed mural design.
Carly Brook, grant writer for the mural project, said the students appreciate every donation that has made this project a reality."The Pierce County Arts Commission grant was meaningful because it shows one of the ways that civic society is investing in community artwork," Brook said. "And we are grateful to generous individuals who gave what they can to make this project come to life."Already actively involved in community service, Brook said she saw herself as the bridge to connect Refaei's idea and talent with existing community discussions. So by bringing together community members, students, staff and faculty and organizations in community forums, the mural team agreed on themes, stories and designs.
Participants in the project include Parkland artists; representatives of the Franklin Pierce School District; the Parkland Post Office; Parkland community organizations; and representatives from PLU's Art Department, Sustainability Department, Center for Community Engagement and Service, ASPLU, Facilities Management, Auxiliary Services, Office of Finance and Operations, G.R.E.A.N., Students of the Left, Office of Residential Life and Wang Center for Global Education. And painters—lots of painters.
"What's been most enjoyable is meeting community members and students and hearing their stories," said Refaei.
In the end, the project settled on themes of resiliency, the tension between reality and hope, diversity, rural/urban, vibrancy and wholeness. The design scheme uses each letter of "Parkland" to illustrate stories around those themes: P for people, A for agriculture, R for recreation, K for kids, L for landscape, A for academics, N for native peoples and D for diversity.
The mural is scheduled for completion in June, with many people—at PLU and in the community—already excited to see the end product as it gives voice and visibility to Parkland.
"It is very easy to stay inside the bubble of PLU and never recognize that Parkland has histories," Brook said. "It was here before and will be here after we leave. There are a lot more stories to be told."