Currently Reading:
Celebrating Student Leaders
May 11, 2014
Annual Event Celebrates PLU's Student Leaders
By Sandy Deneau Dunham
PLU Marketing & Communication
PLU's annual Celebration of Leadership, held in the Anderson University Center on May 12, recognized students who live lives of thoughtful inquiry, service, leadership and care while empowering their peers to do the same.
Through these leadership awards, Student Involvement and Leadership encourages faculty, administrators, staff and students to take time to acknowledge the contributions of student leaders who have excelled academically and made a difference through their leadership and service at PLU and in their communities.
Nominated students were invited to submit a resume; then a selection committee reviewed all nominations and made award recommendations. After that, Laura Majovski, Vice President for Student Life and Dean of Students, confirmed the recipients.
"Developing student leaders is so much at the heart of a PLU education," Majovski said. "It is inspiring each year to honor our student leaders, first-years through graduating seniors, and celebrate all that they have accomplished and contributed."
Here are this year's honorees: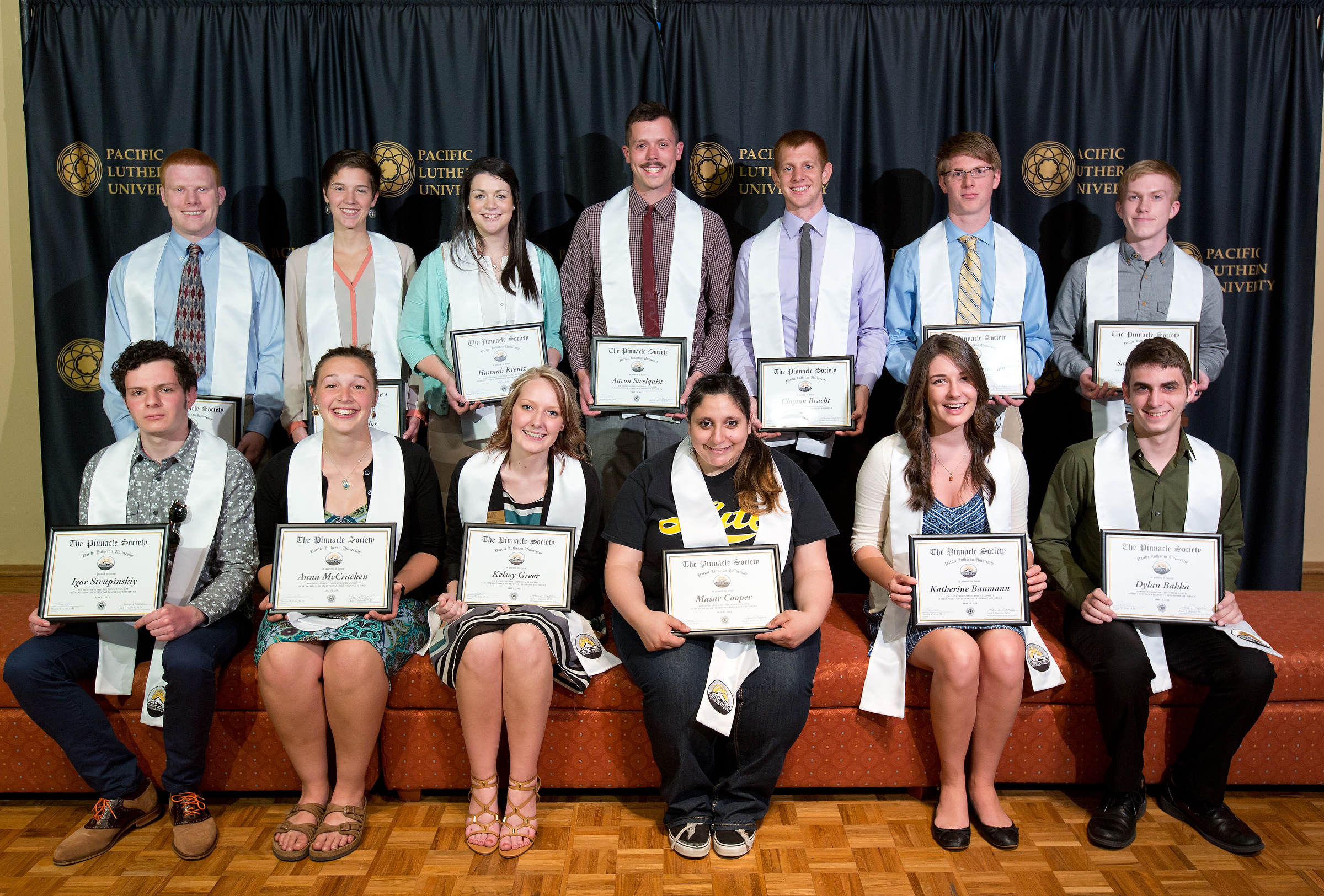 The newest members of PLU's Pinnacle Society. (Photo: John Froschauer/PLU)
Pinnacle Society
This leadership distinction has become synonymous with excellence in leadership, scholarship, service and community impact throughout a student's undergraduate experience. At PLU, Pinnacle Society is the highest honor for leadership and co-curricular involvement for students with a 3.5 GPA or higher. Graduating seniors are nominated by the PLU community. Recipients were presented with a framed certificate of membership and a commemorative sash, to be worn at Commencement.
Dylan Bakka
Katherine Baumann
Emily Bishop
Clayton Bracht
Masar Cooper
Thomas Flanagan
Kelsey Greer
Sam Hosman
Hannah Kreutz
Anna McCracken
Joshua Olsen
Rachel Samardich
Aaron Steelquist
Igor Strupinskiy
Jenny Taylor

Ubuntu Award
The philosophy of Ubuntu is translated as "I am because we are"; it has become a core theme of leadership development programs at PLU. Students eligible for this award have a 3.0 GPA or higher and have demonstrated the fundamental values of leadership and service within our community. Graduating seniors were nominated by the PLU community; recipients were presented with a pin to be worn at Commencement.
Pam Barker
Kathryn Boelk
Cody Cano
Youdinghuan David Chen
Catherine Curtis
Brendan Fitzgerald
Storm Gerlock
Katherine Giseburt
Courtney Hagerman
Alison Haywood
Emily Henkelman
Kelsey Hilmes
Jacob Hoffman
Haley Huntington
Alexandra Knowles
Lucas Kulhanek
Kristiana Lapo
Brian Lefavour
Rebecca Lunde
Chris Mahon
Sarah Mastel
Kassandra Morris
Emily Peterson
Saiyare Refaei
Alyssa Rowland
Jessica Sadler
Mary Scofield
Kortney Scroger
Hoang Tieu
Henry Tolstedt
Jessica Trondsen
Hope Wagner
Brianna Walling
Mark Walsworth
Karrine Williams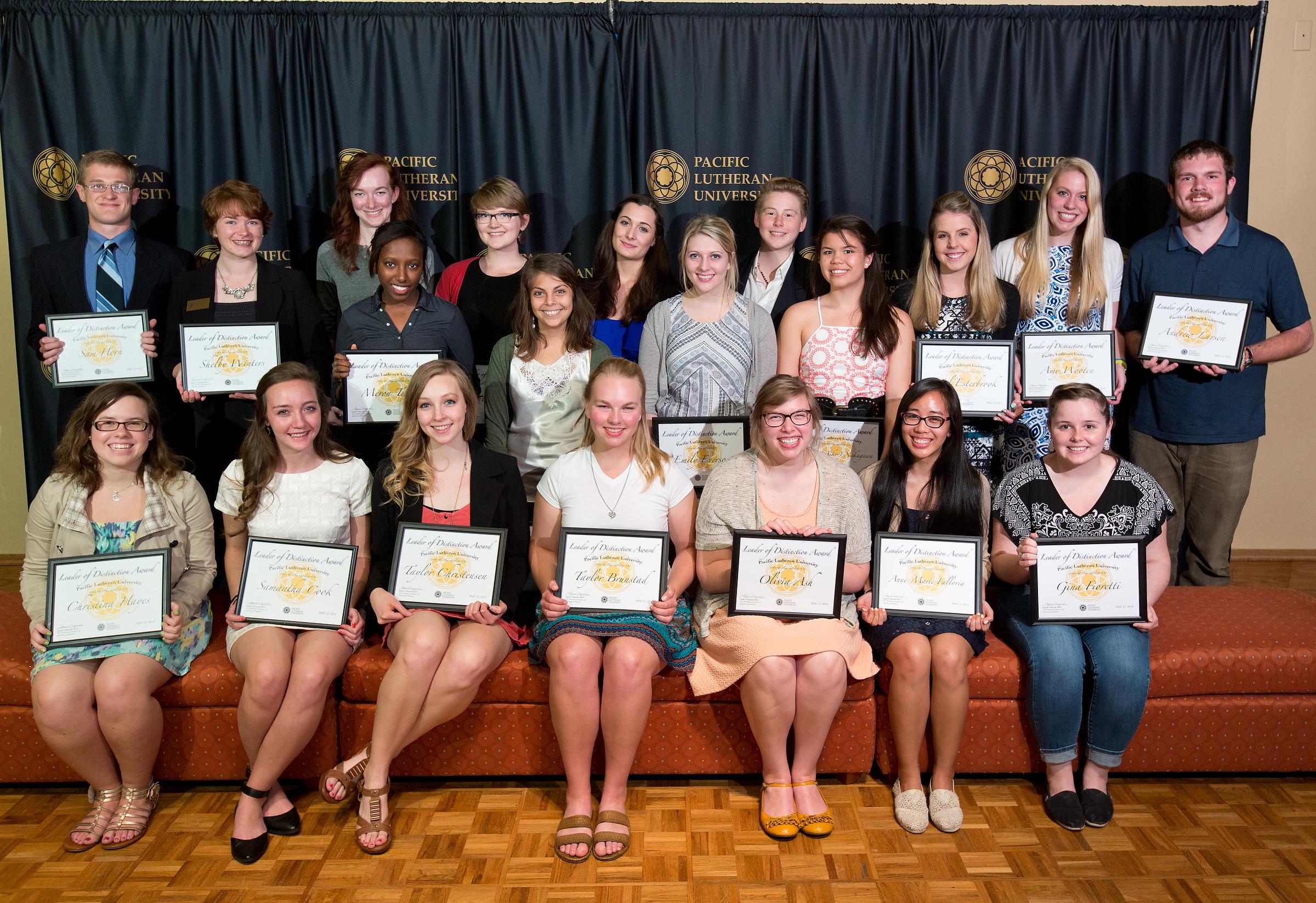 Leader of Distinction Award
The Leader of Distinction award recognizes students with a 2.75 GPA or higher who have demonstrated leadership skills through their affiliation with a student organization or university department. Continuing students are nominated by the PLU community. Recipients were presented with a certificate. In addition, three students were selected to receive $500 professional development awards to be applied toward a professional development experience of their choosing sometime during the next academic year, such as conferences related to their leadership and academic interests.
Jon Adams
Olivia Ash
Taylor Brunstad
Taylor Christensen
Samantha Cook
Caitlin Dawes
Grace DeMun
Rachel Diebel
Tyler Dobies
Ariel Esterbrook
Emily Everson
Anne-Marie Falloria
Gina Fioretti
Ashley Gill
Christina Hayes
Amelia Heath
Sam Horn
Brittany Jackson
Laura Johnson
Evan Koepfler
Ruth Kovanen (Professional Development Award)
Jessica Lancaster
Andrew Larsen (Professional Development Award)
Casey Laufmann
Lauren Mendez
Theresa (Aiko) Nakagawa
April Nguyen
Maya Perez
Anna Sieber
Doug Smith
Meron Tadesse
Andrew Tinker
Clay Trushinsky
Shelby Winters
Amy Wooten (Professional Development Award)

Mortar Board National Honor Society
Membership in PLU's new chapter of Mortar Board recognizes juniors with a 3.5 GPA or higher who have demonstrated excellence in scholarship, leadership and service. Students are inducted into the honor society the spring of their junior year and serve as active members throughout their senior year. PLU's inaugural Mortar Board list includes three December 2013 graduates who are now alums (Colton Heath, Kimberly Stone and Selina Mach).
Katherine Caras
David Chen
Mackenzie Deane
Kaitlyn Elms
Austin Erler
Emily Everson
Lillian Ferraz
Tommy Flanagan
Gigi Gariglio
Kaitlyn Gervais
Katrina Graven
Tabitha Gross
Colton Heath
Danay Jones
Thomas Kim
Ian Kinder-Pyle
Hannah Kreutz
Nicole Laborte
Selina Mach
Katherine Mahoney
Elizabeth Maloney
Wendy Martinez
Kristin McCarthy
Helen Moran
Heather Mull
Chelsea Neubauer
Clara O'Brien
Rachel Samardich
Aaron Steelquist
Kimberly Stone
Blair Troudt
Jessica Tveit
Brianna Walling
Shelby Winters
Gailon Wixson Pursley
Allison Young