Currently Reading:
Preparing to Pitch for PLU
May 13, 2014
Preparing to Pitch for PLU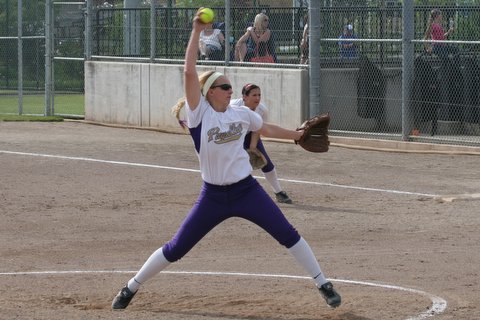 Incoming first-year student-athlete Marissa Miller was a star on her high-school softball team. (Photo courtesy Marissa Miller)
Incoming Softball Star Looks Ahead to Lute Team—and Education
Puyallup High School senior and softball star Marissa Miller is eager to make the transition to college and begin her latest athletic career.
In high school, she lettered in basketball and softball during her four years. Miller and her basketball team made it to State last winter (that's now her favorite high-school memory). She always knew she wanted to play sports in college, but she did not decide on a sport until her junior year of high school.
Many were surprised by her decision to play softball, but she said she looked at where she could succeed the most.
"I'm not really that tall," she said. "I'm 5-11, and my parents told me I was too short to play post (in basketball), so I decided on softball," Miller said. "I knew I would be good if I worked at it."
Miller comes from a long line of athletes—and Lutes—but even her decision to attend Pacific Lutheran University took some consideration. At first, she considered college in California.
"It was my dream to play in the sun," Miller said. "But I wanted to stay close to home and be where my family was, and I wanted a good academic school, so I chose PLU."
Miller's father played basketball and football for PLU, and her older brother, Bryce Miller, is a sophomore and a member of PLU's Men's Basketball team. Marissa Miller has played basketball since she was 5 but started softball much later.
Now, she's not just a pitcher; she is an ace. In high school, Miller was an all-South Puget Sound League South Division first-team member her junior year.
But, as her high-school athletic career comes to an end, she is ready to make that next step, meet new people and play against strong competition.
"I'm excited for every part of it," Miller said.