Currently Reading:
More Pets, Less Stress
May 15, 2014
Furry Therapy: ASPLU Brings Pets Back to PLU to Relieve Test Stress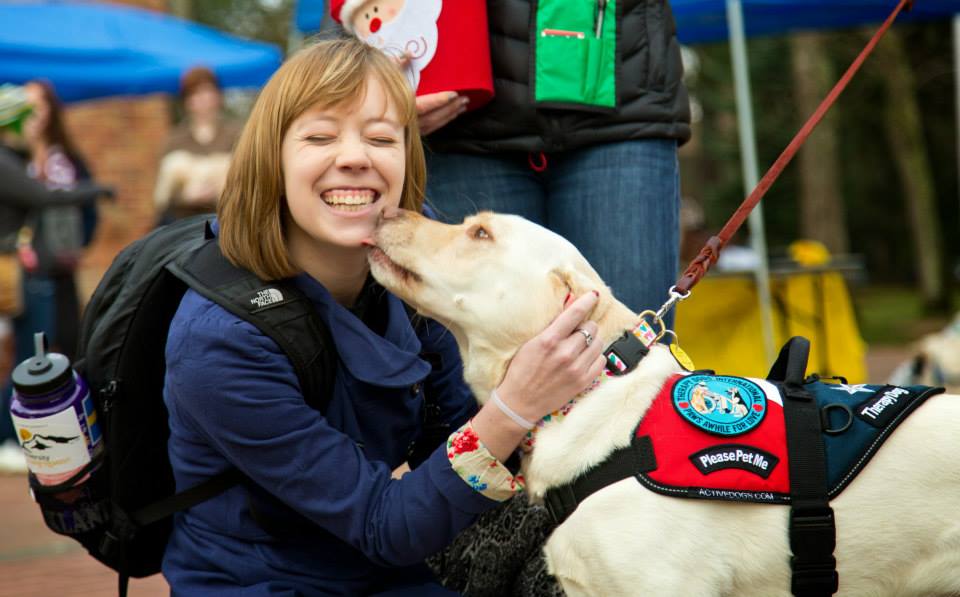 PLU student Maylen Anthony '16 gets a kiss from Addy the therapy dog during finals week in December 2013. ASPLU will bring more pets to campus for Spring finals week, May 19-23. (Photo: John Froschauer/PLU)
PLU Marketing & Communications
To spread cheer and relieve stress during Finals Week, Associated Students of Pacific Lutheran University is again partnering with volunteer organizations, including Therapy Dogs International, to bring certified therapy animals to campus May 19-22.
The therapy-pet program was a huge hit last semester, crowding PLU's Red Square with hundreds of giggling, appreciative students and oodles of photogenic, patient pets—even one extra-fluffy therapy cat.
The pets—and their trainers—will set up stress-busting shop in the center of campus from 10 a.m.-4 p.m. Monday through Thursday.