Currently Reading:
PLU and Goodwill Join Forces to Recycle and Serve the Community
May 13, 2014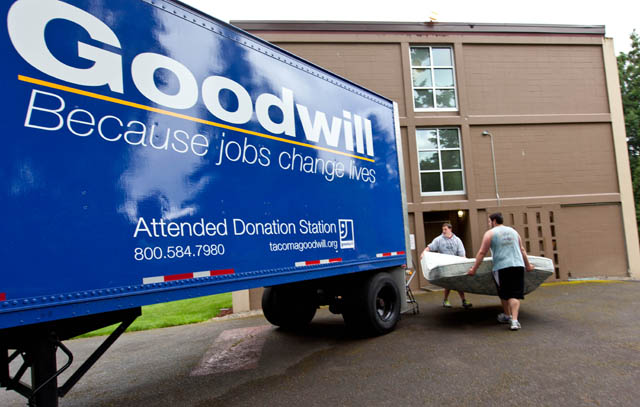 Moveout 2014 provides an opportunity to transform unwanted room items into support, jobs through new partnership with Goodwill
By Barbara Clements, Content Development Director
PLU Marketing and Communications
It's that time of year again: What do you do with that couch, or mattress or lamp you no longer want? And what about that unopened box of gluten-free cereal you never got around to eating?
Pacific Lutheran University's Moveout 2014 has a new twist, and a new partner, to take all these recyclables off your hands as you  clean out your room.
PLU and Goodwill are partnering up in May to reduce waste in the landfill, promote recycling and create jobs in Pierce County. The new Goodwill's Give & Go Campaign is a first for the region, and PLU is one of the first Northwest college chosen by Goodwill as a partner in the effort of sustainability living and job creation.
Donations from the Moveout drive will directly provide revenue and resources to fund job-skills retraining and placement programs,  helping 9,000 of the approximately 74,000 unemployed people in a region that covers a 15-county area.
"So much can be reused and repurposed," said Christine Cooley, Sustainability Manager at PLU. "If someone else can reuse the item, we want to make sure they have that opportunity."
"Together, we can turn student dorm items into something that will strengthen our economy and help the environment," said Terry Hayes, CEO of Goodwill of the Olympics and Rainier Region, which includes Tacoma. "Cleaning that dorm room and donating items to Goodwill can go a long way to supporting unemployed residents in Washington."
Four donation stations will be set up around campus May 19 to June 3, making less dumpsters, and more Goodwill donation stations than last year.
Last year, PLU recycled 38,000 pounds of items that left campus, with much going to Goodwill donation stations, the Trinity Lutheran Church Food Bank or the Nativity House.
For convenience during Moveout, stations accepting toiletries for Nativity House, as well as compostable items and nonperishable food items, will be placed inside the hall entrances. The lobby donation stations also will accept small items such as shoes and clothing. Larger Goodwill vans will be located outside Harstad, Pflueger and South Hall and near Kriedler and Hinderlie halls. Dumpsters for items that cannot be recycled or reused will be located near Stuen and Pflueger and outside Harstad Hall.
Last year, PLU diverted 62 percent of its waste for reuse or recycling. Cooley hopes to beat that number this year.
Goodwill donation trailers will be open from 11 a.m. and remain open, and staffed, until 8:30 p.m. beginning May 19.