Currently Reading:
Driving to the Finish
May 20, 2014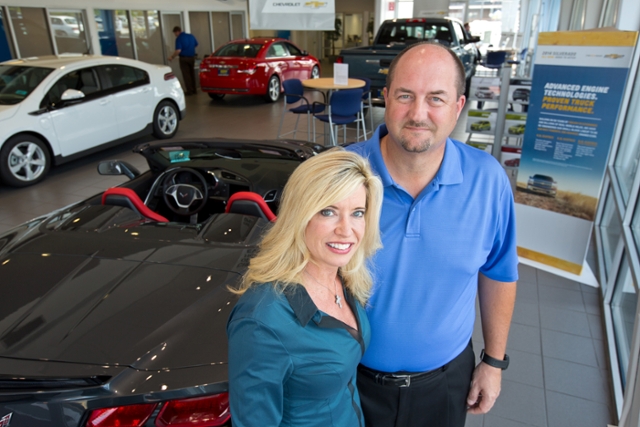 A Driving Spirit to Help Others
By Barbara Clements
PLU Marketing and Communications
For Alan and Marilyn (Richardson) Anderson '85, it's all about giving back, and helping college students achieve their dreams.
The Andersons now—along with Alan's brother Dean— operate two car dealerships in Burien, Chevrolet and Toyota respectively, a business Alan Anderson took over from his father.
The couple believes that students should get a chance to experience the sense of family, the one-on-one with professors and all of Pacific Lutheran University, as they did 30 years ago as undergraduates. Marilyn Anderson graduated in the nursing program; Alan Anderson in business.
"I enjoyed the small class size and my relationships with my professors," said Alan Anderson. "That access was important to me, as well as the real-world experiences PLU provided."Marilyn Anderson also remembers the closeness with her professors and her cohort group. Hospitals just waited
for PLU nursing students to graduate so they could snap them up, she said.
"I was working at one internship, and they offered me a job at the hospital the day I graduated," she said.
Professors were so in tune with their students, they also noticed when you didn't show up for class, she laughed.
"I remember one 8 a.m. religion class I didn't make it to," she said. "Then the next week, the professor asked me about it. I think the accountability is important."
PLU also was the place where the Andersons made lifelong friendships they cherish today. It's all this, and more, that prompted the couple, and Dean Anderson, to fund a $25,000 challenge grant. From now until May 31, the Andersons will donate $2 for every dollar given to the PLU Annual Fund. This Drive to the Finish Challenge super-charges gifts made for two weeks.
The Andersons hope this challenge will give students a chance to experience the PLU they knew and now treasure.
"We've both been blessed," Marilyn Anderson said. "Our parents put us through college, and we've put our boys through college, but not everyone has those resources. We feel it's important to give back and help, so someone can experience what we did."
As for advice for the hundreds of graduates who will march across the stage at the Tacoma Dome during Commencement on May 24? Take risks, be persistent and do what you love, they agree.
"You need to pursue something you love," said Alan Anderson. " I was giving this advice to my son last week at lunch. I think you need to do that to be successful. Find out what you love and pursue it."