Currently Reading:
First-Ever Krise Internship Awarded
May 21, 2014
First-Ever Krise Internship Awarded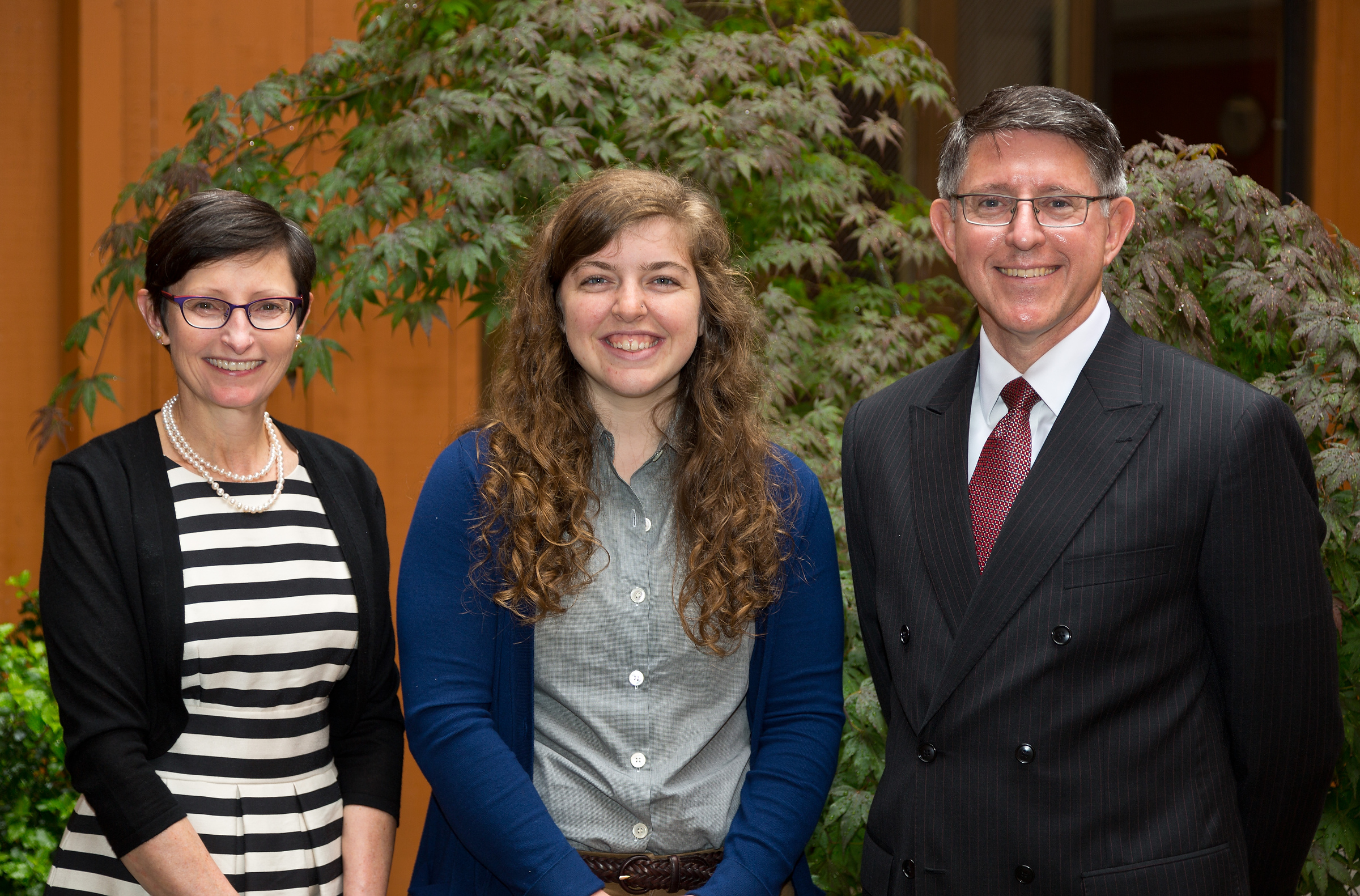 PLU President Thomas W. Krise, right, and Patricia L. Krise, left, pose with Emily Ames, the first recipient of the Krises' endowed internship. (Photo: John Froschauer/PLU)

Emily Ames '15 Receives $2,000
for Summertime Community Work
By Sandy Deneau Dunham
PLU Marketing & Communications
Emily Ames '15 is the first recipient of the new Patricia L. and Thomas W. Krise Endowed Internship Fund, awarded annually to one Pacific Lutheran University student who accepts an unpaid summer internship.
Ames will receive $2,000 while she works at Sacramento's The GreenHouse Center, which offers tutoring, mentoring, spiritual development and leadership development for under-resourced youth.
President and Mrs. Krise established the highly competitive internship in 2014. One student applicant per summer will be awarded $2,000 in financial support, opening up unpaid internship opportunities that might otherwise be out of reach.
Ames, from Sacramento, is an English Literature major with a minor in Non-Profit Leadership; she also will receive academic credit for her internship.
At The GreenHouse Center, Ames will perform a wide range of duties, including planning program activities for elementary-school and teenage camps, developing workshops, driving on field trips, mentoring teen camp participants and working as an "Adventure Guide" to build relationships with the elementary-school campers.
"My hope is through firsthand experience working in a low-income community, I will learn the steps necessary to address the needs and challenges of its youth," Ames wrote in her application for the Krise Internship award.
At PLU, Ames serves as president of the InterVarsity Christian Fellowship and works for Residential Life; she also has experience with community outreach.
Ames' career goals include working for or starting an organization similar to The GreenHouse Center. "In a sense, their mission is reminiscent of how PLU provides resources to empower students to find their passions and vocation and how they can use it for the good of their community and world," she wrote.