Currently Reading:
PLU professor gains national attention for research looking into how babies learn in utero
July 31, 2014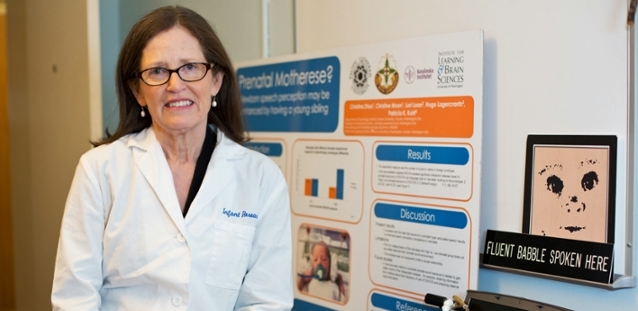 PLU Researcher Gains National Attention on 'Today' Show Talking About Babies Learning in the Womb
PLU Psychology Professor Christine Moon was one of the experts cited July 31 in a segment of the
Today
show called
The Secret Life of Babies
. Her groundbreaking research is no stranger to the national spotlight.
The Today piece focused on new studies that show life in the womb is much busier than you might expect.
Moon's research on babies' voice recognition, for example, indicates that since a baby's ears are fully formed about halfway through pregnancy, a baby might know its mom's voice by the time it's born. When hours-old newborns are given a pacifier to suck on while hearing a recording of their mother's voice, Moon found, they would suck faster, suggesting familiarity.
"Prenatally, it's got this extra boost by the fact that it's coming in through the whole body," Moon told Today.
Today show producers actually interviewed Moon for two hours in May for the brief insert in the four-minute piece.
Research led by Moon also showed that newborns have the capacity to learn and remember elementary sounds of their language from their mother during the last 10 weeks of pregnancy.
"We have known for over 30 years that we begin learning prenatally by listening to the sound of our mother talking," Moon said in 2012. "This is the first study that shows we learn about the particular speech sounds of our mother's language before we are born."
That insight earned international attention—and a very prestigious ranking: Science News picked Moon's research on language learning in infants before birth as the No. 8 science story of 2013.
This fall, Moon is starting another study on the very early perception of speech sounds with the help of two PLU psychology majors. Moon had worked on this study earlier, but wants to reproduce the research in a more controlled environment.
"We found that if Mom was talking to toddlers, her newborn was better at identifying speech sounds," she said. "We think that Mom using slow, methodical and repetitive speech makes it easier for infants to pick up those sounds."