Currently Reading:
In the Business of Making Connections
July 24, 2014
In the Business of Making Connections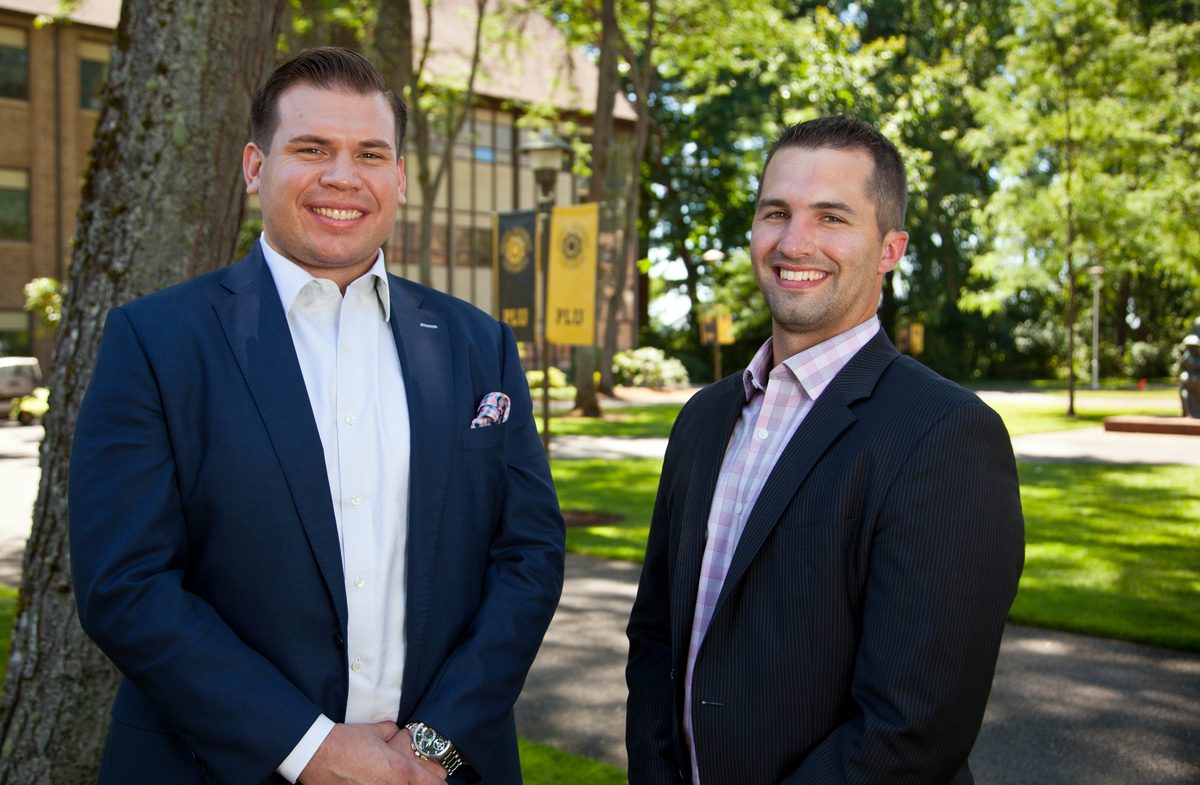 Dan Rosales, left, and Daniel Smith, both '07, are on the board of PLU's Business Network Alumni Association. (Photo: John Froschauer/PLU)
Marketing graduates' paths bring them together—again—
on the board of PLU's Business Network Alumni Association
By Sandy Deneau Dunham
PLU Marketing & Communications
It's not surprising that Dan Rosales '07 and Daniel Smith '07 discovered their life paths at Pacific Lutheran University—that's just what happens here. But it is maybe just a little eerie how similar their paths were (and are)—right down to the altruistic U-turn that brought them back.
Consider:
•    Rosales and Smith met their first year at PLU.
•    They both became Marketing majors.
•    After graduating in 2007, they both landed great jobs in Tacoma businesses: Rosales is a financial planner for Northwestern Mutual, and Smith is an employee-benefits consultant for Brown & Brown.
•    (Did you notice their first names?)
•    They're both officers on the Business Network Alumni Association board, an eight-member group of business professionals that connects current students with PLU Business alumni through four annual core events.
•    They've both held their office for two years.
•    And then there's their motivation to give back.
"I just always liked being involved," said board Vice President Rosales, who personalized his path by playing offensive lineman on the Lutes football team. "PLU gave a lot to me, and the board reached out to me. I'm from Anacortes and still local—after PLU, people tend to leave the South Sound—but I also work with Big Brothers and Big Sisters here, so I stay involved with that and with PLU."
Smith, president of the board, acknowledged it out loud: "I've been on a similar path," he said. "I wanted to find a way to give back, but I couldn't give monetarily right out of school—I was still paying debt, and I wasn't making the big bucks yet. So I gave my time and knowledge. I reached out to speak at the career fair, and I went in and felt really good about the message and the feedback. It felt great. I got a little more involved, and was asked to join the board as president."
The Network, led by School of Business Director of Graduate Programs and External Relations Theresa Ramos, has experienced quite an evolution.
"It used to be membership-based," Smith said. "Students and alumni would have to pay (an annual fee) to join."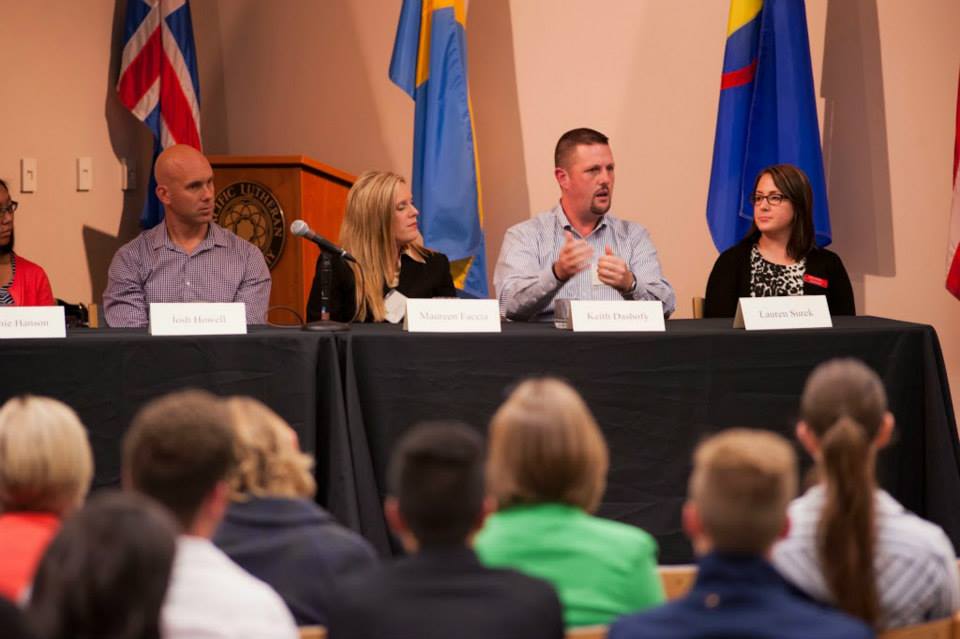 Panelists at the 2013 Career Pathways event address the audience. (Photo: John Froschauer/PLU)
Now, though, 100-150 students simply show up at each free connection event, with some PLU professors even offering extra credit for attendance at the board's signature event, Career Pathways—which also has evolved.
"Originally it was a way for freshmen and sophomore students to help determine their major or concentration," Smith said. But now, "We have higher-level executives, alumni from seven different industries, in panel discussions and breakout fairs. Students get exposure and get to ask some great questions."
This year's Career Pathways is scheduled for Wednesday, Oct. 1, in PLU's Scandinavian Cultural Center.
The PLU Business Network also hosts a pre-Career Expo event each spring to help students with interview skills, resumes and business-wardrobe tips, and two alumni networking events each year. Last May, for example, more than 100 students and alumni attended the group's wine-and-chocolate-tasting, featuring alumni products, in the Morken Center.
Still, there is room for even more growth—and even better results. Rosales and Smith would like to build a stronger identity for the Network by increasing involvement and by creating and nurturing interaction.
"The center of the Network is relationships, how connected they feel," Smith said. He said the easiest part of the board's job is rounding up recent graduates to help with undergraduate events. "Alumni want to feel included. They're giving back, so just a few calls fills up that roster."
But ideally, he said, "We'd like to get folks who graduated 10 or more years ago— get them there to network and meet their buddies."
And, while the PLU Business Network awards an annual scholarship usually worth $2,000, it'd love to broaden the applicant pool.
But mostly, Rosales and Smith want to create connections that lead to success—through the network and on a more personal level.
"I've mentored a couple students," Rosales said. "My company is at all the career fairs and among the top 10 in internships nationally. We hire two to three PLU students per semester. We like to keep communication open and leverage PLU."
Of course, PLU itself is one key to its graduates' success. "What I like about the PLU byproduct is that a smaller university is really good at helping students build and develop relationships," Rosales said. "If you're able to build relationships, you're going to go really far. And the PLU mission—community, integrity—is big in the business world."