Currently Reading:
PLU Interns Connect with New Opportunities
August 29, 2014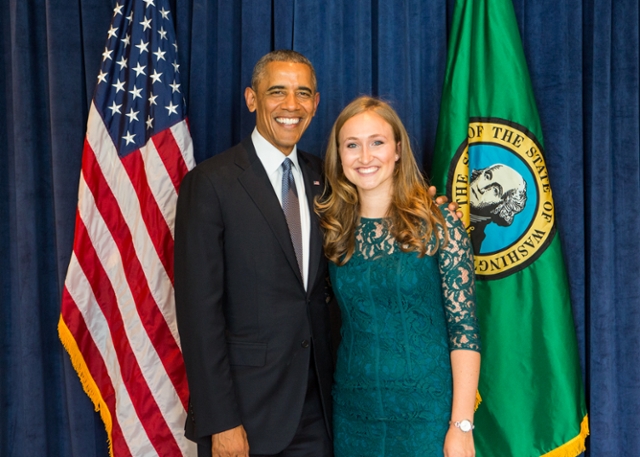 PLU Interns Make Interesting and Key Connections Over the Summer
First Surprise: President Obama is actually a down-to-earth guy. When Nellie Moran '15 shook hands with POTUS this summer at a fundraising event in Seattle, she had a brief opportunity to exchange a few words with him.
"I told him he was the reason I wanted to go into politics," Moran remembers. Obama laughed, thanked her for her work as an intern at the Democratic National Committee and chatted with her about her work. A few candids, as well as formal pictures, were snapped, and she moved down the line.
Second Surprise: The first lady is just as gracious. Moran, an Economics and French double major, had expected to be a wallflower at an earlier D.C. fundraising event. Or, at best, a glorified go-fer who maybe could catch just the back of Michelle Obama's head as she exited, surrounded by her security detail. But it didn't happen that way. An event organizer ushered Moran into the receiving line.
"I expected a handshake, and that's it. But she gave me a great big hug," Moran laughs. "I was overwhelmed."
And finally, a third surprise, expressed by all the interns in this story: Internships really matter, not only to the organizations they work for, but as building blocks for future careers.
"The connections you make are invaluable," says Moran, who counts the DNC internship as her third so far. "I can't stress this enough. The mentors you make in these internships will help you succeed in the future."
Moran applied for the highly competitive DNC internship at the recommendation of a friend at a Girls State summer leadership and citizenship program.
Finance major Simbarashe Change '15 says he found out about his summer internship at Seattle-based Russell Investments by checking regularly with Career Connections, PLU's career center. (Photo by John Froschauer, PLU Photographer)
Finance major Simbarashe Change '15 says he found out about his summer internship at Seattle-based Russell Investments by checking regularly with Career Connections, PLU's career center.
"I applied in January, which was super-early this year," he laughs. "I wasn't available for an internship in the spring, so they put me on a wait list for the summer. Fortunately, they remembered me, and offered me a job."
Change is working in the derivatives section of the firm, crunching numbers and providing estimates as a junior analyst on portfolios. A transfer student from Tacoma Community College, Change eventually would like to return to Zimbabwe and start his own venture capital business. His experience at Russell will be a key part of making that passion a reality, he said.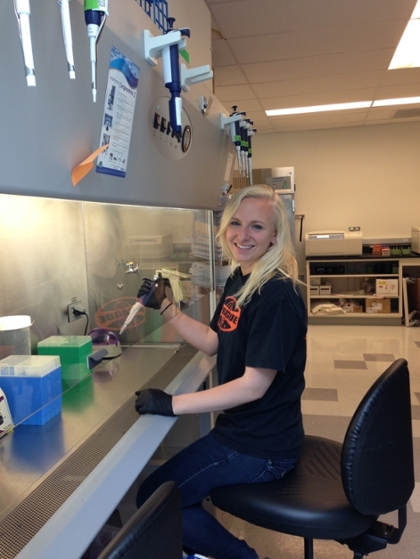 "I see the potential of new markets in Africa," he says. "I can't wait to try out some of the concepts I'm using now."
Rachael Nelson '15 found her summer internship at the Fred Hutchinson Cancer Research Center by trolling the flyers in PLU's Rieke Science Center. Her paid internship was developed specifically for PLU students by two PLU alumni. She too credits PLU's Career Connections with helping her practice for the Fred Hutch interviews, and polishing up her resume. Her interest, and preparation, helped her nail the interviews with Bryce Manso '10 and Tisha Graham '09, both who work as researchers at Fred Hutch.
So for the past 10 weeks, Nelson has been working on nano-vaccine research.
"I don't think you realize how valuable every single summer is, and you need to start looking for internships early and often," she says. Nelson said she is deciding now between lab research and environmental field research as a possible future career.
Nelson's roommate, Katrina Graven '15, agrees that no matter what your year, you should seek out as many internships as possible at college. Graven came by her internship at Rainier National Park, looking for culturally significant sites, through her connections with Bradford Andrews, her Anthropology professor.
 "He emailed it to me and told me I'd be great for it, and to think about it," she says. Graven didn't think too long and immediately applied. An Anthropology and English major, Graven plans to use her experience this summer as a launch toward graduate school next year.
"You need to make full use of the opportunities you have here at PLU," she said. "You will make connections and have great opportunities that you will not be aware of otherwise."