Currently Reading:
PLU Student Selected for Prestigious National Council
October 19, 2014
PLU Student Selected for Prestigious National Council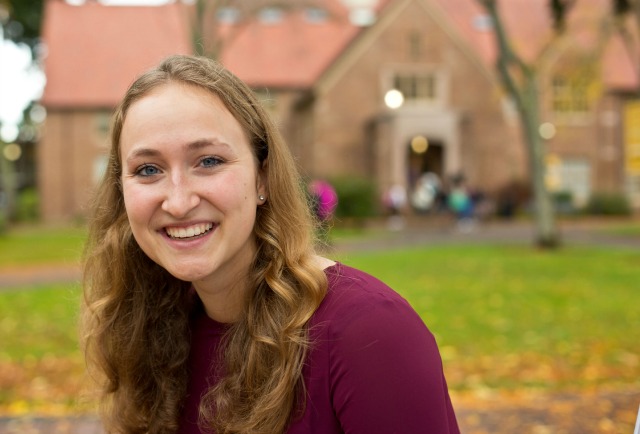 Nellie Moran '15 has been selected as 1 of 10 "campus women to watch out for" on the National Student Advisory Council. (Photo: John Froschauer/PLU)
Nellie Moran '15 is one of
'10 Campus Women to Watch Out For'
TACOMA, Wash. (Oct. 20, 2014)—Nellie Moran '15 already has built an amazingly impressive résumé of leadership roles and national political connections—and now she's adding to both categories with one prestigious honor.
Moran, who met President Barack Obama and First Lady Michelle Obama during her summer internship with the Democratic National Committee, is one of 10 newly minted members of the National Student Advisory Council (SAC).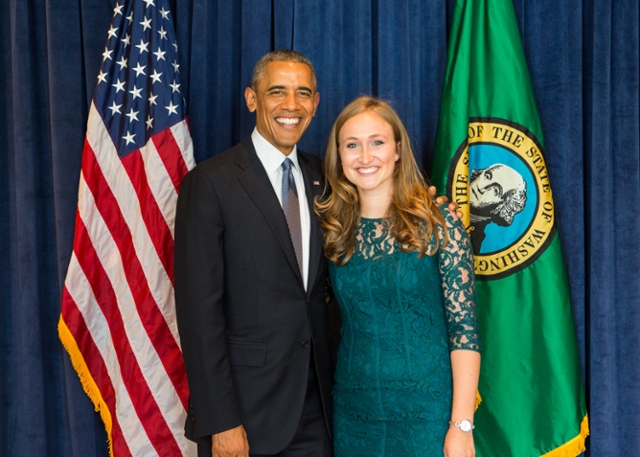 SAC calls its 2014-15 councilmembers "10 Campus Women to Watch Out For," and with good reason: The council, convened by The American Association of University Women (AAUW), is a select group of inspiring women who demonstrate exceptional leadership. Members will actively participate in women's advocacy, sharpen their leadership skills, play key roles as peer leaders at the National Conference for College Women Student Leaders (NCCWSL) and launch projects at their schools related to equal pay and other feminist issues.
"Being a member of this important group leads to great things, from meeting trailblazers to gaining valuable experience," said AAUW Vice President of Campus Leadership Programs Kate Farrar. "We look forward to working with these talented women, who were selected because of their enormous potential and already proven ability."
Moran's résumé is filled with examples of those, too.
Her first experience in leadership came during her junior year of high school through the American Legion Auxiliary Girls State Program, and things just snowballed—and focused—from there.
"I grew up in a small community in Montana, really tight-knit and very supportive, and I have always felt it necessary to give back and support the community in the way I felt supported," Moran said. "I have had some amazing women mentors in my life that have really pushed me to pursue my goals and my interest in politics. If I could be that motivation, then I find that really rewarding."
Her first year at PLU, Moran was involved in the Emerging Leaders program through Student Involvement and Leadership and joined what was then Harmony (now the Queer Ally Student Union; she's a member of its executive board). She's worked in the Women's Center; helped plan Elect Her–Campus Women Win, which encouraged women to run for public office or be involved in leadership; and served in ASPLU's senate.
"I'm now working in the Diversity Center as a Rieke Leadership Fellow, and my project this year is to create a Queer Ally network, a training program that will be able to foster more supportive allies on campus," said Moran, an Economics and French double major.
It was while working on the Elect Her campaign that Moran first was introduced to AAUW.
"I was obviously attracted to the mission, promoting women's issues, and particularly focused on empowering women in leadership," Moran said.
In May 2013, she attended the National Conference of College Women Student Leaders in D.C., and then this summer reconnected with a woman who had served on the SAC—which reinspired Moran to apply for her own position.
As part of her council duties, Moran heads back to D.C. on Oct. 24 for a leadership retreat; once she's back, she'll start to narrow down the options for her PLU SAC project.  
"I haven't completely decided yet what I want to do, but I have a couple of ideas," Moran said. "I'm really interested in LGBT issues and also challenging myself to look into a different area of advocacy: potentially, healthcare issues related to women or the work-life balance that women face. I want to try to shy away from things that have been already hit hard on campus."
Moran said plenty of challenges still remain in the quest toward gender equality.
"Some I see are kind of something Hillary Clinton has touched on: the 'glass ceiling' mentality," Moran said. "A lot of society feels like we already went through the feminist movement and women have their rights, but unfortunately that's not good enough, and that's not the reality. There is still much more work to be done.
"While I have been lucky enough not to experience much sexism directly in my life, I know that other women in our nation and around the world have," she said. "Because of this I'm working to eliminate sexism for the women who have experienced it in the past, and for the women of our world's future by helping empower the women of today. For me, it's about ensuring that no matter what gender or sex was attributed to you at birth, you're able to pursue any dreams and ambitions you have."
Moran's own ambitions lie in the increasingly familiar world of national politics: She'd like to work on a political campaign, hopefully a national one, right after graduation, and says she hasn't "completely ruled out" work with the U.S. Foreign Service—but probably not till much later. Either way, she says, PLU has prepared her well for leadership positions on campus, nationwide—and beyond.
"The amount of opportunities available to students to get involved and develop as advocates and leaders is really helpful," she said. "But also some of the classes I've taken have forced me to open my mind a little more and think about different perspectives that affect issues. The Gender and Sexuality class thru IHON – that class really opened my mind to issues society has faced. Then when you become aware, you become a lot more impassioned to change them and much more critical – and then you turn that into motivation."