Currently Reading:
A Month of Veterans Day Events at PLU
October 17, 2014
A Month of Veterans Day Events at PLU— Where Tuition is Always 'Free' for Qualified Veterans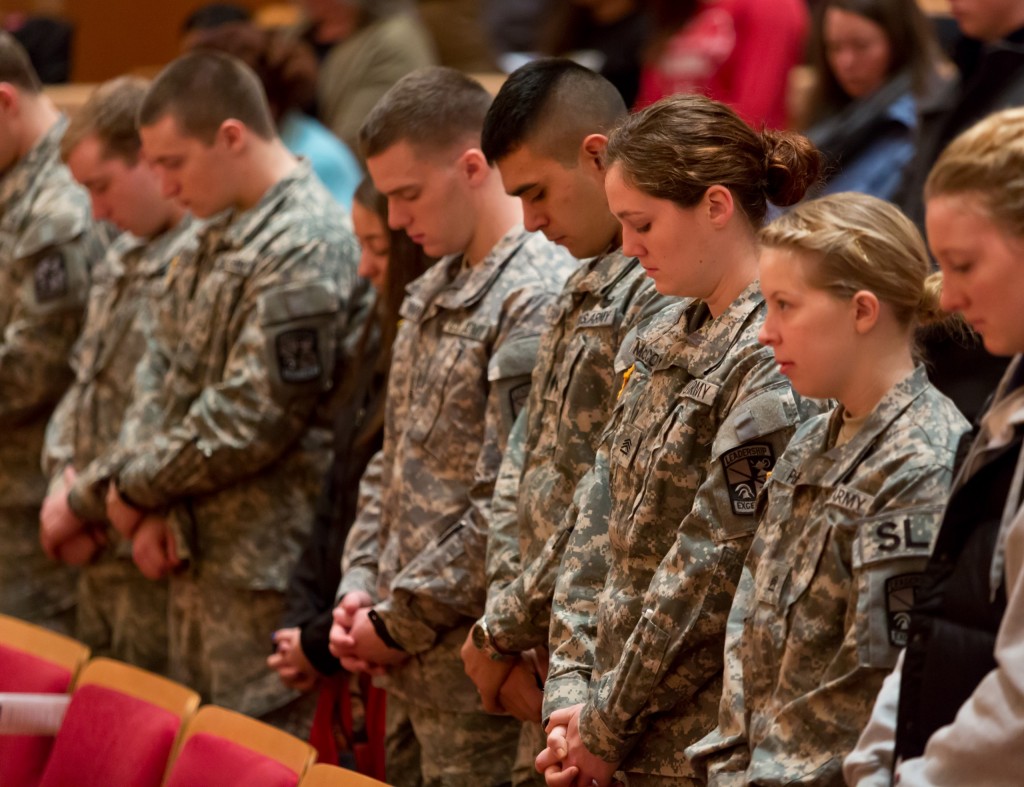 PLU Marketing & Communications
TACOMA, Wash. (Oct. 17, 2014)—Pacific Lutheran University shows its appreciation and support for our nation's service members every day, since tuition is always "free" for eligible veterans, and through November PLU also will host several community-wide events marking Veterans Day:
Saturday, Nov. 8: The second annual PLU Military Appreciation Football Game begins at 1 p.m. Nov. 8 at Sparks Stadium in Puyallup, where a service member will perform The National Anthem. The game is free to all military ID cardholders and their dependents—the ID card serves as a ticket to the game and earns a free cocoa at the concessions stand. Gates open at 12 p.m.
Tuesday, Nov. 11: All PLU classes are canceled from 10:55 a.m. to 11:40 a.m. during the free Veterans Day Celebration at Lagerquist Concert Hall in the Mary Baker Russell building. Featuring speakers including PLU President Thomas W. Krise; Lt. Col. Kevin Keller, professor of Military Science and MSIV Instructor; and student Sgt. Steve Shumaker, who saw active duty in the Army, the ceremony honors those who have served in the armed forces and remembers those who have given their lives for our freedom. Coffee and conversation follow the ceremony, which is hosted by Director of Military Outreach Michael Farnum.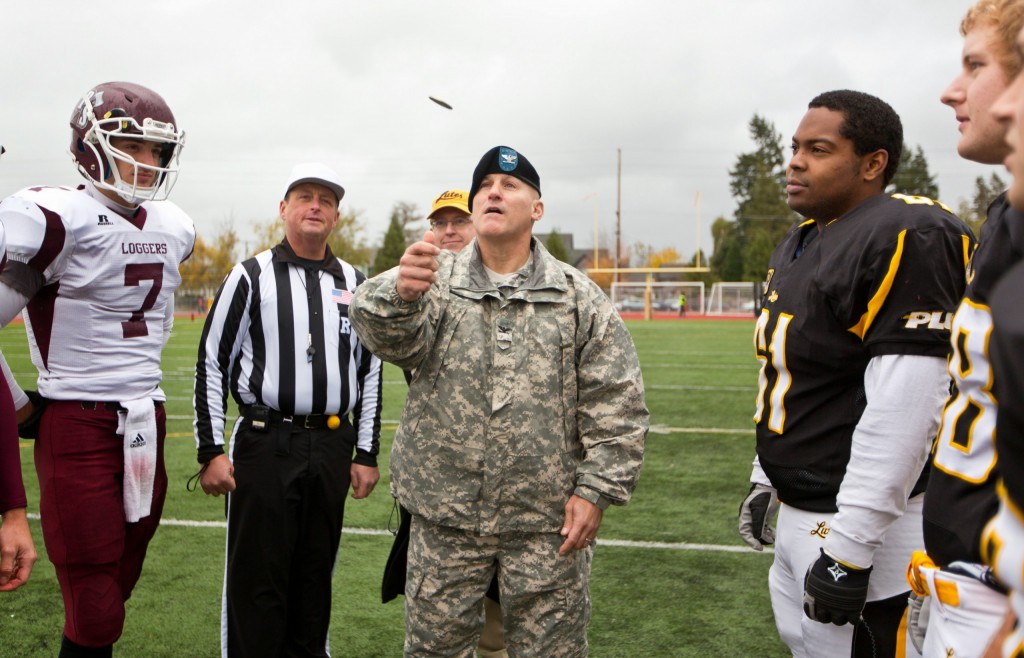 Tuesday, Nov. 11: All PLU faculty and staff members, alumni and students with military ties are invited to submit photos for the Veterans Photo Gallery Wall at Kreidler Hall, which will be open for viewing following the Veterans Day Celebration. (Submit your photo to CTSC@plu.edu.)
Wednesday, Nov. 26: PLU will host approximately 120 active-duty Joint Base Lewis-McChord soldiers for a Thanksgiving meal. These soldiers are new to JBLM; some are away from home for the first time and are not yet assigned to a permanent unit.
Year-round, PLU partners with the United States Department of Veterans Affairs to offer unlimited full-tuition, Yellow Ribbon Scholarships to qualified veterans or their dependents. The Yellow Ribbon GI Educational Enhancement Program is a component of the Post-9/11 GI Bill of 2008.
The Post-9/11 GI Bill covers a maximum of $20,235 a year in tuition and fees for veterans attending private colleges. Through the Yellow Ribbon Program, universities and the Department of Veterans Affairs work together to provide additional funding. In PLU's case, the university contributes up to  $11,310, and the VA matches up to that amount, meaning a qualified veteran attending PLU as an undergraduate for 2014-15 would be totally covered for tuition and required fees up to $42,855.
PLU has a rich history of working closely with the military community. Located just 4.9 miles from JBLM, PLU is ranked fourth among regional universities in the West in the 2015 U.S. News Best Colleges for Veterans list released in September. PLU's six-year graduation rate for military-affiliated first-year students is 86.4 percent, compared to 56 percent for Education Department numbers reported in the Military Times.
Earlier this year, PLU hired its first Director of Military Outreach, Army veteran and Tacoma resident Michael Farnum, who is responsible for increasing PLU's engagement with current and prospective military and veteran communities; increasing enrollment of military-affiliated students while ensuring that PLU provides broad and high-quality service to these students; and coordinating PLU's current veterans services, including dedicated academic advising, financial-aid specialists experienced with veteran-benefits programs, dedicated orientation and on-boarding for new military students and a VetCorps liaison.
The university's military collaboration is further evidenced by the significant number of military-affiliated students enrolled at PLU as well as the nationally recognized, award-winning Army ROTC detachment on campus.