Currently Reading:
Three Free Events at PLU Celebrate the Legacy of Thor Heyerdahl
October 17, 2014
3 Free Events at PLU Celebrate the Legacy of Thor Heyerdahl
TACOMA, Wash. (Oct. 17, 2014)—The Scandinavian Cultural Center at Pacific Lutheran University honors the 100-year anniversary of Norwegian explorer and writer Thor Heyerdahl's birth with three events that celebrate the impact he made on PLU, environmental scholarship, anthropological theory and Norwegians around the world.
Heyerdahl, who first came to the world's attention in 1947 for his dramatic Pacific voyage aboard the experimental "Kon-Tiki," was an advocate for global environmental and peace issues—and a beloved member of the extended PLU community.
Heyerdahl visited campus on three occasions: In 1966, he received PLU's Distinguished Service Award; in 1996, he accepted the President's Medal from then-President Loren Anderson; and in 1998, he was PLU's Commencement speaker. The latter two visits were facilitated by Dr. Donald P. Ryan, Faculty Fellow in the Humanities at PLU, who served as Heyerdahl's right-hand man from 1995-2002 and is still very much involved in Heyerdahl's legacy, including projects with the Kon-Tiki Museum in Oslo and The Thor Heyerdahl Institute in Larvik, Norway.
Event Details
Thor Heyerdahl 100th Anniversary Exhibition
Where: Scandinavian Cultural Center, Anderson University Center, PLU campus.
When: Oct. 26-Nov. 20, during open hours (Sunday 1-4 p.m., Tuesday & Wednesday 11 a.m.-3 p.m.).
Thor Heyerdahl Film Festival
Where: Scandinavian Cultural Center.
When: 1 p.m.-5 p.m. Nov. 8.
Thor Heyerdahl Symposium
Where: Scandinavian Cultural Center.
When: 6-9 p.m. Nov. 10.
Admission to all events is free. For more information, call 253-535-7349 or email wardei@plu.edu.
Ryan and the Thor Heyerdahl Institute are collaborating on the three events at PLU, which give PLU and the community an opportunity to reflect on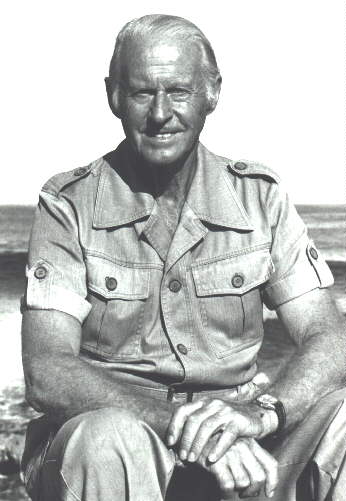 Heyerdahl's remarkable life:
•   
Sunday, Oct. 26-Thursday, Nov.20:
An exhibition on display in the Scandinavian Cultural Center will include posters produced by the Thor Heyerdahl Institute and artifacts from Ryan.
•   
Saturday, Nov. 8:
Three films about Heyerdahl—two documentaries and one theatrical release—will be shown in the Scandinavian Cultural Center from 1 p.m. to 5 p.m.
•   
Monday,
Nov. 10:
Two Norwegian visitors from the Heyerdahl Institute, Knut Pihl and Willy Østreng, will join Ryan and Jenna Coughlin (UC-Berkeley) in a symposium to discuss the impact of Heyerdahl's scholarship across disciplines. Dr. Michael Halvorson, PLU Associate Professor of History, will facilitate the symposium, and PLU President Thomas W. Krise will deliver opening remarks.