Currently Reading:
Former Lute Soccer Star Kicks Off New Professional League
November 4, 2014
Former Lute Soccer Star
Kicks Off New Professional League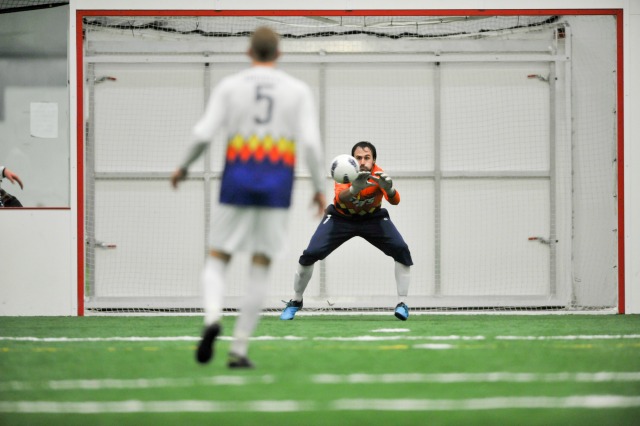 Andrew Croft '09 is a Goalkeeper for the New Seattle Impact FC,
Which Debuts in Kent Nov. 8
By Sandy Deneau Dunham
PLU Marketing & Communications
TACOMA, Wash. (Nov. 5, 2014)—Andrew Croft '09 joined the PLU men's soccer team in 2005 as a promising first-year goalkeeper—with an uncommonly uncanny knack for scoring goals, too. He played a handful of games as a freshman, said PLU head coach John Yorke, and came back his sophomore year to start 18 out of 19 games, including five shutouts.
Croft giftedly guarded the goal his junior year, too—but up and quit five games into the season.
"During the summer I decide to partake in other activities," Croft said. "I got lazy and content, and I didn't want to grow as an athlete, which will hurt you. I came into training camp out of shape, and instead of working myself back into good favor, I decided to pursue other things and leave the soccer team."
Might have been one of the best decisions of his life (though there are several contenders).
Lutes on the Professional Pitch
Andrew Croft isn't the only Lute soccer player who's found success on the professional pitch. "We have three alums in the professional ranks," PLU head coach John Yorke said. "They get paid to play soccer!"
•    Joe Rayburn '14, a 2013 Second-Team Academic All-American at PLU, plays keeper for the U-23 Kitsap Pumas. The Pumas came this close to the national PDL (Premier Development League) Championship title in August against the Michigan Bucks.
•    Derek Johnson '14, who led the PLU team in goals his senior year, is just starting his pro career, Yorke said, as a forward with the Sounders U-23. He jetted off to Sweden in August to finish the rest of the season there.
Croft is now a goalkeeper for the professional Seattle Impact FC,  a member of the brand-new 24-team Major Arena Soccer League. He's also the head coach of men's soccer at Bellevue College; coach of two FC Alliance Premier Soccer A-teams in Woodinville; a coach with Washington's Elite Player Development youth soccer program; and co-founder of a nonprofit called PlayUp, created to empower, support and develop youth through soccer and mentorship.
Sometimes, it would appear, your vocation finds you, even if you turn your back on it.
"Who knows where I would be now if I hadn't quit?" Croft said. "It was a good learning experience … sometimes you have to fall out of favor with what you love to really appreciate it."
Sports always has been a huge part of Croft's life, and as he grew up, he found a way to merge it with another passion: writing. At Inglemoor High School in Kenmore, Wash., Croft wrote about sports, and at PLU he was a Journalism major who wrote and edited for The Mast.
After graduation, though, newspaper jobs were few and far between—and Croft missed soccer. "I connected with an old club coach, who got me onto a couple of teams as an assistant coach, and I just got it," Croft said. "Everything clicked: This is what needs to happen." And then came another of those life-defining decisions.
In 2010, Croft met Tafara Pulse, who is now his wife. "She plays for the Seattle Sounders Women and is in the Seattle University Hall of Fame," Croft said. "She was my biggest push to get back into it. She really saw how good I was, and I believed her."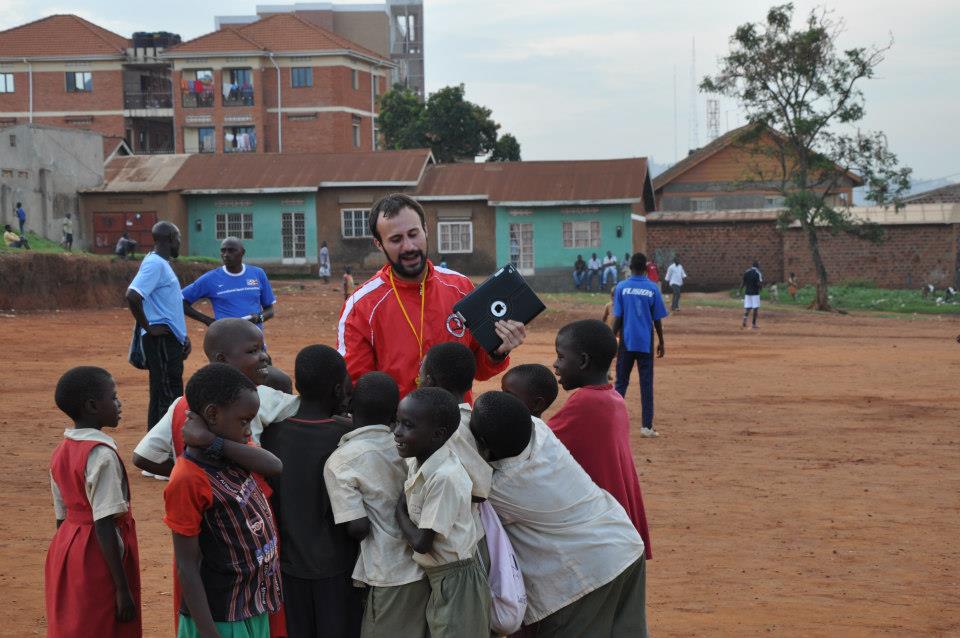 Croft works with children in Uganda as part of PlayUp, his former nonprofit. (Photo courtesy of Andrew Croft)
With family and friends, the couple founded PlayUp, and with the board ran a weeklong soccer-empowerment program for 200 children in Namuwongo in Kampala, Uganda. (Before running out of funding, PlayUp also ran a supplemental education program in Namuwongo elementary schools for two years.)
"I fell in love with the game again—and with why I fell in love with it," Croft said.
Back in the states, in the winter of 2012, Croft accepted an offer to train with the Tacoma Stars. He played there a year and then played semi-professional soccer with the Premier Arena Soccer League's Tacoma Galaxy, helping the team win the 2014 Northwest Division Title in its inaugural season. In between, in early 2013, Croft accepted the Bellevue College job.
When the Impact FC held player tryouts, Croft didn't go—but he didn't need to.
Instead, he sent a resume. Impact FC owner Dion Earl, a former Sounders and SeaDogs player, called Croft personally—and signed him.
Croft said there simply couldn't be a better time to play soccer, thanks to the incredible influence of the World Cup—especially in Seattle and Washington—and the Aug. 6 All-Star game, where the cheapest seats were $214.
He's particularly excited about the Impact FC (plus, the team's debut season kicks off at Kent's ShoWare Center on Nov. 8, the day before Croft's birthday).
"It's really cool to see the indoor game trying to expand again like back in the '80s," he said. "The indoor game is different—more fast-paced, lots more goals scored. And for me, it's great to give people—kids, especially—as many opportunities as possible to watch. The more they can watch pros, the more they can learn and take it to next level, use it as a tool to become a better person in different areas of life, not just a professional athlete."
"My love for the sport wasn't just to win, but to develop," Croft said. "I've always viewed the game as a huge learning tool. It's such a world's game. The love and the almost religion that some countries have for it really make it powerful, a way for people to communicate and work together: If you can't speak the same language, you still understand the game. That's really what drew me: the philosophical approach instead of the technical."
It's worked for Croft, despite—or maybe because of—that one youthful speed bump.
"I'm real proud of him," PLU coach Yorke said. "Quitting helped him get his life in perspective, and he's doing great things in the game."